Maybe you want to know how to install Telegram? Here is the definitive guide to install Telegram (effortlessly) on all your devices.
In the last few years Telegram is rivaling the most popular instant messaging app: WhatsApp. Although this titanic clash is more linked to the tastes of those who use them, there is no doubt that the Telegram open source platform offers significant advantages for those who love groups and want to interact with advantageous offers and features.
Here's how to install Telegram on your devices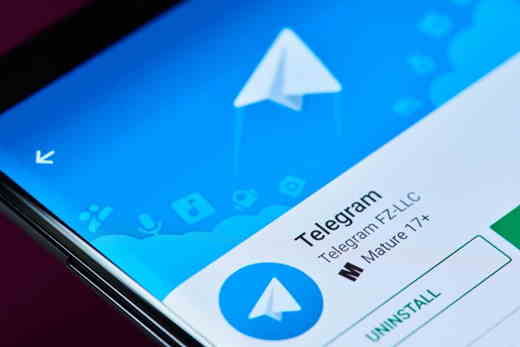 If you are reading this article you will surely want to try this application with your own hands and concretely test its much vaunted potential. In the next few lines we will analyze the steps to follow for install Telegram on Android, iOS and Desktop devices, giving you some alternative solutions to be able to do it even without a phone number.
How much does it cost to install Telegram
The first step to take before installing Telegram is to find out about its costs. Going to the Online Stores you may run into shops that sell Telegram at a fixed price, be absolutely wary of such sources. Telegram is an application that can be downloaded and installed for free and is available on all official stores. We are not sure if in the future the platform will think about a fee to download it, but right now and given the open source nature you can download and install Telegram at no additional cost.
How to install Telegram on Android and iPhone
We anticipated in the previous paragraph, that for install Telegram on your device you must first download it. Let's see how to download Telegram for free and install it from both the Android and iOS operating systems.
Install Telegram on Android: all or almost all Android operating systems have the Play Store, the digital store allows you to download the apps inside it in a short time, depending on the speed of your connection.
Telegram per Android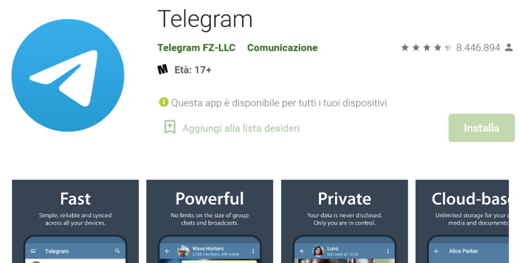 Open the Play Store and press on magnifying glass, in the latest version it is at the top center, from here type the word Telegram and among the many results choose the version with the manufacturer Telegram FZ-LLC. Pressing on the writing will open a window where you can see more detailed information and what the application offers you. Alternatively you can get the Android Telegram download from this page.
Press on Install and subsequently on Accept to download to your Android smartphone or tablet.
Once the download is complete, you can choose whether to open the application immediately or do it later when you have time to configure it.
Telegram per iOS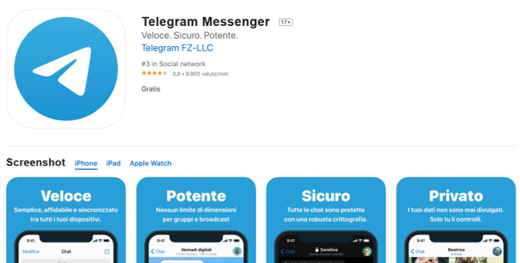 Install Telegram on iOS: all iOS operating systems have by default theApp Store, the Apple digital store.
Open the App Store I awarded her Search, from here type the word Telegram and among the many results selects the version with the manufacturer Telegram FZ-LLC. Pressing on the writing will open a window where you can see more detailed information and what the application offers you. Press on Get and subsequently on Install to download to your Apple smartphone or iPad. Your iPhone will ask you to enter theApple ID or the stored fingerprint.
Alternatively you can get the iOS Telegram download from this page.
Once the download is complete, you can choose whether to open the application immediately or do it later when you have time to configure it.
Read also: How to create a Telegram channel
Install Telegram without Play Store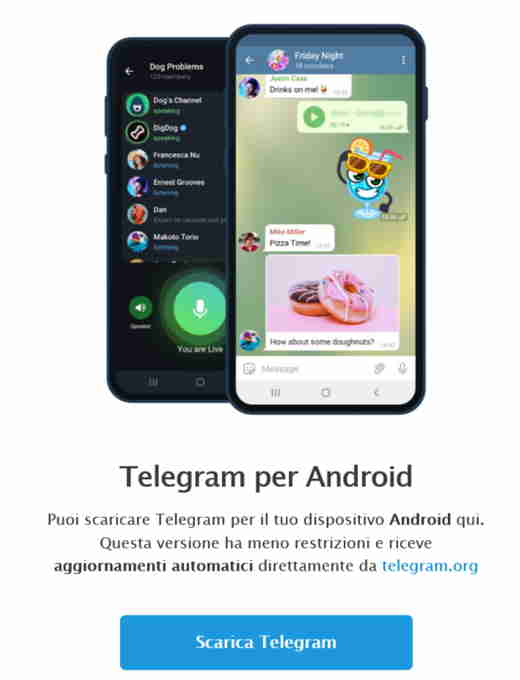 Maybe you have an Android smartphone but there is no Play Store, you have most likely bought a Huawei device in the last two years and you cannot access Google services.
In this case all is not lost, there are equally valid and fast alternative solutions.
We are sure that you have thought of the APK, that is, third-party files of dubious origin that can carry out the installation indirectly; in reality it is possible to install Telegram without Play Store directly from the official website of the software.
Go to the official Telegram website with your smartphone and, under the writing Telegram per Android, click on the button Download Telegram. The site will send you a APK official which you will need to open once the download is complete. Conceded the installation permission on Allow from this source, when the login window comes up and enjoy Official Telegram without Play Store.
The version you install will have fewer restrictions and will receive automatic updates from the official Telegram website.
Install Telegram without number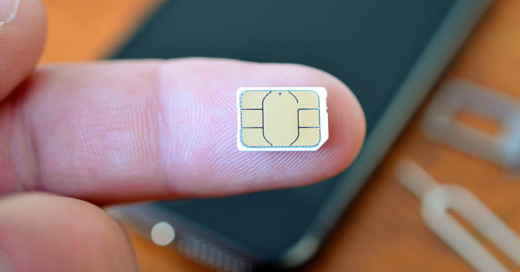 Do you have more than one smartphone and the idea of ​​changing SIM cards every time from one device to another annoys you? Fortunately Telegram makes available to its supporters the possibility of installing it even without a number. We anticipate, however, that unlike the previous procedure this is not formalized by Telegram but requires a slightly more convoluted procedure.
First of all, it is important to know how the procedure for identifying a number on Telegram takes place. By inserting the SIM into the smartphone, Telegram recognizes the number and sends an SMS with a confirmation code. If there is no SIM inside the smartphone, the process and authentication cannot take place.
So that you can break free from this dynamic davoid necessarily creating a temporary number where to receive the code and carry out the verification. There are several websites capable of creating temporary numbers for free and without entering personal data.
Among the best we recommend: 7sim.net, Sbizzy and SpoofBox.
How to download Telegram on PC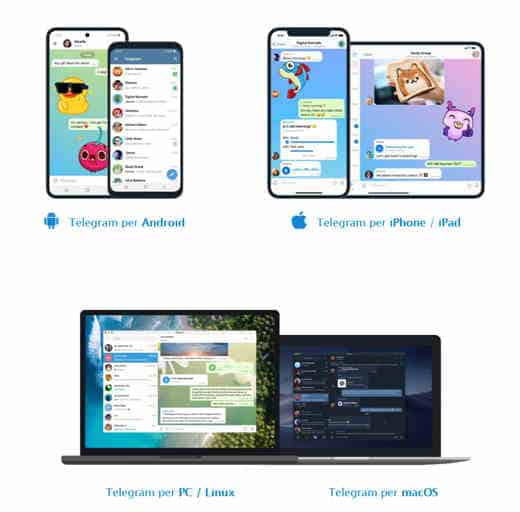 Telegram's countless features could also help you in your daily work. To obtain maximum productivity, however, it is smart to install it on the Personal Computer rather than on the smartphone.
You can do it in a few seconds from both Windows, Mac or Linux by going to the official Telegram website.
On telegram.org you will find the screen to download the program on the different operating systems. In particular, the sections on the front page that interest you are Telegram per PC/Linux e Telegram for macOS. Select the option you are interested in and click on Download Telegram for Windows 64 bit in case you are using a Windows system. You can download both the portable and the classic version.
Once the download is complete you have to start the exe file, which will appear in the download folder by double clicking on it with the left mouse button. In a few seconds the Telegram icon will appear on the Desktop and you can start using it.
If you don't like installing anything, you can connect to the online version of Telegram and follow this procedure:
Open Telegram on your phone
Go to Settings > devices > Scan QR
Point your phone at the screen to confirm login
Alternatively you can log in with your phone number.
Install Telegram without letting it know
When you install Telegram, whether from smartphone or tablet or PC, your friends will receive a notification that warns them that you are present on the platform. If your desire is to install the app, but to remain completely anonymous to friends who already have Telegram, unfortunately I am sorry to warn you that there are no solutions.
Your friends, already subscribed to Telegram, will all receive notification of your presence unless you use an alternative system. In addition to the aforementioned temporary number method, you may install Telegram on a phone number (SIM) that your contacts do not have. Maybe you have more than one number but you use the main one for friends and the secondary one for Telegram. The platform allows you to search for your contacts even individually, without necessarily having them in the address book, being able to contact them without problems as on your main number.
I can't install Telegram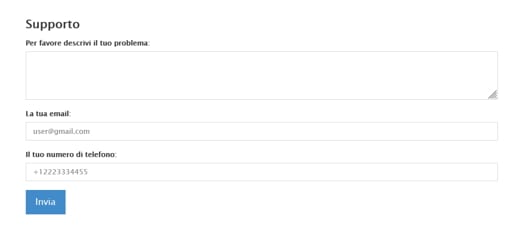 Computer science, however, sometimes seems not to be an exact science and even following the most efficient tutorials you run into problems related to installation.
If you are unable to install Telegram you can:
Check your Internet connection.
Check the compatibility of your smartphone, Telegram although it is a very light program may not be compatible with smartphones of a few years ago. So check that your smartphone has all the credentials to be able to install it.
Check if your phone's RAM memory is insufficient. Telegram, like other instant messengers, needs storage space and above all sufficient RAM resources. If you have a device with 2GB or less of RAM try uninstalling the apps you don't use and you'll see that the installation will go through.
Sometimes it can happen that you connect to your App Store or Play Store without having logged in with the main account. This condition could block the installation of Telegram, check that your smartphone is logged into the reference Store.
Check the status of the Telegram server on the site Downdetector.com to find out if there are any problems on the platform.
If the problems persist try uninstalling and reinstalling Telegram and to visit the FAQ section of the official website to find the solution to your problem.
In case you can too send a report to the Telegram staff by connecting to this Internet page.
Write the problem you are having in English, under the heading Please describe your problem, and enter your email address in the field under the heading Your email. Then indicate a phone number under the heading Your phone number and press pulsating Send to send the report.