Best Telegram channels to download books with Telegram
Telegram is not just an instant messaging program.
Through Telegram it is in fact possible to download many ebooks in epub, mobi and pdf format.
The system I prefer is just this, as there are so many channels that publish books and a thousand more are popping up.
This tutorial to download books with Telegram for the Kindle it can also be applied to download copyrighted content.
I invite you to download only the free and perfectly legal ones, avoiding downloading the pirated ones.
How do you download books from Telegram? We can download ebooks in two ways: from groups / channels or directly using bots.
Download ebooks from Telegram groups and channels
To download books with Telegram you must first join a public group that deals with book downloads.
Then you have to go to the shared files of the group and from there we have access to the whole history of books that have been shared since the group / channel was opened.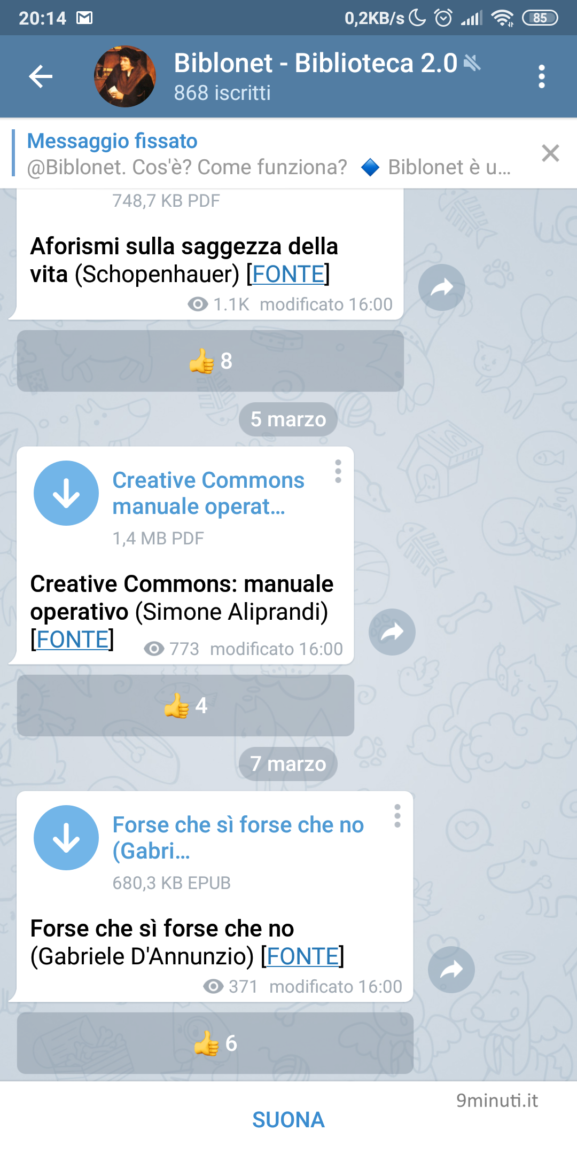 Click on the channel name, from there we will have access to the shared files.
First let's join a group or channel, in the example I will use Biblonet, an interesting channel where gods are published copyright-free books.
Let's open the Telegram group by simply clicking on this link https://t.me/biblonet (You must have Telegram installed)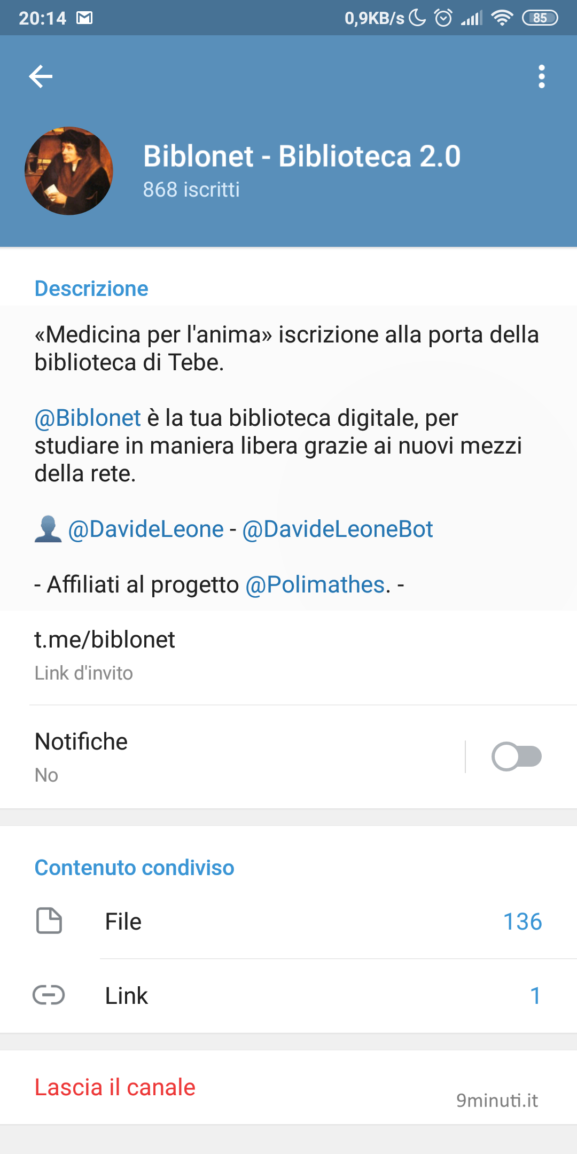 Once we have this screen we click on File under Shared Content
We click on the file that interests us most and, once the download is complete, we have several options:
Open it directly on your phone with a program suitable for the format of the downloaded book
Move the file from the phone (from this folder Storage> Telegram> Telegram Documents) to Caliber and then to the Kindle
Inviar it to the bot @ebook_to_kindle_bot (Better option, a little further below I explain how si fa)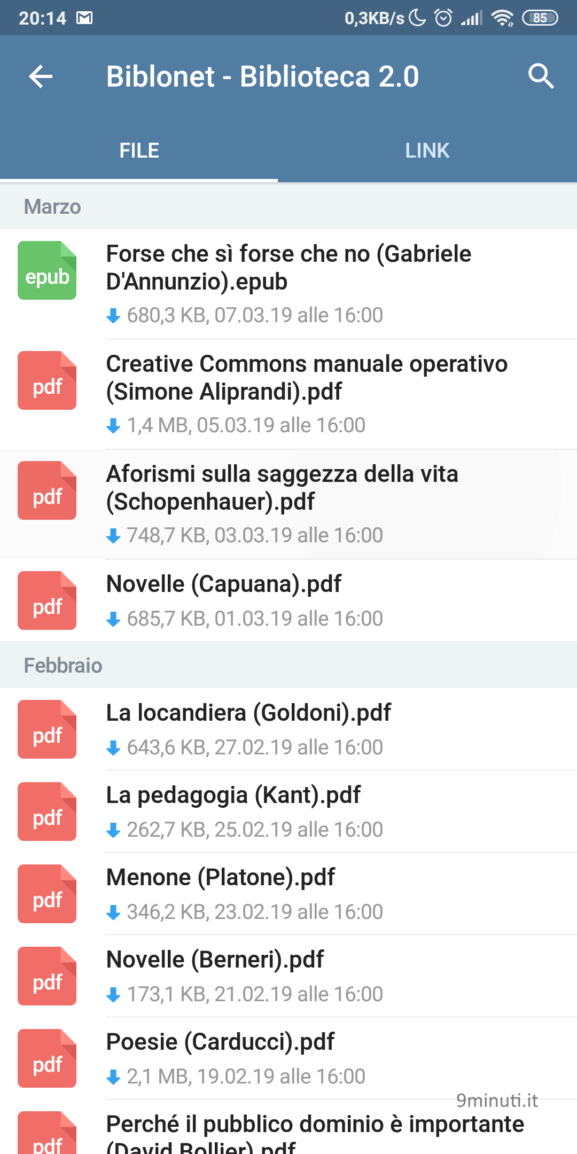 Click on the book that interests us to start the download or use the Search tool
Download ebooks from Telegram bots
There are some bots that allow direct download. The database they draw from is the huge Libgen, on which I wrote an article.
To use the bot we need to click on the search button and add the following bot @bookdownbot.
Searching for books works by writing the name of the bot followed by the title of the book. I our case
@bookdownbot Decameron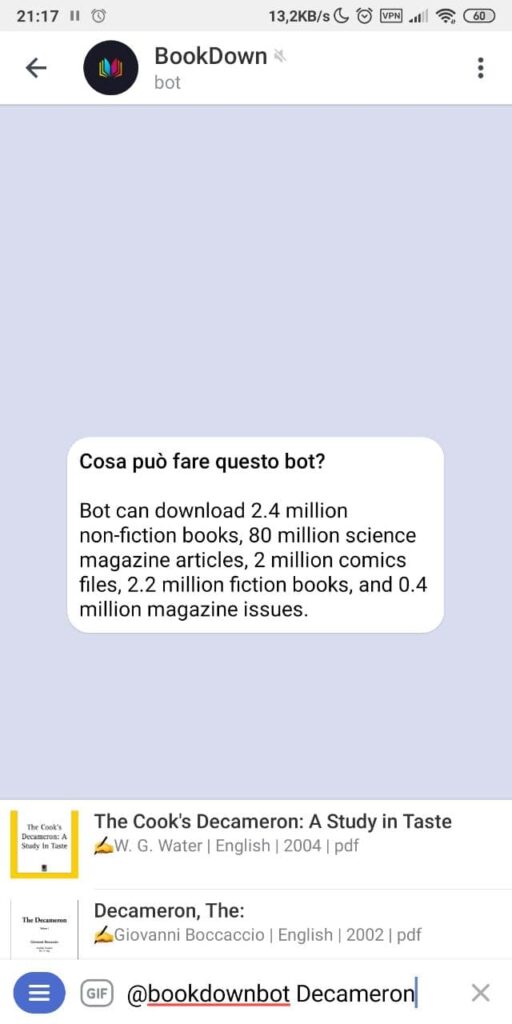 We simply enter the bot name followed by our search.
We click on the result that interests us and wait for the bot to send us the ebook.
As an alternative to the aforementioned bot I also recommend @allutilitybot, which works similarly to the other bot but to look for an ebook you have to write:
@allutilitybot book Decameron
As, as the name implies, this bot has other features. Both bots work in inline mode, which means you can call the bot from any chat or group, great isn't it?
Send books to the Kindle with Telegram and @ Send2KindleBot
@Send2KindleBot it's a Telegram bot very useful to send our newly downloaded books to our Kindle.
Normally we would have had to take the file, convert it and then transfer it to the Kindle via cable or send it to [email protected]
@ Send2KindleBot only needs a very fast initial configuration consisting of two steps:
in which we tell them which kindle email to send our files
add the email address that will be indicated to the list of addresses that are enabled to send us documents on our Kindle (via the email [email protected]). To complete this step we will need to go to the Amazon site.
Link to the bot -> https://telegram.me/Send2KindleBot
Find other channels
Well, it's simpler than you think.
In fact, it is enough, directly from Telegram, to search @ebook, or ebook, or pdf, epub or mobi and several channels full of content will appear.