Several testimonies seem to confirm the story.
Last week Kotaku brought to light a rather thorny question about the existence of a practice (Circle of Life) that would push employees to GameStop USA (but also store employees located in Europe) to use "unfair" practices, shamelessly lying to customers in order not to create imbalances on the target quotas of the single point of sale.
How does the system work? Simple, each Store has different percentages for 1) pre-orders; 2) the subscription of cards (Level 3); 3) the sales of used video games; 4) the game trade-in, i.e. buying a new title and returning it to GameStop to buy a new game. Basically it is on this that the infamous "Circle of Life" of the chain is based and the system in place also involves some work problems that are not insignificant for the employees of the American "giant".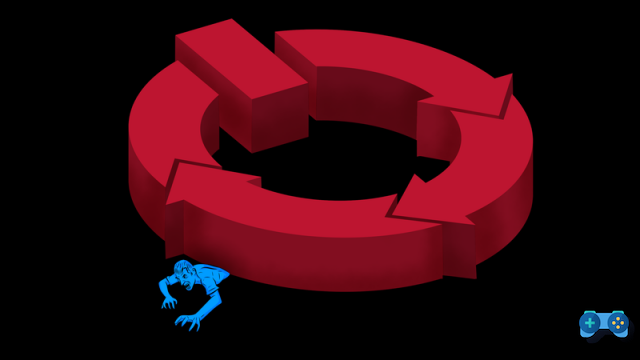 There are many testimonies that lead to reflect on how the working environment of a GameStop store can be; we report some of them:
During the Christmas period, my staff were afraid of losing their jobs due to the Circle of Life program, so I decided to pass them my transactions to improve their internal score, while I took care of transactions that could have ruined. average. I did it to take a lot of stress out of my team and to make them feel more relaxed during the holidays. I thought I was safe because I always had excellent ratings and my store's Circle of Life score was above average…. I was wrong. I was fired because I did not set a good example as a leader. I'm sorry, but I don't regret it, I did what I felt was right for my boys. "
"I work as an Assistant Manager at a Midwestern GameStop and I can tell you that… well… our executives lead us to deceive customers."
"The goals of the COL program had to be met every day, otherwise our District Manager would have called us to warn us of low numbers and threaten to fire us.
"We're telling people we don't have the new systems, so they don't take $ 300-400 hits on second-hand numbers at a time."
"None of us like to lie but unfortunately we often have to do it to safeguard our jobs. We can't do otherwise, we simply have no choice. "
"For many of us the Circle of Life program is a real torture ..."
As reported, there have been testimonials regarding the practices adopted by GameStop:
"I've never heard of Circle of life. But it's true, they give absurd percentages of used compared to new. They make you understand that selling new is harmful and they break the bitches a lot on these percentages. They also put pressure on the 'I'll close the shop' 'I'll move you' series. Customers have happened to come to us saying they couldn't find PS4 at a retail outlet when they had a full warehouse.
There has been an exaggerated shift in mentality in recent years. For example what I mean. Once upon a time, a good disk protection average was 33%. We have now moved on to the 110% average chain. What does it mean? If you sell a game without protection you have ruined your daily performance.
There is no defense or attack, I'm just trying to tell you things as they are And in fact that article does not report false things. "
"My work experience has been quite stressful as I was pressured by both the store manager to sell mostly used and game protection otherwise the store was" bad "and received a phone call from the area manager or a message. Gamestop has an internal program called Key Performance Index which is visible from the store's computer and from the area manager who published the data of all employees and daily of all stores every week or so. If a person or a store has too many reds, they are recalled, if they persist the employee is not renewed the contract. On the other hand, if the store goes badly, a staff change is made. We were also forced to send our individual data to the group every day to see the trend and if we had failed the store manager he "urged" us to do more, even chasing tricks such as selling used rather than new, to say that some promotions were only with the level 3 card and instead they were open to all types of cards. "
- when a new console was sold on at least 50% it was mandatory to do the console protection; the consoles used were always to be pushed in the first place and to look for all the cp.
- Gamestop treats stores like warehouses, my store had a warehouse full of PS4 and 3DS and when some were sold, others were sent without logic.
- an important episode that represents the pressure that an employee underwent was one day close to Christmas, my colleague and I were at the checkout it was about 17pm and we had to send the data on the group to see the progress of the store, the store was full and we could not leave people in the queue without a receipt to do the calculations after 30 minutes the phone of the shop and my private one started to sound like "if there was no tomorrow"; my store manager, colleagues from other stores, my colleagues and finally my area manager quite upset because my colleague and I had not published the data. my colleague had to close the cashier and let people stay in the queue because we had to send the store data (SALES, GP, CP, USED, LOOT….).
-a store in my province even made sales only if in line with the guidelines of the company, otherwise it tried in every way not to conclude the sale (e.g. that day the store data is not good, one comes to buy a PS4 Pro offer him a cp and if he refuses they pretend that he is not there and tell him to go to the competition).
-other note is selling all @play branded accessories first with respect to the originals without displaying the price (even if the company asks to display it, but no store does) and when the person asked for the price, increasing it with accessories protection without propose an alternative. "
The issue is very delicate and as we reported a few days ago, the COO of GameStop Tony Bartel he intervened in defense of the company by issuing some interesting statements.
Below, the text of the letter reported by Kotaku:
"Special message from Tony Bartel, February 2, 2017.
GameStop family. I want to take some time to address a recently published article from a well-known newspaper about our Circle of Life program. In the piece in question, it is explained how Circle of Life pushes our collaborators to mislead customers about the real value of some products we sell.
This is as far from the truth as there is and I want to say it clearly. GameStop's mission is to help customers get the best price on the products we sell, through pre-orders, loyalty cards and second-hand trade-in. We want to fully meet the needs of consumers, whether they are buying a new or used game, console, digital game or any other product. Circle of Life actually generates great value for customers, if you think that in 2016 GameStop issued about a billion dollars of credit to customers through trade-in, credit that in 70% of cases was immediately spent on purchase of other new products.
I know that many of you work hard to make sure our customers have a pleasant experience inside GameStop stores. Thank you! The behaviors described in the article are disappointing but I know that the behaviors described do not represent the majority of our employees. You are a great team and customer care is your first mission.
Thanks for your hard work and commitment. Your passion, knowledge and commitment are the factors that set GameStop apart from the competition. Keep it up and Power to the Players!
Tony "
Bartel therefore returns the accusations to the sender, although he does not deny that some employees may act in bad faith, specifying how any initiative in this regard is totally autonomous (and subject to punishment) and does not depend in any way on company directives.
Truth or lie?
So what could the truth be? We may never know, but it is not so "rare" to find people who have had bad experiences from GameStop. It almost seems that each store is a world unto itself, and it is not so difficult to find yourself in paradoxical situations such as those mentioned above. The problem is actually much wider as the "practices" used would also damage the Publisher and the Software House as GameStop preferring pre-orders, would voluntarily reduce the copies purchased. Personally, for some years now, I have not been a regular GameStop visitor and only buy something if in view of some really interesting promotion or discount; the salesman who wants to give you Game Protection (even on sealed games) has been a well-established practice for years and years and thinking that your refusal to do so can lead to penalties for the same or even dismissal is not nice at all.
My testimony about GameStop's bad practices concerns the infamous Level 3 card, which is the one that allows you to access the vast majority of discounts. "Precisely because I don't go to GameStop often, I found myself going there the very day when the card expired and the order, probably voluntarily, wanted in every way to make me pay the approximately 18 euros for the renewal; having a good memory, I promptly replied that the renewal, having a certain number of points, would take place automatically, which was then confirmed to me by another store. " If we consider people less "expert" on the matter, how many times will they have paid for the card even though they are entitled to free renewal? This is only a minimal experience that happened to me, but added to the others it makes us understand how much the "Circle of Life" system is rooted in the mentality of the American chain.
Furthermore, considering the problematic management of second-hand items, basically the one who goes there to earn money is only the retailer as the manufacturer of the game does not get anything in his pocket, the only advantage for the consumer is to have "more money" to buy others. produced by GS. Of course the system does not always work so perfectly and on balance, unless you usually finish games in a few days to take advantage of the trade-in and buy more, the only one who gains is GameStop. The Digital market could bring some order back as it is certainly more transparent than the Retail one, but it still has some flaws that we will not be here to analyze, and perhaps in the medium / long term it could meet the needs not only of the consumer but also more than the physical manufacturer has been doing in recent years.
And what do you think about it? Have you had any negative experiences from GameStop or not? Let us know in the comments