Best programs to uninstall on Windows 10. A selection of software to better manage the removal of all programs installed on your computer.
The best uninstaller can save you a lot of time and effort, plus there are several on the web available for download completely free.
When you want to uninstall a program on Windows 10 you need to go to Start> Settings (wheel icon)> Apps and features and after selecting the program to remove, press the button Uninstall. This conventional method is not always effective, as you may get an error message stating that the components cannot be removed or the uninstall may fail for other reasons.
Best programs to uninstall on Windows 10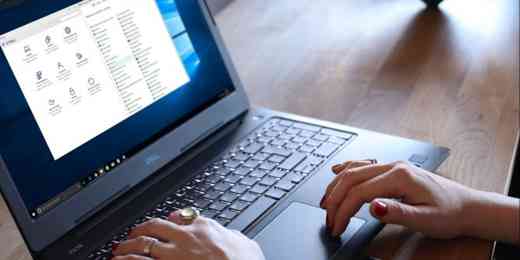 Il best program to uninstall programs quickly scans your system for all installed programs and allows you to select them simultaneously for removal. Once deleted, the software will perform another scan to find and delete temporary files and old registry entries, freeing up valuable space and making sure you don't run into trouble installing a newer version of the same software in a second moment.
The best uninstallers also provide a handy way to manage browser extensions and plug-ins and remove any that aren't being used. You will also be able to empty the trash with a single click and delete your browser history.
1. IObit Uninstaller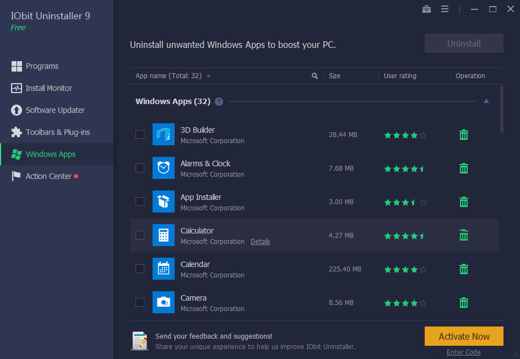 Il best program to uninstall programs definitely gratits for Windows.
IObit Uninstaller scans the system for installed software as it boots up. Its smart and clear interface displays a list of all installed software, with extra tabs if you're only interested in the latest or heavier programs that can have a major impact on operating system performance.
If you've already uninstalled a program but suspect there are other components left on your hard drive, IObit's deep scanner can hunt down garbage, including broken links e cache created during the installation of software updates.
IObit Uninstaller also takes a look at your web browsers to identify any Plugin which could be uninstalled to speed up your browsing. Currently it supports Mozilla Firefox e Internet Explorer, but not Chrome or Edge. Each extension is accompanied by a user rating to help you decide whether to keep it.
There is also an embedded file shredder (document shredder), which does not fit the features of an uninstaller, but all other tools are relevant and useful nonetheless.
All in all, IObit is the best application uninstaller you can download and its thorough scanning makes it the same as many premium programs.
2. Revo Uninstaller Free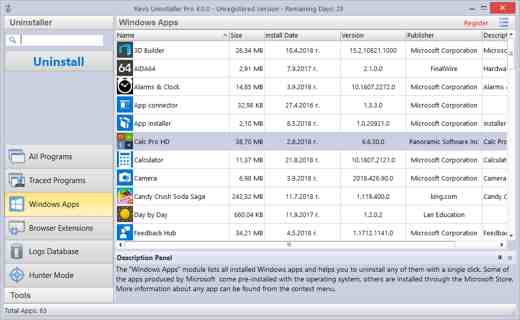 The best free and effective uninstaller thanks to its optimization tools.
The interface of Revo Uninstaller Free it's colorful but cluttered and includes tools like a startup program manager, as well as shortcuts to Windows system tools (including defragmentation and on-screen keyboard). These aren't really necessary and distracting in a free uninstaller.
Revo Uninstaller Free offers four uninstall options: integrated, safety (with additional registry scan), moderate (with additional scan of common locations for remaining files) e Advanced (moderate mode, followed by a thorough scan of the entire system). There is also a strange "Hunter mode", Which allows you to uninstall programs by dragging their icons onto a crosshair on the desktop.
Unlike some uninstallers, Revo Uninstaller Ita creates a system restore point right away, which is reassuring. Unfortunately it is unable to record new installations: if you wish, you could try running the version of Revo Pro for 30 days, it will give your discs a good clean
3. Wise Program Uninstaller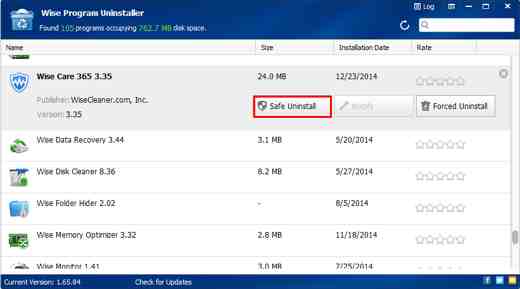 Useful for uninstalling programs on Windows 10 quickly.
Wise Program Uninstaller it is a quick and interesting portable app even though it offers free trial of a product called Spyhunter which could annoy you a lot.
It is a very quick and streamlined small program uninstaller that scans your system for programs that are already installed and displays the ratings of other users for their feedback on it.
Your choices for each program are there uninstall Safety e Forced uninstall (some also have an option of riparazione, but only if it is part of the software).
La safe uninstall it is simply a way to access the program's uninstaller, while that Forced performs a thorough scan to track down waste files and corrupted registry entries. It basically shows everything that was identified before allowing you to delete it.
The main disadvantage of its small size is that it is unable to register new programs while you install them, but as an uninstaller it is well designed and packed with necessary system tools.
4. GeekUninstaller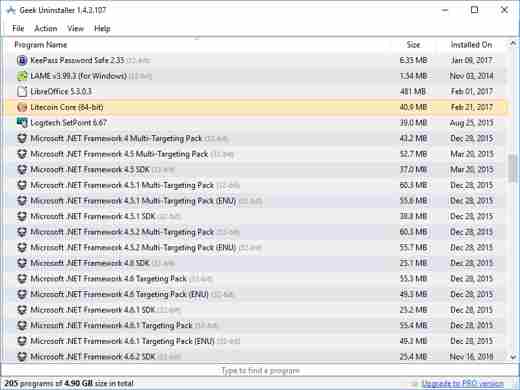 GeekUninstaller portable app is ideal for cleaning a messy computer.
GeekUninstaller is another free, portable and lightweight uninstaller, weighs only 2,5 MB.
It performs a quick system scan and offers the usual options: regular or forced uninstall. If you don't recognize something, GeekUninstaller will Google it for you - a simple but welcome addition that will save you time and space.
That's pretty much everything: there is no thorough scan for the remnants of previously uninstalled programs and no monitoring for new installations, but if you are looking for the best small and effective uninstaller, then it might be for you. It is also available in over 30 languages, which is undoubtedly a plus.