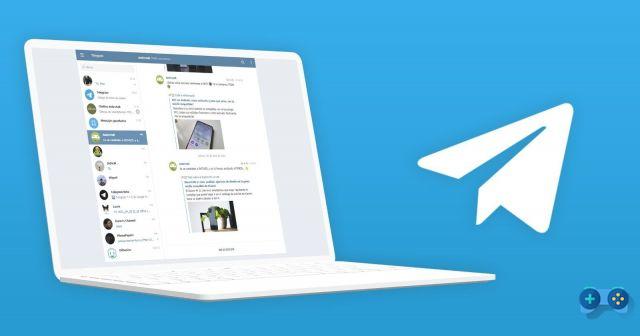 Telegram is undoubtedly one of the most widespread instant messaging apps on the planet. We are talking about a true giant that has conquered the market thanks to its efficiency and the tools it makes available to the user. By the way Telegram is not only instant messaging, but it can also become a means of information, exchange and also a very useful tool for doing business.
This innate versatility of the application will allow you to manage groups, supergroups and even channels dedicated to a specific topic or theme. With I chat bot you can perform a multitude of operations: make purchases, make payments, access certain information. In short, Telegram is a true microuniverse that embodies an infinite series of opportunities.
BUT WHAT IS TELEGRAM WEB?
Telegram Web is another opportunity offered by Telegram, i.e. web access. You will also be able to access your account through devices other than your smartphone. Very often it is not possible to monitor both phone and PC and even when it is possible, operations become a bit complicated and difficult to manage. With Telegram Web these problems will no longer arise.
From your office computer, for example, you can quietly access Telegram and use many of its functions as on a smartphone. You can also share files you have on your computer, in a very intuitive and simple way, in chats or in Telegram groups, without loss of quality of the shared file. With Telegram Web you can keep the communication channel open with your contacts while you are working on your PC and you can do it integrates all your activities in the best possible way.
WHAT ARE THE LIMITS OF TELEGRAM WEB?
There are inevitable differences between using the smartphone app and the web interface. Not all of the app's features are available in the web version. One of the most obvious limitations of Telegram Web is the inability to make and receive voice calls. In addition to this, with the web interface it will not be possible to take advantage of the very popular gifs. It won't even be possible for you to use secret web chats, nor will you be able to create new channels. Also in the management of groups and channels you will have severe limitations.
But how to use TELEGRAM WEB?
Using Telegram Web is very simple: you just need to connect to the page https://web.telegram.org/#/login. Once logged in you will need to enter your phone number and you will be able to access all functions.
Your smartphone will send you a secret confirmation code that you will need to enter on the web page, so that you and only you will have access to your Telegram! The layout of the tools is very similar to the software version and easy to understand: on the left there is one column with all the groups, channels, bots and started conversations.
On the right you will have the conversation you have chosen to open. With the settings menu you will have the possibility to create new groups, select contacts, choose a username, set a password. Among the most popular settings of the web version of Telegram There is certainly the possibility to enable desktop notifications to receive notifications of new messages directly, even through sound alerts.