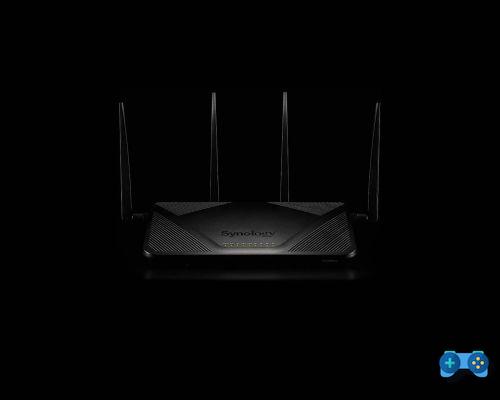 An advanced NAS and router all in one from the # 1 specialist in network attached storage.
Honestly, when you were looking for your new high-performance router, what were the first names you thought of? Netgear, of course, Fritz! Box, recommended by your super experienced friend, Asus, Dlink, TpLink. In your list, we are sure, you have certainly not included Synology. Yes, they, the Network Attached Storage specialists and with this review we will explain why at the top of your list, from now on, there must be a Synology router.
Design and Unboxing
Il Synology RT2600ac is a router based on a 1.7ghz Qualcomm dual core processor and 4 antennas with beamforming, two on the back and two on the sides, capable of guaranteeing a nominal top speed of 1,733 megabits per second on the 5GHz band and until 800Mbps on the 2.4GHZ one. The plastics are of excellent quality, opaque and rather rigid, while the generous dimensions (77 mm x 280 mm x 169 mm without antenna) and the design, characterized by large grids on the top and bottom - although it is not from exposure to the MOMA - gives back the idea of a solid and professional product. On the front, under the large Synology logo and the 9 green or orange LED indicators that indicate the operation of the router, there is also a very convenient, as unusual, SDcard reader that can be used, for example as a memory for storing apps. which we will talk about later.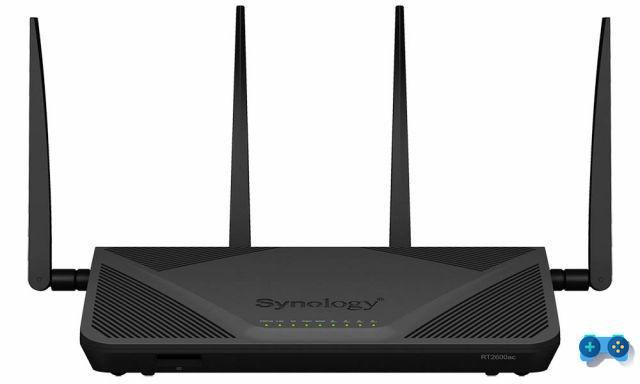 On the right side there are two small shiny buttons with a strange ball shape that are used to activate the WPS and to activate or deactivate the WiFi respectively, while on the left side there is a USB 3.0 port and a button to safely deactivate the disk USB connected.
On the back there is a power button, the power connector, a reset button, the two connectors for the antennas, a USB 2.0 port (useful for sharing a printer for example), the connection to the WAN and 4 ports Gigabit ethernet (RJ-45), one of which can also be used as a second LAN in order to connect two internet connections together for greater speed or as an emergency connection in case of failure of the main one (failover). The port can also be used with compatible 3G / 4G dongles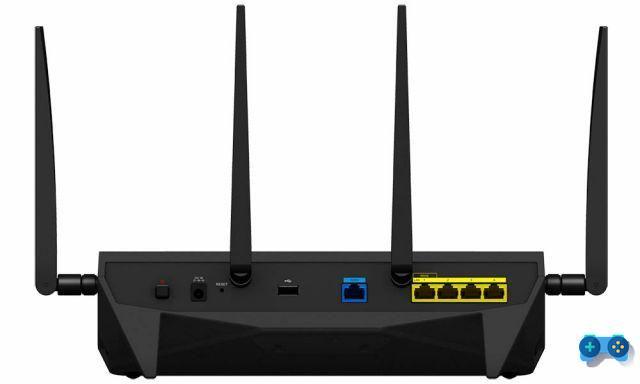 Anticipating, at least in part, the conclusions, the absence of at least two other gigabit ports (the Asus RT-AC88U in this sense has eight ports with link aggregation) is the only major flaw of this router, without which we would have could define it with certainty the "Definitive Router".
Package contents and unboxing
The packaging is the classic, very spartan one of all Synology products: a simple cardboard box divided into three compartments, the one at the bottom in which the 4 removable antennas are kept, the upper one in which the router is placed, and one on the side for manuals (a simple quick installation guide), network and power cable.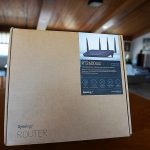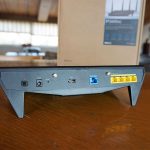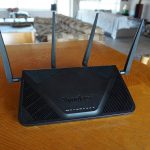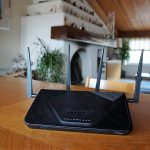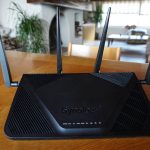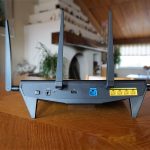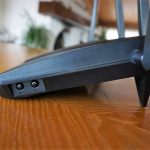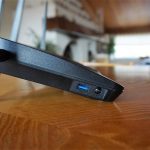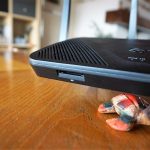 A NAS and a Router, all in one
As expected from a router of this category (its price tag is around 200 euros) from the hardware point of view, the Synology RT2600ac has very respectable equipment that you find well summarized in the table below.
Hardware specifications

CPU
Dual-core 1.7GHz
L4 / L7 Hardware acceleration engine
Memory
512 MB DDR3
Antenna type
4 × 4 MIMO Omni-directional high-gain dipole (2.4GHz / 5GHz)
LAN port

Gigabit (RJ-45) x 4
Gigabit (RJ-45) x 3 (Dual WAN)

WAN port

Gigabit (RJ-45) x 1
Gigabit (RJ-45) x 2 (Dual WAN)

External doors

USB 3.0 x 1
USB 2.0 x 1
SD card reader x 1 (SDXC, SDHC)

Button and switch
WPS, USB / SD eject, Power, Reset, Wi-Fi On / Off
Appearance
Size (Height x Width x Depth)
77mm x 280mm x 169mm (without antenna)
Weight
0.7 kg
Other
AC input voltage
100V - 240V AC
Power frequency
50/60 Hz, single phase
Energy consumption *
10.80 W (Access)
7.94 W (Idle)
Temperature
Operating temperature
5 ° C - 40 ° C (40 ° F - 104 ° F)
Storage temperature
-20 ° C - 60 ° C (-5 ° F - 140 ° F)
Relative humidity
5% - 95% RH
Certification

FCC Class B
CE Class B
BSMI Class B
VCCI Class B

Wi-Fi Certification
Warranty
2 years
wireless
IEEE 802.11ac

IEEE 802.11a / b / g / n / ac
Simultaneous dual-band Wi-Fi
2.4GHz: 800Mbps
5GHz: 1.73Gbps

IEEE 802.11ac wave 2

MU-MIMO
2 × 2 160 MHz (contiguous 80 + 80 MHz)
2 × 2 80 + 80 MHz (discontiguous)

Beamforming
SI
DFS
SI
WDS
SI
Programmable Wi-Fi
SI
WPS 2.0 (Wi-Fi Protected Setup 2.0)
SI
Support 3G / 4G mobile dongle (Learn more)
SI
Maximum MAC filter input
64
Maximum connection devices
100
Actually what makes the difference in the Synology RT2600ac compared to other products we have had the opportunity to try so far, is its operating system Synology Router Management (or SRM). SRM is in fact largely based on Disk Station Manager, an operating system we have come to know and love with Synology routers. The company has in fact managed to adapt the advanced features of DSM to the (only slightly) reduced capabilities of the router in question, while at the same time offering even greater simplicity and pleasantness in the user experience.
It is no coincidence that we have defined SRM a real operating system: unlike other routers in the same price category, the management software of the Synology RT2600ac behaves like a simplified version of Linux or Windows, with the possibility of opening multiple windows , order them thanks to a functionality similar to the Alt + Tab one of Windows (or Exposè of MacOSX), download apps from a real app store called Package Center, where there are applications both developed by Synology and offered by members of the community, able to virtually infinitely expand the functionality of the router.
For example, you can add media server features, a VPN system, the Download Station to manage your automatic downloads in torrents, FTP etc. and there is even a version of Plex Media Server, directly integrated into the router. It is clear that with so many features and the ability to manage an external drive thanks to the USB port and Synology's great experience in the industry, the RT2600ac router is able to almost completely replace a NAS, at least for the features that 90% of users use on a daily basis. If you add a community so excited to add new features, such as those offered by the KODI media center, you will understand how great the potential of this router is and that, perhaps, the street price of around 200 euros is more than justified.
Other very interesting features of this router should be placed under the category "Traffic Control". The Synology RT2600Ac, in fact, provides an advanced management of the available bandwidth: instead of limiting the download or upload bandwidth of a single device on the network, it is possible to limit the bandwidth specifically for some types of applications, allowing others to take full advantage of the Network resources. Great attention is also paid to safety, both through the management of the parental Control, which allows the blocking of both certain categories of sites (social, adults, etc.), and of one or more specific domains, also based on the security certificates they can prove to have. In practice, if the router detects an inconsistency in a site's security certificate, it can block navigation, preventing the user from falling victim to malicious or phishing sites.
Furthermore, the functionality that allows you to block advertising popups, similar to AdBlock, but above all, for a company network, is even more interesting. Intrusion Prevention which allows you to trace the origin of a possible cyber attack and prevent DDos attacks.
Performances
The Synology RT2600ac router in our tests proved to be one of the most interesting routers around also on the performance side. Despite not having the scepter of the fastest router, which is up to theASUS Rog GT AC5300 (with even 8 antennas!) the Synology proved to be an excellent competitor, recording a speed on the 5Ghz band higher than most of the top-of-the-range routers in circulation, (including our beloved Fritz! box 7490) and, in some respects , even the most expensive Netgear R7800.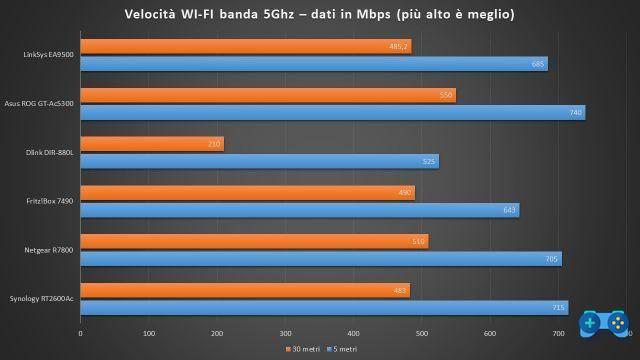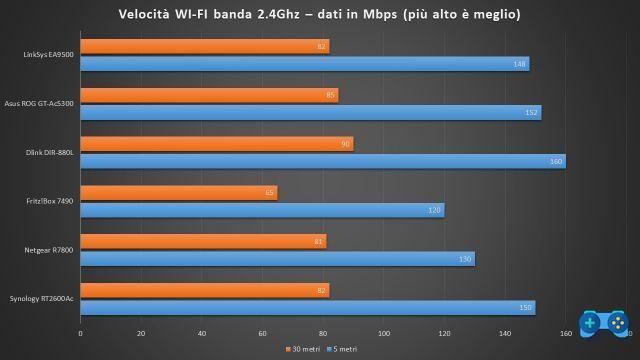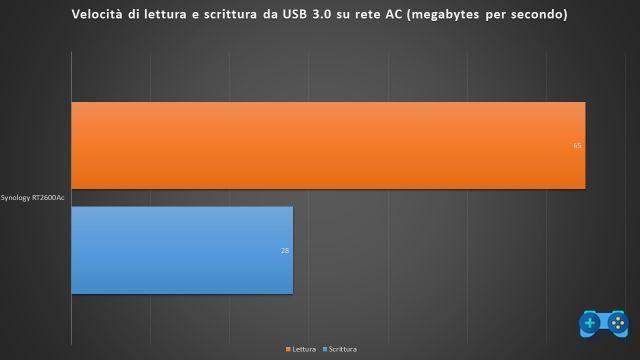 On the other hand, the reading performance from USB 3.0 was not excellent, but still more than enough to manage a video, even in 4K. Unfortunately, we have not had the opportunity to test the read and write capabilities from the SD slot, but considering the main use of the port (small shares in the network and not streaming of entire movies, storage space for apps downloaded from the Package Center) we are sure they are more than enough.
Final comment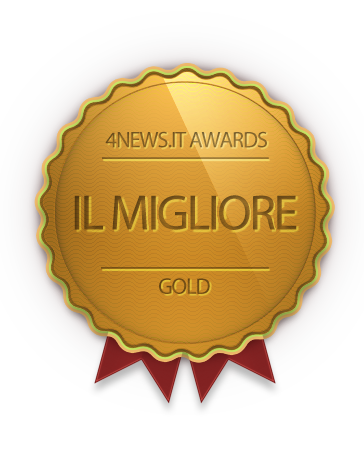 With the RT2600ac router Synology has managed to combine first-class performance in the networking field with the accessibility and versatility of the NAS solutions we know well. The high purchase price of about 200 euros, never as in this case is justified by the presence of many additional features provided by the manufacturer on its "app store" and by the presence of a rather large community, favored by the wide diffusion of Disk Station Manager operating system of Synology NAS, of which SRM is a direct derivation. Add to all this, absolutely respectable performance and you will understand why the Synology RT2600ac deserves our gold award in all respects.