The sexy shinobi in the kitchen.
Version tested: PC.
Women and cooking: a combination that, adopting a macho mentality, we all know where this is going, but it is absolutely not our goal, first of all because we respect the female figure. In this case, we are referring to a very sexy scenario that combines the culinary environment with girls with decidedly prosperous shapes and of which we will be the "sacrificial victims" given the obvious difficulty in resisting distractions.
All this is proposed to us in SENRAN KAGURA: Bon Appétit! - Full Course, porting to PC of the spin-off released on PlayStation Vita in November 2014, which in addition to the original game also brings with it the Gessen X Hebijo expansion and all released DLCs. After the debut of Shinovi Versus in June (HERE our review), therefore, the shinobi have decided to take a break from fighting to participate in the "Super Dish Gourmet Cook-Off" contest and demonstrate all their culinary skills among sharp knives and burning stoves.
We cook to the rhythm of music
Forget the hectic battles on which the series is based, as SENRAN KAGURA: Bon Appétit offers a totally different gameplay that focuses on rhythm, precision and reflexes reminiscent of a sort of culinary Guitar Hero. To bring home the victory in the challenges to the last recipe, in fact, we will have to press with the right timing the series of keys that scroll on the screen on two parallel bars following the rhythm of the proposed songs, which play a fundamental role and are more or less complex depending on the difficulty level chosen. In the three rounds that we will have available, therefore, we will have to try to execute everything perfectly and any mistake, especially in the final battles, can result in a bitter defeat. The traditional and famous system of destruction of the clothes of the shapely ninjas we love so much, of course, could not be missing: with each round won or lost, the clothes will gradually tear apart, and with the overwhelming victories the sexy protagonists will remain completely naked. Obviously, censorship will be applied to the "sensitive parts", even if around, let's face it, there are mods able to satisfy the perversions of any player. The dialogues before the various challenges are often filled with double meanings such as "I love 'em big, thick, and hard!". We always talk about food anyway, let's be clear.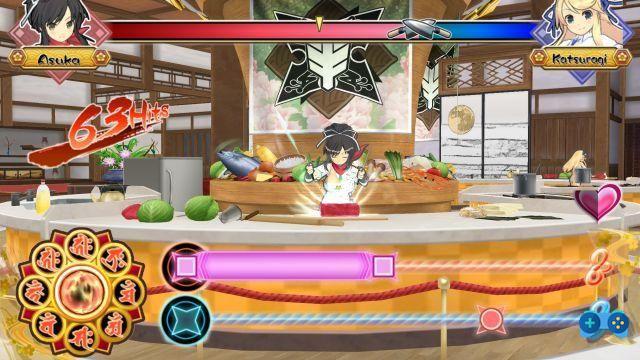 The various dishes we will prepare will be tasted and evaluated by the shinobi master Hanzo, who will decide the winning cook based on two factors: the taste will derive from our precision, while ringing longer and longer combos we will increase the size of the portion. Furthermore, by performing series of combos, we will fill the ninja art bar, which we can then activate to get bonus points useful to stay in the lead; pressing on the hearts that will appear based on our performances in the various rounds, instead, we will see a wonderful and sensual perspective that, at the same time, will also be an excellent bait to decrease the concentration acquired.
In terms of longevity, this spin-off is capable of ensuring about ten hours of gameplay with Story Mode only, which allows you to play as 22 different characters from different shinobi academies that fans will undoubtedly know. What limits the title a lot to a very narrow range of users and to lovers of the series, however, is precisely the fact that there is nothing else to do besides having to press the keys correctly in series to win the various culinary battles. This, as you can guess, reduces SENRAN KAGURA: Bon Appétit to being more of a pastime with which to have fun from time to time than a real game to be enjoyed and completed. Supporting the main story is the Free Mode and Arcade mode, which, however, offer nothing different in terms of gameplay. Nothing to complain about the extensive customization offer, which allows you to change the clothing of the shinobi cooks to your liking (obviously, first you need to unlock the various items). And here the players will be able to give vent to all their fantasies, also choosing to enter the competition with really sexy and skimpy underwear outfits that leave little room for imagination, perhaps accompanied by a pair of bunny ears. In short, you will be spoiled for choice.
Compared to the PS Vita version, porting to PC brings with it first of all one 1080p resolution with a super smooth 60 fps frame rate, which is also possible to limit to 30 fps if you really feel the need (although, frankly, we would not understand why). In terms of graphics settings, there is no other editable option other than anti-aliasing, which can be set up to a maximum of 8x. Graphically, however, the game is pleasant and boasts a decidedly lively color palette, although it is evident that it is a title made for a portable console.
Final comment
SENRAN KAGURA: Bon Appétit! - Full Course is able to ensure several hours of fun also thanks to the presence of all the released DLCs, as long as you are a lover of the genre and you like titles that focus everything on musical rhythm, in which the gameplay is reduced to pressing the keys correctly sequentially to win battles. Other than this, it is possible to indulge in customizing the various protagonists to make them even more sexy, but apart from the temporary satisfaction of male fantasies (and maybe even female ones, why not) we don't think it's a fundamental game element capable of entertaining. This spin-off, however, remains aimed primarily at fans of the series who, for some reason, have not been able to play the original title on PS Vita or who simply want to see the prosperous forms of shinobi in high definition and in a culinary context. .
For
Cons

- A good rhythm game ...

- Extensive customization of the protagonists

- ... but it could get tired quickly

- No alternate modes

Overall rating: 70