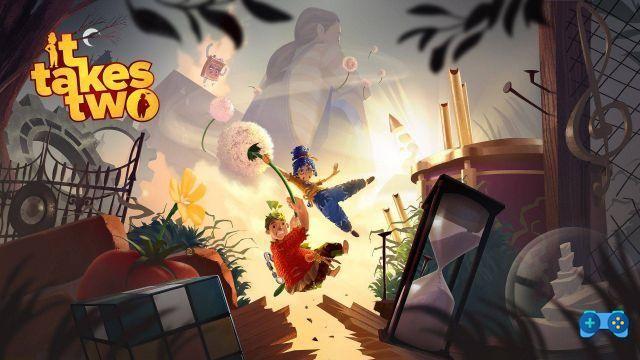 An authentic cooperative adventure.
Version tested: PC.
There is no doubt that cooperative video games have been in a phase of eclipse for a while, with a market mainly oriented towards competitive multiplayer. Without detracting from other genres, the shared adventures require an additional effort in the realization, having to offer a well thought out gameplay according to the nature of the game.
A cooperative experience is therefore completely different from what a competitive classic or a single player offers. Knowing that there are other players with you always ready to cover your back or to work together to overcome an obstacle is quite another thing. The added value, especially with friends, is precisely that relationship of mutual trust that is built, as well as the sharing of funny moments with a doubled effect.
The director as well as the author of video games Josef fares is one of the biggest supporters of cooperative adventures. In 2013 he brings his cinematographic experience to the videogame world by debuting with Brothers: A Tale of Two Sons, very positively received by critics. In 2014 he officially founded Hazelight Studios, devoting himself to the development of his new title A Way Out, enjoying great success. With the approval of the public and critics, the Fares team is now back in the spotlight with It Takes Two.
We announce it to you: their third cooperative adventure is a precious jewel of its kind, which pleasantly surprised us and reminded us what it really means to play Together with a capital I.
Some loves don't end
It Takes Two tells a simple and absolutely current story that revolves around the concept of true love and mutual complicity. The love life of the two protagonists of the game, Cody e May, is now one step away from divorce. Aware of the difficult decision made by her parents, daughter Rose lets herself go to a sad cry, seeking help in a book about love. The girl's tears trigger a spell that transforms Cody and May into two little puppets, seeing themselves transported to a "parallel world" in which they see their home from a very different perspective. To return to normal, the two protagonists will have to fix their relationship by overcoming any obstacle together, rediscovering the meaning of always being there for better or for worse.
The cinematic touch instilled by Josef Fares is immediately evident, with one graphic style that is reminiscent in all respects of a Disney Pixar animated film. The excellent characterization of the main characters (often also of the secondary ones) makes the narrative component stand out even more, reserving a place of honor for the Book of Love. This animated book finds its embodiment in a smashing Mexican, immediately impressed by his act as unpleasant as it is crazy that will make you more than a smile.
As you can imagine, It Takes Two is a co-op playable title only, online or locally in shared screen. Regardless of your choice, the screen will still be split in two for much of the adventure, so you always see what the other player is up to. Thanks to Friends Passin addition, a friend can download the game for free and join your game, without having to spend anything. Obviously, this feature allows you to join by invitation only and does not give access to either lobbying or Origin goals.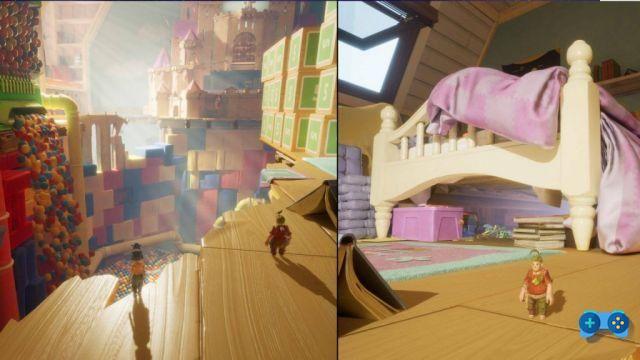 Beautifully cooperative
As soon as the adventure starts, you immediately realize how the experience is completely focused on collaboration. Coordination, reflexes and intuition surround a fun and absolutely successful gameplay, boasting brilliant mechanics that go perfectly with the incredible game design. The various levelsIn fact, they are characterized by particular objects or abilities which will allow Cody and May to interact with their surroundings. The players, among other things, are free to select the desired character every time a game is started, in order to be free to try all the mechanics offered.
In It Takes Two creativity is on the agenda, with unusual boss fights, unexpected easter eggs and different videogame genres brilliantly integrated into specific phases of the game. We are sure you will be fascinated by the work of Hazelight Studios. They are not missing multiple replayable minigames (25 to be exact) scattered throughout the chapters, useful for taking a short break and challenging your friend at any time.
The adventure offers a brisk pace from start to finish, delivering an experience where action and storytelling go hand in hand about 10-12 hours of gameplay. A duration that we find suitable for the proposed contents, capable of always keeping the attention of the players high without falling into repetitiveness.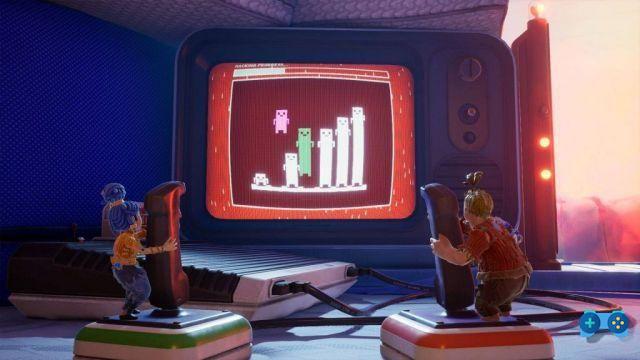 An explosion of liveliness
As we said, It Takes Two has a lot in common with the newer animated films. It goes without saying that the visual impact is pleasantly colored and pleasant, sometimes giving truly spectacular settings. The graphic rendering is excellent for the PC version and the game is rather generous in hardware requirements, managing to run well even on configurations of 5-6 years ago. On ours, predictably, we didn't encounter any issues in terms of frame rates, well above 60 fps in 2K and with each setting at maximum.
| | |
| --- | --- |
| Test setup | |
| CPU | AMD Ryzen 7 5800X @ 4.8 GHz |
| But by the full GPU acceleration tech | NVIDIA GeForce RTX 3080 10GB |
| RAM | 32GB DDR4 @ 3.600 MHz |
| SO | Windows 10 Pro 64-bit |
| Monitor | LG 27GL83A UltraGear 2K 144 Hz with active G-Sync |
Last but not least the audio sector, which has nothing to envy to the positive comments above. The soundtrack is very respectable, always spot on in every situation, and the same goes for sound effects. Excellent dubbing in English, easy to understand but still supported by texts and subtitles in Spanish. We do not hide the fact that a product of this quality would also have deserved a local dubbing to reach the apex in all respects.
Final comment
It Takes Two it is a precious jewel of its kind, something that was missing for a long time and that has surprisingly won us over. Hazelight Studios brings back the pure essence of cooperation, and does so with a simple story that speaks of sincerity, forgiveness, knowing how to accept strengths and weaknesses of others. The game emphasizes how union makes strength, without giving up in the face of the first difficulties, in a relationship as well as in life. A fantastic adventure with excellent gameplay that leaves no doubt about how much fun it is to play with a friend. The marked resemblance to Disney Pixar animated films is the icing on the cake, giving a refined cinematic touch that completes this author's picture.