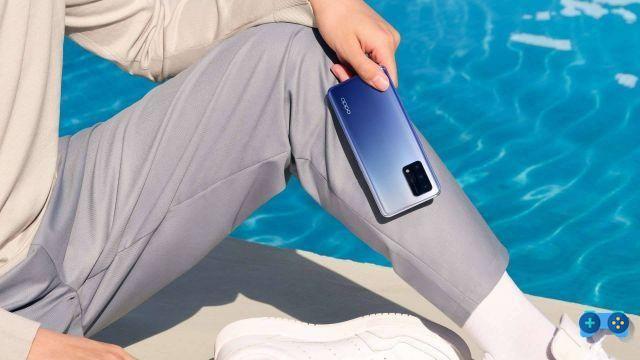 A concentrate of design, performance and energy, starting at € 269,99.
OPPO, one of the world's leading companies in the smart device sector, today announces the arrival on the market of new smartphones of the Serie A family, the brand's middle level lineup, which includes three models: OPPO A94 5G, OPPO A74 5G e OPPO A54 5G.
Thanks to the perfect balance between design and performance, including 5G connectivity, an innovative photographic sector, long-lasting battery and fast charging, these new smartphones can be considered true and faithful allies, even on the most "connected" days, which require a almost unlimited energy.
"Serie A is a very popular lineup with our consumers. With these new smartphones we want to meet the needs and different lifestyles of our users, increasingly dynamic, at a lower price. The new OPPO A Series models offer fast and powerful performance, perfect for accompanying people in their increasingly connected daily life and for all gaming lovers looking for a stable and high-performance connection, even on the move ", he comments. Isabella Lazzini, Chief Marketing Officer OPPO.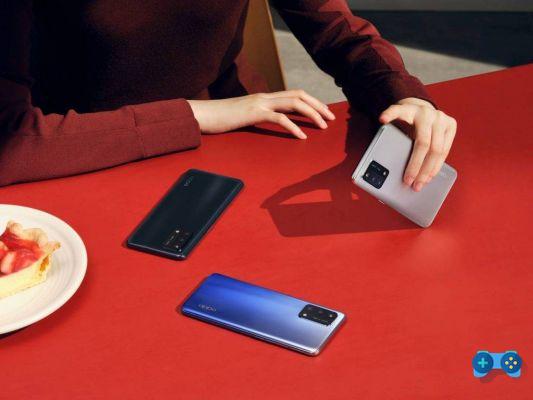 OPPO A94 5G: energy in motion
With OPPO Smart 5G 3.0, OPPO A94 5G is able to achieve high download and upload speeds, thanks to which it is possible to stream favorite TV shows and movies and play video games without interruption, thanks also to the MediaTek 5G Dimensity 800U processor, which supports 5G SIM dual mode (NSA and SA). The new smartphone also takes advantage of eight powerful cores up to 2,4GHz and a fast memory to ensure both multitasking work and smooth and performing gaming sessions.
The 360 ​​° 3.0 Antenna is optimized to maintain a constant signal, regardless of how you hold your smartphone, especially when playing in landscape mode or checking emails in portrait mode. In addition, OPPO A94 5G is equipped with the function Dual Network Channel which speeds up the connection by connecting to the Wi-Fi and 4G / 5G network, especially useful when you are in a crowded environment where the Wi-Fi signal is weak.
OPPO A94 5G includes a powerful and reliable 4310mAh battery which guarantees a day of intense use, and the innovative Quick Recharge system OPPO VOOC 30W that allows fully recharge your smartphone in just 48 minutes, safely and efficiently. With just five minutes of charging, the phone supports 2 hours of video playback or approximately 3 hours of talk time. To further improve performance, OPPO has incorporated the System Performance Optimizer which reduces the possibility of lag by 18% compared to previous generations, a perfect function for all the most demanding gamers.
OPPO A94 5G has a minimalist, elegant and ultra-thin design with a weight of 173gr. The design of the phone sinuously incorporates the quadruple camera, integrated into the rear body of the device, with Gorilla Glass 5 that keeps it elegant and smooth to the touch, but above all indestructible. The photographic compartment of OPPO A94 5G includes a main camera from 48MP, an 8MP macro-wide angle, a Portrait Mono Camera from 2MP it's a 2MP Mono Macro, and is able to take photos with resolution up to 108MP AI thanks to the innovative Ultra Clear Image technology. All users, thanks to these four cameras, will be able to become experts in video and photos, with extreme ease. Thanks to the functionality Dual-View Video, it is possible to keep both the rear and front cameras turned on at the same time, to have a double view directly on the display. A perfect feature for vlogging enthusiasts or for those who want to share their experiences on social media. OPPO A94 5G supports HDR and 4K videos, and thanks to AI Scene Enhancement 2.0, Dynamic Bokeh and Night Plus it is possible to automatically capture even sharper photos and videos.
Il 6,4 '' Super AMOLED FHD + us 90,8% screen-to-body ratio and 3,7mm punch-hole It is perfect for streaming video and playing games, thanks in part to the range of crisp and bright colors that guarantees a truly immersive experience.
With ColorOS Efficiency 3.0 it is even easier to use smartphone functions quickly and smoothly, especially during multitasking activities or gaming sessions. For example, with the mode Game Focus Mode which blocks all interruptions, including notifications, the user can fully immerse themselves in the game. In addition, the smartphone also has the ability to enable Bullet Notification from WhatsApp and Facebook so you can continue to keep track of your favorite social networks during gaming sessions, with a minimum level of distraction. Finally, Quick Startup allows you to quickly return to the game session with a simple tap within 24 hours of exiting the game without having to wait for loading times. Finally, the mode Game Floating Window allows you to keep a game running in a floating window so you can monitor it and return to play at any time.
OPPO A74 5G and OPPO A54 5G: premium design and top-of-the-range functionality
Both new models include a 6.49 "Hyper-Color Screen LCD display with FHD punch-hole, which gives an extraordinary visual and immersive experience with sharp, brilliant and realistic colors capable of showing the natural beauty of the subjects. Thanks to the 90Hz refresh rate and 180Hz tactile sample rate, the display is more responsive and faster, whether it's for gaming or just scrolling through social media feeds.
The premium design It owns elelements elegant and in tune with contemporary style and trends. Smartphones have slim, sinuous lines, are lightweight and offer a comfortable handling feel.
La powerful 5.000mAh battery of the new smartphones lasts more than a day and a half. Both phones include the feature Battery Guard, which customizes charging speeds based on user habits, especially during the night as the application stops charging when it reaches 80% and resumes charging the remaining 20% ​​only when it is morning, ensuring that the phone does not overheats and recharges safely and intelligently. OPPO A54 includes 10W fast charge in box (18W supported) while OPPO A74 is integrated with 18W fast charge, which charges the phone up to 68% in just 60 minutes.
Il photographic compartment of OPPO A74 5G, also available for sale in the 4G version, e OPPO 54 5G, supported by AI, lets you capture the world with amazing, professional shots with a main camera from 48MP, an 8MP wide angle, a 2MP monochrome it's a 2MP macro. The 48MP ultra-sharp rear main camera offers ultra-high image resolution capabilities and uses super-resolution algorithms that produce ultra-sharp 108MP AI images (XHD Ultra Clear Image) with a sharpness at the retina level. Additionally, both phones have a 16MP front camera for perfect selfies.
Powered by the platform Qualcomm® Snapdragon ™ 480 5G, are the ideal smartphones for obtaining a fluid, fast and slow-down user experience.
Purchase the new OPPO A Series family and receive the best of OPPO audio technology
All those who purchase the OPPO Serie A until May 9, will receive included in the price some of the best audio products in the OPPO ecosystem.
OPPO A94 5G, in the 8GB RAM + 128GB configuration, is available on Amazon.com and in leading consumer electronics stores at a recommended retail price of € 369,99, in Fluid Black and Cosmo Blue colors. All those who purchase the smartphone by May 9, 2021, will receive included in the price OPPO Enco Air, for a commercial value of 99,00 €;
OPPO A74 5G, in the 6GB + 128GB configuration, is available exclusively with TIM, at a recommended retail price of € 299,99 in Fluid Black and Fantastic Purple. All those who purchase the smartphone at TIM authorized points of sale by 9 May 2021 will receive included in the price OPPO Enco W11, for a commercial value of 99,00 €;
OPPO A54 5G, in the 4GB RAM + 64GB configuration, is available on Amazon.com and in leading consumer electronics stores at a recommended retail price of € 269,99 in Fluid Black colors e Fantastic Purple. All those who purchase the smartphone by May 9, 2021, will receive included in the price OPPO W11, for a commercial value of 99,00 €;