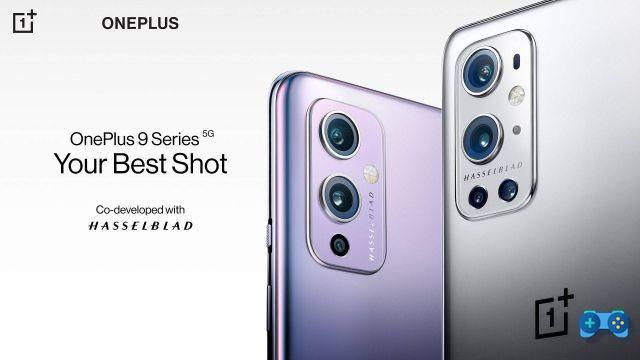 We present the 9 series di OnePlus which has just been announced, with an event dedicated to this year's new products. The company of Shenzen she did not spare herself and decided to focus everything on color fidelity, the reactivity of the display, the speed of wireless charging, which surpasses charging solutions wired of the other players in the sector and on the innovative (for a smartphone) possibility to record videos in 4K 120fps, with a final surprise regarding the selling price.
In addition, OnePlus also announced its first SmartWatch, Oneplus watch, Which provides up to two weeks of battery life, multiple health and sports monitoring functions and a elegant and refined design.
Finally, special attention was also given to the photographic sector. In fact, OnePlus has partnered with Hasselblad, a renowned Swedish company in the professional photography sector (his first photo on the moon with the Apollo 11 mission is famous). The revolutionary function Natural Color Calibration with Hasselblad which offers a true-to-life color calibration and unprecedented image quality, is also made possible thanks to the innovative hardware mounted inside it: processor Qualcomm Snapdragon 888, the new Fluid Display 2.0 who got the A + rating from DisplayMate and a solution of fast charging, the Warp Charge 65T e Warp Charge 50 Wireless which are among the best in the industry.
OnePlus 9Pro without equal
The main camera from 48MPX di OnePlus 9 Pro is equipped with a IMX789 sensor 1 / 1,4 ″, designed in collaboration with Sony. Take pictures in 12-bit RAW, dual native ISO and DOL-HDR and records in 4K 120fps, as well as the ability to do time-lapse video in motion (such as GoPro's Hyperlapse mode).
The incredible camera 50MPX ultra-wide su OnePlus 9 Pro use a 766 / 1 ″ Sony IMX1,56 sensor, with technology Freeform Lens, which uses a series of curves to correct incoming light, bringing the distortion at the edges of the photos to about 1% (panoramic photos without lateral distortion). The ultra-wide camera also allows you to capture high-quality macro photos, with the ability to focus from a distance of 4 cm from the subject.
Il 8MPX telephoto lens di OnePlus 9 Pro offers one 3,3x zoom with optical stabilization (OIS) maximum of 30x digital zoom. In addition to the cameras just described, OnePlus 9 Pro features a dedicated monochrome camera which works together with the OnePlus 9 Pro main camera for add detail and layering to black and white photos and the tilt-shift function that simulates the special miniature effect of a tilt-shift lens for more creative photos.
Hasselblad Pro Mode, offers incredibly accurate and natural color while providing a solid foundation for post-editing. It also allows unprecedented control for experienced photographers, with the ability to adjust ISO, focus, exposure time, white balance and more. Users can also shoot in 12-bit RAW format and capture color 64 times compared to 10-bit RAW traditionally found in other smartphones.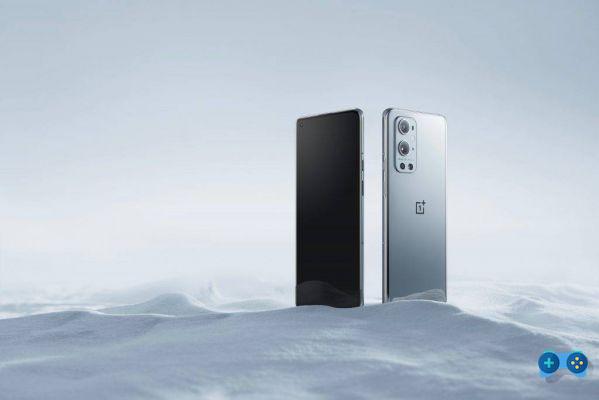 Fluid Display 2.0
Il Fluid Display 2.0 di OnePlus 9 Pro it's kind of LTPO and allows you to automatically adjust the refresh rate from 120Hz up to 1Hz to adapt to user needs, with significantly lower energy consumption. Technology Hyper Touch it also offers a much faster response time when playing certain games by increasing the 360 Hz sync speed between processor and display - up to six times faster than before.
The panel is a QHD +, with 1.300 nits of maximum brightness and 10-bit native color depth, HDR10 +. The display offers a more accurate and natural color reproduction with an outstanding JNCD (Just Noticeable Color Difference) less than 1.0, for a color evaluated as "visually indistinguishable from perfection".
Performance
5G technology with the processor Qualcomm Snapdragon 888, powered by the X60 5G Modem-RF system. The X60 is the world's first 5nm baseband architecture and offers a faster, lower latency 5G connection. Reduces power consumption and heat, improving performance and battery life in the OnePlus 9 Pro. Equipped with a RAM LPDDR5 and storage UFS 3.1.
Warp Charge
La Warp Charge 65T provides the energy needed for daily use in just 15 minutes and can recharge from 1 to 100% in just 29 minutes. In addition the Warp Charge 50 Wireless is the technology of fastest wireless charging ever, charging from 1 to 100% in just 43 minutes.
OnePlus 9, call it TOP RANGE
OnePlus 9 it has the same processor Snapdragon 888 of the Pro model, uses the same camera 50MPX ultra-wide present on OnePlus 9 Pro, with a 766 / 1 ″ Sony IMX1,56 sensor it's a Freeform lens which curves to decrease edge distortion. Also there 48MPX main camera boasts exceptional imaging capabilities, thanks to a 689 / 1 ″ Sony IMX1,43 sensor with support 12-bit RAW, dual native ISO and 3-HDR. The camera system of OnePlus 9 offers an optimized focus speed, 64 color information you want more detailed than a traditional 10-bit sensor, cleaner day and night shots, and higher dynamic range in videos. A monochrome lens works together with the main lens for more detailed and complex black and white photos.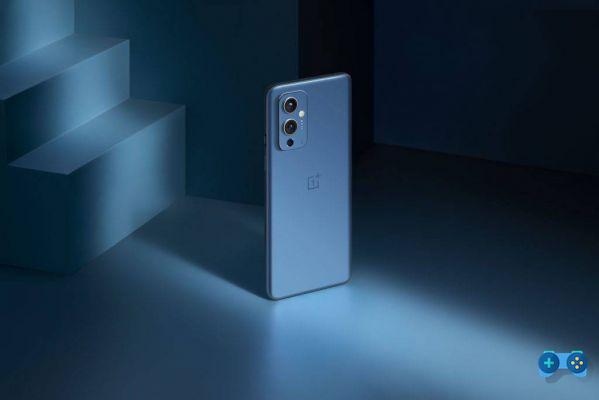 Fluid Display at 120 Hz
OnePlus 120's 9Hz Fluid Display offers an immersive visual experience. Using the same top-notch flat display as the OnePlus 8T, which received an evaluation DisplayMate by A +, with industry-leading color accuracy and improved automatic brightness control, delivering a flagship visual experience. The display brightness of OnePlus 9 it can go up to 1.100 nits with HDR10 + certification
Warp Charge
The 4.500 mAh battery of OnePlus 9 uses an improved dual cell design that is capable of charging from 1 to 100% in just 29 minutes. The North American and European versions of OnePlus 9 also support Qi wireless charging up to 15W.
All seasoned with the excellent OxygenOS11
OnePlus software is among the most accredited in the mobile sector. Her comunity it is among the most crowded. The company is famous for listening to its customers' requests and then rendering the required functions in future devices. This is something he has always maintained, since the very first model.
Compared to previous versions of their system, this time OnePlus goes a step further. Abandon the stock-like style of Android and finally customize (slightly) the user interface of the devices. Among the most desired requests by the same comunity,there is the always on display which will finally be supported by OnePlus devices.
OnePlus 9 series is made of colors
OnePlus 9 Pro It is available in three colors inspired by nature: Morning Mist, Pine Green and Stellar Black and it offers a IP68 classification for water and dust resistance.
OnePlus 9 will be equally of three colors inspired by nature: - Winter Mist, Arctic Sky and Astral Black.
One More Thing ...
Oneplus watch is the most recent extension of the brand's strategic plan, which is to offer the OnePlus experience to more users around the world. As the first global wearable presented by OnePlus, the OnePlus Watch aims to integrate into users' daily digital life, offering a stylish design, a smooth connection, smart fitness tracking and incredibly long battery life.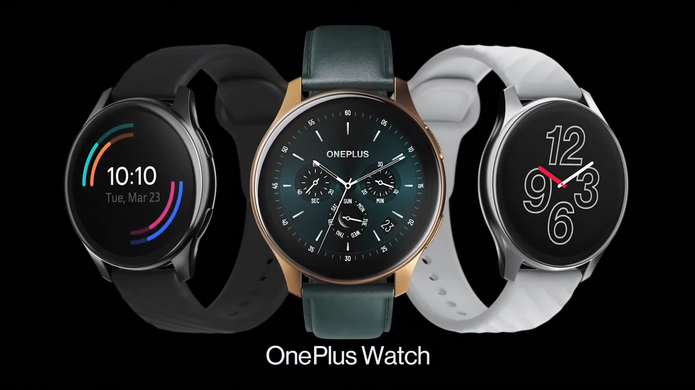 Developed with the same craftsmanship and build quality reserved for OnePlus smartphones, giving life to a product powerful to use and beautiful to wear. The round design emulates the look of a traditional watch, the 46mm case is made of quality stainless steel, with 2.5D curved glass on the dial and a subtle but bright shiny pattern on the display bezel for an added touch of class.
Seamless connectivity
Oneplus watch it integrates organically into the digital life of users. It allows you to view and respond to notifications conveniently, dial and answer phone calls, play music and take pictures. OnePlus Watch comes with 4GB of memory (2GB for actual use, are few in our opinion), and is compatible with most Bluetooth headsets for wireless music playback on the go.
Powerful Battery, Proactive Fitness
Oneplus watch offers users exceptional battery life, in just 5 minutes you can charge the device for a whole day, while in just 20 minutes for a week of use. The long-lasting 402mAh battery offers enough power for up to two weeks of average use, and up to a week of power for the most active users.
Water and dust resistant for 5ATM + IP68 and with more than 110+ types of workouts, Oneplus watch it is also ideal for the most intense workouts. Pulse, distance, calories, speed monitoring and SWOLF efficiency for swimmers are just some of the features available. Thanks to Built-in GPS, OnePlus Watch tracks all your activities accurately, even when not close to the phone. It also offers blood oxygen saturation monitoring, stress detection, breathing training, rapid heart rate alerts, and sedentary reminders, all easily managed on the OnePlus Health app.
It will be in two colors, silver and black, but with an addition.
OnePlus Watch Cobalt Limited Edition
OnePlus Watch Cobalt Limited Edition takes it a step further in premium design with materials traditionally found only in luxury watches. The Limited Edition case is made of cobalt alloy, a hypoallergenic material that is twice as hard and more corrosion resistant than traditional stainless steel. The face of the watch is instead made of sapphire crystal which has achieved a Mohs score of 9, for greater brightness and exceptional resistance to scratches.
Prices and availability
OnePlus 9 Pro and OnePlus 9 have a lower list price than the models proposed last year. This thing makes us very happy, because they are below the competitors, but with even better performance. They are already available for pre-order through the official OnePlus website and on Amazon. However, they will be available for sale on March 31 for OnePlus 9 Pro and April 26 for OnePlus 9
OnePlus 9 will be available in version 8GB + 128GB in Winter Mist, Arctic Sky and Astral Black colors at the price of € 719,00.
OnePlus 9 will be available in version 12GB + 256GB in Winter Mist, Arctic Sky and Astral Black colors at the price of 819,00 €.
OnePlus 9 Pro will be available in version 8GB + 128GB in Morning Mist, Pine Green and Stellar Black colors at the price of € 919,00.
OnePlus 9 Pro will be available in version 12GB + 256GB in Morning Mist, Pine Green and Stellar Black colors at the price of 999,00 €.
Oneplus watch will have a starting price of 159€, availability in Europe will be shared in the coming weeks.