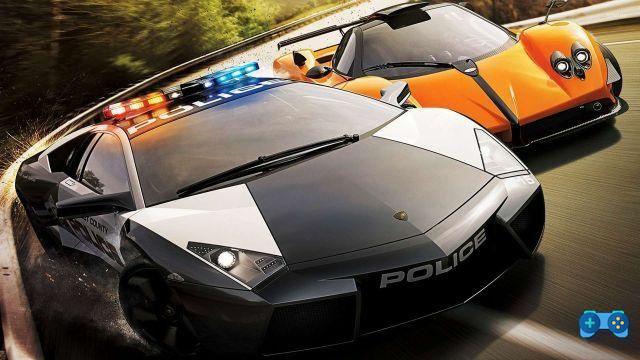 Version tested: PC
With the passage to Ghost Games, the franchise of Need for Speed Has lost its identity. The three games published by the Swedish developer: Need for Speed (2015) Need For Speed ​​Payback (2017) and Need For Speed ​​Heat (2019) did not achieve the desired result and failed to bring the series back to its original splendor. Starting last February, EA has decided - fortunately - to rely again on Criterion Games to restore life to the arcade racing series. This news blew fans away, as Criterion is the studio behind some of the best modern arcade racing games around.
Hot-Pursuit is the best Need for Speed ​​to get your hands on
To celebrate its return, the company has decided to focus on a great classic: Need for Speed: Hot Pursuit. The title, released in 2010 and together with Burnout Paradise, represents the pinnacle of Criterion's early work. It instantly became one of the most loved NFS games in the franchise's long history, and we're happy to tell you that Hot-Pursuit is still the best Need for Speed ​​to get your hands on.
Hot Pursuit prefers arcade racing, the unbridled ones, regardless of those technicalities much sought after by other titles of the same genre on the market. In some ways it is an essential racing game that makes the gameplay - fun and adrenaline - its flagship. There is no type of narrative plot but only many races (let's add illegal) to be played, embellished with amazing chases.
Pistons and diesel
Hot-Pursuit manages to break through the hearts - powered by pistons and diesel - of the many historical fans of the series and certainly of some newcomer. Even if the types of races available are not many and above all they do not appear to be particularly complex and structured, they have a particular magic that manages to make them fantastic enough to keep you glued in front of the screen. Whether you decide to select a flamboyant Porche 911 or a Bugatti Veyron 16.4 Super Sport, the driving feeling is the same.
The goal is to overcome at full speed the checkpoints scattered along the route by the police, perhaps using many fun gadgets, such as spikes or electromagnetic pulses. The escapes are adrenaline-pumping and crazy to say the least, characterized by constant collisions and rear-end collisions - both with police cars and with those of opposing drivers and by various shortcuts, some not always very easy to see and to take if we are speeding at 300 km / h .
Each track can then be completed normally or using alternatives. If you opt for the latter it is possible to have a substantial advantage in terms of lap time and ranking. Each challenge is intense at the right point. But if you want to drive without thinking about your opponents, you can tackle the timed races. These are events that require the player to reach the finish line in a certain amount of time.
There are three different targets: gold, silver and bronze which will be unlocked depending on how long it takes to reach the end of the race. It goes without saying that to reach the finish line and get the gold award, you need to fully press the accelerator pedal and make the most of the shortcuts available.
Said this, it is also possible to live the experience wearing the uniform of the law, thus driving the cars of the police. Let's be clear, these are not ordinary cars but racing cars with hundreds and hundreds of galloping horses. The goal in this case is to chase the other players and put them out of the game at any cost, including ramming and spike strips. As you level up, the department will recognize your merits and provide exciting new four-wheeler toys and more support to stop illegal racers. Also, it is possible to deal with timed races which work in the same way as the timed ones described above.
Is Need for Speed: Hot Pursuit Remastered still the king of arcade racing games?
Given that the last few chapters of the series had practically no one thrilled, when the remastering of one of the best chapters ever was announced, there was some concern. Thankfully, Criterion delivered a product worthy of the Hot Pursuit name. It's not perfect, but the driving system is great fun and easy to master. For a series that desperately needs to get back on track, this is the first step towards a glorious new future.
Obviously there are some flaws. First of all, the lack of variety both in the available modes - clandestine racer and policeman - and in terms of the number of tracks, a little skimpy when compared to those offered by other arcade racing games.
If we were to base the evaluation solely on the nostalgia effect - we could easily turn a blind eye - but we must be objective and tell you that we would have expected a greater variety of playable tracks. Or some modality that maybe changed the cards on the table and that unfortunately - with the exception of some fun online mods - there isn't.
It is also worth mentioning that the Autolog system that helped make the original so interesting doesn't seem to carry the same weight in 2020. Sure, it's nice to see your friends' times in each race and compete against them. However, it's a fairly common feature for modern racing games. That's not to say the Autolog is to be thrown away, it's just less impressive than it was ten years ago.
At full speed
Need for Speed: Hot Pursuit Remastered is still a good racing game and it is in many ways: fun, driving system and car park (really well stocked). In addition, this remastered version boasts a renewed graphics. Specifically, in the version we tested, the PC one, has a resolution ranging from 1080p to 4k with granite 60 fps. As for that console, on PS4 and Xbox One, the game runs at 1080p and 30 fps while on PS4 Pro and Xbox One X it allows you to choose between 1080p and 60 fps and 4K resolution at 30 fps.
Graphically it is nice to look at, especially the liveries of the cars - net of some slight angularity - are done quite well. However, when you compare it to games like Forza Horizon 4, it's clear that it turns out to be a bit dated. Nothing we didn't expect, mind you, but we preferred to put it in black and white. We won't really know what Criterion can do with the series until it releases the first real new game in the series.
That said, they've added something that should help keep the game alive for quite some time. In fact, Need for Speed: Hot Pursuit fully supports cross-platform play. This, along with several quality of life updates, makes the experience impossible not to recommend.
Final comment
Need for Speed: Hot Pursuit Remastered it will not be the best racing game in the world but it manages to do well even ten years after its release. Recalling the decline reached by the historic franchise in recent years, it represents the first step of the rebirth. Criterion is back and has managed to offer a good quality product that will surely be particularly appreciated by historical fans and largely also by newcomers. Hopefully, after this remastered Criterion will finally be able to put Need for Speed ​​back on track. We believe in it and can't wait for a new chapter in the series to speed through consoles and PCs.