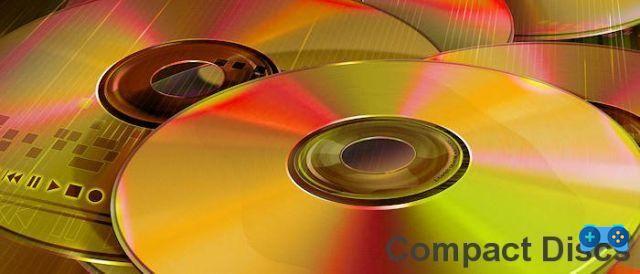 Extremely effective DIY.
Even if the physical supports are being downsized thanks (or through fault, according to collectors) to the Digital Download services, many of us at home have dozens of video game and movie CDs / DVDs, or collections of films for ... much more.
Years ago, when optical media was in maximum circulation with the advent of the PlayStation and more and more personal computers in their offices, there was talk of devices capable of withstanding extreme stress: nothing more incorrect.
Unfortunately, physical media are very sensitive and therefore can, due to accumulated stress of various kinds, return problems in reading / writing. Leaving aside the case of particular insurances and the product guarantee that protects the consumer from congenital defects of the media, or that cover accidental damage, we proceed with a short list of advice personally tested by the editorial staff to reinvigorate our beloved damaged or affected CD-DVDs. death from scratches or being thrown in the air by overly jealous partners.
ORDINARY CLEANING:
We talk about how to keep your optical media healthy. It is not uncommon to accumulate a little dust or a liquid stain.
Water: Spartan method and risk-free, you place your CD / DVD under a light jet of warm water and then dry it with a soft cloth, those for cleaning glasses are the best because they do not scratch and absorb liquids quickly. Also great to use cotton wool. To avoid toilet paper or handkerchiefs because they tend to crumble immediately and cause micro-scratches. Towels, well… unless we are talking about very soft ones, the most common ones should be absolutely banned.
Ethyl alcohol: More effective than water in cases of stains or removing specks. The procedure is to use only cotton wool to both clean and dry and in the meantime, gently pass the cotton wool on the support applying light pressure, so without being bloodthirsty barbarians. For those wondering, the correct direction to proceed with cleaning is from the inside to the outside, that is to start rubbing the alcohol wipe from the center of the CD to the outside, without creating micro-circles or making strange movements.
Acetone: no more powerful than ethyl alcohol, and to be preferred if the aforementioned is missing but being more aggressive on the support, incorrect or excessive use could do more damage than anything else. Let's say that the advice is to avoid it due to its chemical composition, aggressive.
Coca-cola-orange and similar: To be avoided absolutely. Carbonated drinks from an urban legend are of no use at all other than to fill your optical support with sugar and acids, damaging it. Do not get carried away too much by DIY because in some cases it borders on the ridiculous.
Recovery in case of read / write failure:
"Cyclic redundancy error", how many times has this happened to you? It simply means that at some point in the reading of the disc the laser committed suicide without getting its job done. Here the problem becomes more serious and we must pay attention. In practice, in the presence of micro-scratches or small grooves, the files are "obscured" and the laser skips the "section" returning a series of errors. We offer you three very effective methods to greatly restore the health of your support. Attention in the obviously maximum cleaning procedure.
Ethyl alcohol: as before, it is used to remove the machines or small traces of glue that sometimes happen to be found in cardboard cases (fallen into disuse), the cleaning method is like the one described above.
Insidefricio without microgranules: toothpaste has a double function, that of cleaning and filling the grooves of micro-scratches or even important scratches, leveling the external layer (layer) of the CD and making it easier to read. We talk about those without microgranules for obvious safety reasons. We did not mention this method in the cleaning phase because it is more used and effective for the repair of the support. Use of only cotton wool soaked in toothpaste and internal / external procedure. At the end, let the toothpaste dry for a minute and then clean with water or ethyl alcohol.
Oil: the oil has a perfect density, which combined with the thickness of the cotton wool, or in this case with a little rolled up toilet paper, makes cleaning from glue stains or other liquids that tend to solidify very effective. In these cases, a deeper cleaning is therefore necessary and pouring liters of ethyl alcohol to remove hard stains is useless, but above all harmful. The writer has tried it in person and it works. At the end, to remove the oil just rinse the holder with running water.
To avoid to keep your loved ones healthy CD-DVDs you need to:
- Do not keep them exposed to the sun;
- Do not keep the cases exposed to the sun, which are mostly made of plastic and tend to absorb a lot of heat;
- Avoid contact with acid substances;
- Avoid handling them with greasy or generally dirty hands;
- Place them carefully in the player or in the case after use;
- Open the case from time to time to remove traces of dust;
- Do not sexually abuse it in case of prolonged abstinence.