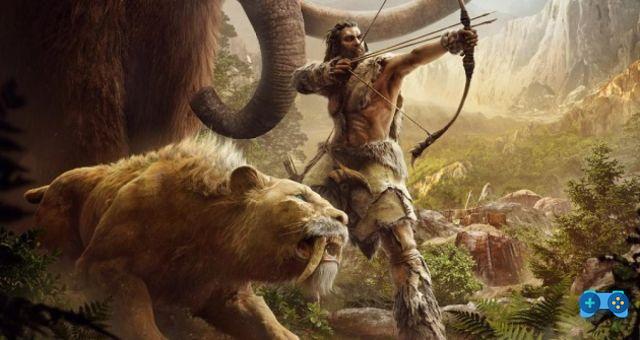 Back to the stone age.
Version tested: PC, XBOX One.
The FPS in a modern key have already been re-proposed in all sauces, and offering gameplay that has something innovative every time is not easy for developers. So why not go back around 12.000 years, eliminating current weapons and equipment to make way for much more rudimentary objects like spears and clubs? And that's what Ubisoft did with Far Cry Primal: the new chapter takes us directly to the Mesolithic, precisely in 10.000 BC, giving us an experience totally different from what we were used to until now. But is it able to entertain like its predecessors?
An ancient war between tribes
The story is set in the legendary land of Oros, a place that boasts great fertility and a wealth of resources. After years of research, the Wenja people manage to discover this land and settle there with the hope of having a prosperous future, but in a short time the Udam and Izila tribes attack them severely, exterminating most of the newcomers and forcing the few survivors to flee and seek refuge. All the effort to find Oros was in vain and the Wenja must return to their nomadic life. But one day Takkar, a member of the tribe and the protagonist of the game, rediscovers the "land of salvation" and his only goal is to conquer it.
Unfortunately, the story is just that: our main mission lies simply in eliminating the other tribes and reclaiming the land of Oros, giving new life to the Wenja people. A sort of revenge that, however, does not see any other particular objective nor characters of a certain prominence able to make sense of the plot. And if it weren't for the gameplay, it would be very difficult to stay glued to the screen just to follow virtually non-existent events. To complete the adventure and the various side missions available are required about 20-25 hours, even if the data is quite subjective and depends a lot on your style of play.
The essence of survival
Far Cry Primal succeeds very well in conveying the sense of survival, certainly accentuated by the choice of the historical period in which it is set. First of all, the only weapons we have at our disposal are mainly bows, spears and clubs and what adds an extra bit of difficulty is the fact that they are subject to wear, which leads players to always keep an eye on their equipment. In extremely cold climatic conditions, then, the character must wear suitable clothes and warm up by lighting fires in order not to freeze to death.
Ubisoft has given some weight to the crafting system, through which you can craft new objects, potions, antidotes, improve weapons and create rudimentary bombs, all after researching the required materials. The amount of resources present in the land of Oros is considerable and many times it is necessary to pay some attention to recover the rarest ones to make the best equipment. There view of the hunter, however, it acts as a primitive instinct and helps players in different situations: if we need to identify a rare animal from which to obtain precious fur or find resources, it is enough to enable it to have a particular vision of the most important elements in the environment.
La fauna proposal is quite varied and ranges from bears, wolves and goats to saber-toothed tigers, jaguars and mammoths, but these animals not only have the mere destiny of being hunted and skinned: using different baits, in fact, it is possible tame various beasts to make them fight alongside us and each has a specific ability. As for the actual hunting, it is necessary to be very careful and sneak up on the beasts to kill them; otherwise, they will flee and you will have to follow their trail of blood if only wounded. Moreover, at night, it is possible to find unique animals, but beware of the most dangerous predators that appear at sunset. What we liked about the game world is like it is alive and in constant motion, so it is not uncommon to see, for example, groups of wolves chasing different prey, and this allows us to see nature at work in all its splendor.
As in the previous chapters, they are also present in Primal several settlements to conquer o pyres to be set on fire to extend their control over the territory: by occupying the villages, it is possible to increase the population of ours so as to expand and improve it in order to unlock new specialties in our skill tree, which offers several options to enhance Takkar. By freeing or finding certain Wenja, they are unlocked unique skills like the owl, which can be impersonated to have a wider view of the area and report any enemies, prey or resources. Also, from time to time a Wenja woman will deposit some objects and materials in the stock up on rewards, which is "replenished" every time we take control of an enemy settlement and from which we can also recover very rare resources.
As for theEnemy AI, think carefully before killing any apparently harmless animal or even the most dangerous predators: rudimentary weapons do not inflict much damage and a minimum dose of strategy is required to face the beasts, which can prove to be lethal if taken lightly. The same cannot be said for the enemies of the other tribes present: in several cases it is enough to have a good aim or wave the club at the enemies to be victorious, although they are still quite aggressive.
To the delight of explorers (and like any self-respecting open world), there are many collectibles to find that at different "stages" offer certain rewards. Finally, we would like to say a few words about game map: it is certainly vast and boasts many secrets and areas to explore (at times it could be distracting) but ... it has been recycled by Far Cry 4. Of course, it is not easy to notice it given the new setting, but by opening the menu and viewing it from above the fans will notice immediately. This isn't really a flaw, but more commitment from Ubisoft wouldn't hurt.
System Requirements
Minimum requirements:
Processor: Intel Core i3-550 | AMD Phenom II X4 955
Memory: 4 GB
Video card: NVIDIA GeForce G
TX 460 (1GB VRAM) | AMD Radeon HD 5770 (1GB VRAM)
Hard disk: 20 GB
Operating System: Windows 7, Windows 8.1, Windows 10 (64-bit versions only)
Recommended requirements:
Processor: Intel Core i7-2600K | AMD FX-8350
Memory: 8 GB
Video Card: NVIDIA GeForce GTX 780 | AMD Radeon R9 280X
Hard disk: 20 GB
Operating System: Windows 7, Windows 8.1, Windows 10 (64-bit versions only)
Test configurations:
1) Processor: AMD FX-8350 4.0 GHz
Memory: 8 GB
Video Card: AMD Radeon R9 380 4GB
System: Windows 10 64 bit
The charm of the stone age
Il graphic sector of the PC version is certainly better and cleaner than on consoles, offering a frame rate of 60 fps and greater care in the rendering of the environment and the fur of the animals, but nothing that can actually justify a postponed launch of a week. From a visual point of view, the PC version does not differ much from what we saw in Far Cry 4, although in reality some technical elements such as the volumetric fog, particle effects and HDR effects are much better implemented compared to the previous chapter, offering a fuller image complexity. Compared to the console counterpart, on PC we noticed greater draw distance, improved shadow quality and tree tessellation. Although the XBOX One version works at a resolution of 1440 × 1080, there are no substantial differences compared to the PC version: the leaves appear rougher and the wilderness is a little less alive, but all in all it is a good version. The PS4 counterpart, although it can boast a higher resolution, has no notable differences with Microsoft's console. This is also probably due to a soft-focus of the images in the edges which counteracts the higher resolution and sharpness of 1080p images.
We played Far Cry Primal with almost all graphics settings set to High and some options to Ultra: the result is a very stable frame rate at 60 fps, although in areas particularly rich in vegetation and screen elements we noticed some slight drops. In general, however, the game is also suitable for older PCs with less powerful hardware, as they are very forgiving in requirements. The good optimization has also benefited, as mentioned, the Xbox One version which manages to offer performance equal to that of the PS4 counterpart except for the few exceptions mentioned.
Il audio compartment boasts several well-made sound effects, especially in the verses of the different beasts that populate Oros; what struck us particularly was the choice to insert a well-defined language rather than relying on contemporary English. Ubisoft, in fact, hired linguists specialized in languages ​​spoken thousands of years ago and from this collaboration the Wenja language was born, which in addition to giving the name to the people to which the protagonist belongs, has also been modified in two other variants spoken by the Izila and the Udam. The immersion in the Stone Age, therefore, is truly excellent.
Final comment
Far Cry Primal deviates from the canons of the original saga by offering a totally different gameplay and a prehistoric setting. In itself, the game offers a good survival component, with a crafting system flanked by the search for various materials to manufacture any object and the possibility of taming the beasts, perhaps the most interesting feature of this chapter. Unfortunately, Ubisoft has forgotten about the plot, which is almost non-existent. The title is still very enjoyable and will keep you busy for several hours; moreover, the experience in the Stone Age is worth trying as it drastically changes the cards on the table of the series.
| For | Cons |
| --- | --- |
| - "Rudimentary" gameplay - Lots of things to do - New interesting features - Mesolithic has its own charm - Graphically better PC version ... | - Poor plot - AI not always brilliant - ... but it doesn't justify the delayed launch |
| | Overall rating: 80 |