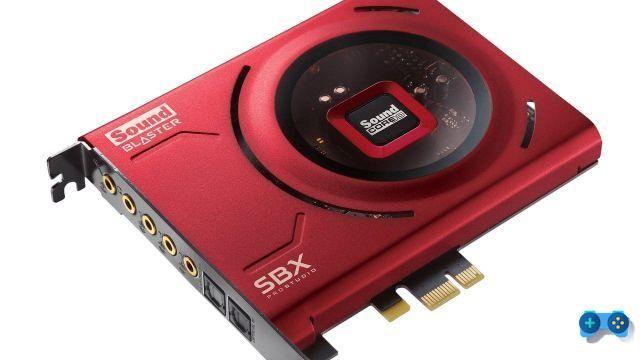 Among the PC components perhaps a little mistreated we find the dedicated sound cards. A still immature sector that however tries to emerge with arrogance. Among the major producers in the sector, we find Creative Technology. The Singapore-based company, well known for audio and similar products, has been devoting energy and money to developing excellent sound cards for our computer for years. The last in the line is the Creative Sound Blaster Z SE. A product with an appetizing price (€ 99,99) and excellent performance - far from those offered by integrated sound cards - that will make all music, cinema and gaming lovers happy.
The special edition sound card packed with updated features designed for effortless audio enjoyment
Sales packaging and build quality
1 x Sound Blaster Z sound card
Quick start Guide
Creative Sound Blaster Z SE has identical dimensions and appearance to the Z model. The cover is made of metal and has a nice red color. From the transparent central opening we can admire the sound processor chip Sound Core3D. It is thanks to this component that the Sound Blaster manages to have remarkable performance. Overall the product turns out to be solid and captivating.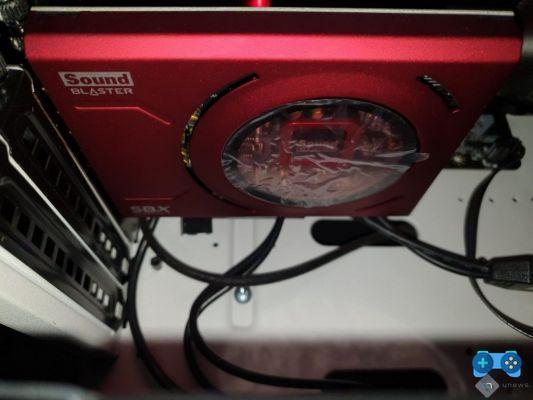 On the back side of the card we find well five 3,5 mm jack connectors gold plated. Apart from the first two, dedicated respectively to the microphone and headphones, the rest are used to connect the speakers.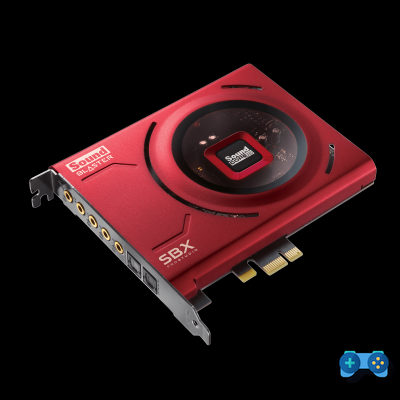 We also find an Optical In door and another Out door, a standard that is starting to disappear on various products but which Creative has well thought could still serve.

Sound Blaster Z
SE

Sound Blaster Z
Audio processor

Sound Core3D ™

Sound Core3D ™

DNR / SNR

116 dB

116 dB

Maximum playback resolution

24-bit / 192 kHz Stereo Direct

24-bit / 192 kHz Stereo Direct

Interchangeable operational amplifiers

No
No
ASIO support

2.0

2.0

Surround sound

5.1 discrete (speakers)

Virtual 7.1 (headphones)
5.1 discrete (speakers)

Virtual 7.1 (headphones)
Encode


Dolby Digital Live / DTS

Dolby Digital Live / DTS
Supported operating systems

Windows ® 7

Windows ® 8

Windows ® 10
Windows ® 7

Windows ® 8

Windows ® 10
Software
Sound Blaster Command

Sound Blaster Command

Default microphone equalizer settings

Yes, 11 presets via software

No
Accessories included

N/A

Beamforming microphone array

Sound Blaster Z SE and Sound Blaster Z technical specifications
Installation
The sound card has a 1x PCIe connectivity, so it is compatible with most motherboards available on the market.
We had some problems installing as our motherboard has the PCIe 1x slot very close to the PCI Express x16 slot where the GPU is docked. To remedy this we had to purchase a PCIe 1 Right Angle PCIE X3.0 Riser Cable. A solution that allowed us to fully test this Sound Blaster Z SE.
Once connected, it will be immediately recognized by the PC. Once the drivers have been updated and the speakers and / or headphones are connected, it is possible to immediately enjoy the performance of the product.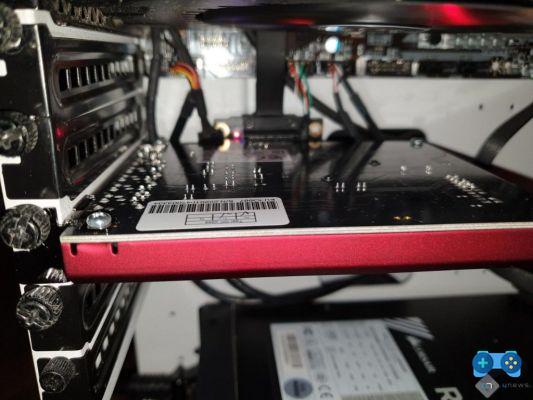 Audio performance
The card supportsaudio 5.1 (real) e 7.1 (virtual). Thanks to the dedicated software, Sound Blaster Command You can access the full suite of Sound Blaster audio processing technologies, including Crystalizer, which enhances the dynamic range of the audio, e Bass, to pump your bass more.
All of these enhanced features are fully customizable from the Sound Blaster Command software suite on PC. The SE version compared to the classic Z presents a whole series of goodies on the software side that will be particularly appreciated by players and not only.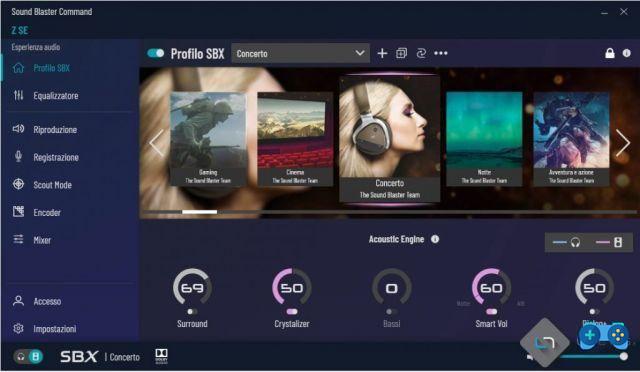 In particular, we find some preset profiles, such as: Concert, Cinema and Stadium passing through those dedicated to gaming: Apex Legends, Call of Duty Infinite: Warfare, Battlefield 1, Rocket League, The Witcher 3: Wild Hunt, Project Cars and many more. Each adapts to the particular game being played.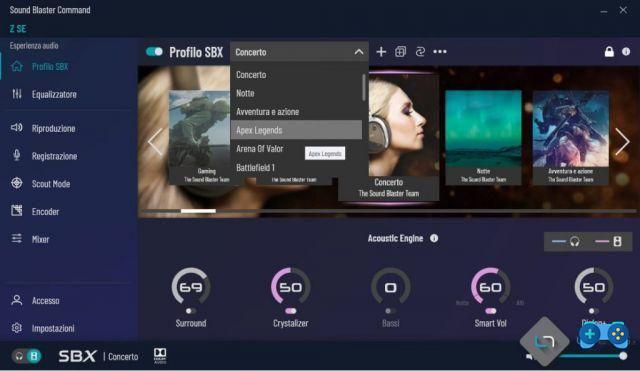 For example, with a Project Cars or Racing profile it is possible to delight your ears with incredibly convincing engine roars, while with profiles dedicated to a shooter, it will be possible to better perceive what is around us and hear the enemy on duty first. that can give us the coup de grace.
In short, the Sound Blaster Z SE lends itself well to various situations, even in the competitive world, where you can listen to what happens - thanks to the functionality Scout Mode - can mean the difference between victory and defeat.
For those who are looking for an experience more oriented towards singing or cinema, you can fiddle with the appropriate equalizer. It does not differ much from the canonical ones. It is possible to make the bass more immersive or give a greater peak to the highs, and the user is also given the opportunity to select a whole series of profiles: Jazz, Rock, Hip-Hop, Rap, Pop, Dance, Classical and so on. has more metta.
Compared to the integrated sound card the sound was much more powerful. No problems whatsoever with music apps such as Spotify or Amazon Music, slight distortions regarding playback with YouTube that forced us to work with Creative's software to find the ideal sound.
To conclude the discussion, speaking of a few numbers, the Sound Core3D processor manages to manage the maximum playback resolution at 24 bit / 192 kHz Stereo Direct. An incredible value that we guarantee will make your eardrums rejoice.
If you are more used to listening to audio from headphones and have headphones with the standard up to 600 ohm, the sound will be even more convincing, precise and immersive. Also add that from the function Encoder you can check the encoding Dolby Digital Live o DTS (which includes DTS: Neo PC and DTS Interactive) and it is clear that in your hands you will have a well-rounded product.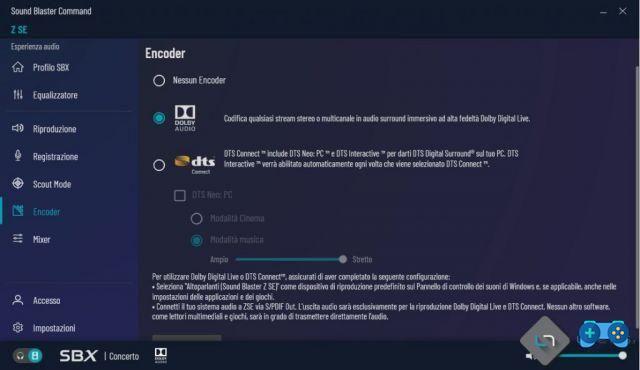 Final comment
Creative with the sound card Sound Blaster Z SE it really hit the mark. A multifaceted product able to adapt both to those looking for a dedicated sound card for gaming and to those who prefer a musical / cinematic experience. The price of 99,99 euros, in our opinion, is more than fair.
At the moment there is also an offer available on Amazon that will save you 10% on the total cost.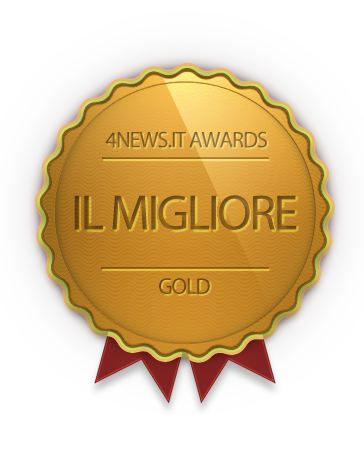 Frequently asked questions and answers
Packaging is intended to contain and protect the goods, from raw materials to finished products, to allow their handling and transport from the producer to the consumer or user, and to ensure their presentation.
10 jul two thousand and two
Literally, food packaging refers to any and all materials that are in direct contact with foodstuffs.
They are created for transportation, protection, preservation, storage and also information purposes.
The primary materials are plastic, glass, cardboard, metal, and wood.
august twenty, two thousand nineteen
Their packaging is essential to protect, preserve, transport and provide information.
They are practical and gradually getting smarter.
First, companies are reducing the size and weight of their packaging and ensuring that it is recyclable.

What is product packaging? Packaging is inseparable from the product it contains and has a multitude of functions.
It protects, of course, but it also preserves foodstuffs and facilitates their transport and storage.
27 June two thousand nineteen
Compilation of frequently asked questions that our users have sent us and that our experts have answered.