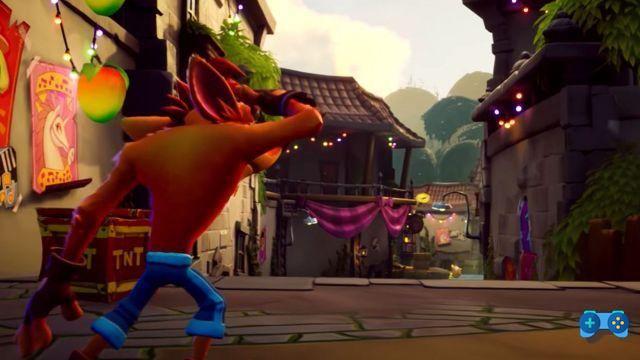 Yellow is the closest color to light ...
Did Crash Bandicoot 4: It's About Time, the new and fun title made by Toys For Bob and Activision, put you to the test with the collection of Gems? Only one is missing to finally be able to boast the trophy / objective Space for topaz.
It might interest you:
Tips for getting started
How to get the Red Gem
How to get the Green Gem
How to get the Blue Gem
Map: Mosquito Swamp - Level: Me, you and the Bayou
This time you won't have to bizarre jumps in time, look for hidden cars o avoid destroying the crates, getting the Yellow Gem will be a breeze.
First of all, during the start of the level cutscene you will see a yellow light in front of you, perfect, that's the Gem you need to get. Ahead of you will find a small boat, ignore it for now, and jump onto the floating crates to the right of the boat.
Once done, cross the platform and jump over the four crates you will find, we advise you to double jump in mid-air to get the Gem, as being out of the view offered by the screen is problematic to see.
Once you have completed this simple quest, you will only have to worry about finishing the level. Below, an explanatory video.
We told you it was going to be easy, right? Let us know in the comments if you managed to get the Yellow Gem in Crash Bandicoot 4: It's About Time and if you are having fun in the company of the cute marsupial and his friends.