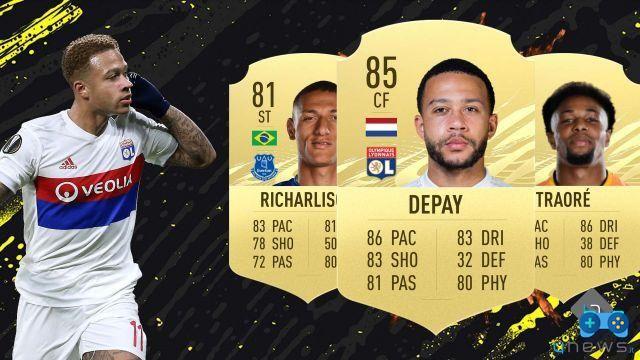 If you are one of those who prefer a hybrid team rather than one made up of players from a single league, we have what you need. One of the best hybrid teams you can do in FIFA 21, with players hailing from. Premier League, Ligue 1 and La Liga. The cost? Just over 200k on PS4, 190k on Xbox One.
Please note: - next to each player you will find the relative purchase price. The one on the left refers to the PS4 version, the one on the right, the Xbox One version!
It might interest you:
How to recognize a Walkout
Advice on buying and selling
The best Ones to Watch (OTW) to bet on
The cheapest Serie A players to start
The cheapest La Liga players to start
How to start earning credits with the Web App and the Companion App
The cheapest Premier League players to start
The cheapest Bundesliga players to start
The best team in La Liga for 100.000 credits
The best team in Serie A for 100.000 credits
Eight economic "beasts" absolutely to buy
The best team in the Premier League for 100.000 credits
How to make a lot of credits with flipping
The most buggy players in the Bundesliga
The strongest team in Serie A
Formation 4-4-2
Please note that to reach 10 of agreement with la hybrid team you need to play at least ten games!
Goalkeeper
Ederson (OV 86) of Manchester City. Price: 44.000 / 49.000 credits. Second perhaps only to Alisson. It has very high stats that make it a real shutter
Right back
Jesus Navas - (OV 84) of Seville. Price: 8.700 / 8.500 credits. The older it gets, the stronger it gets. From winger to right-back essential. He has speed, dribbling and defense. - Understanding style: Anchor
Left back
Sergio Reguilón Rodríguez - (OV 82) of Tottenham. Price: 2.900 / 3.100 credits. Good speed and acceleration, a well-rounded full-back. - Understanding style: Anchor
Central defenders
Carlos Diego - (OV 83) of Seville. Price: 50.500 / 42.750 credits. Fast defender and defensively skilled. His 83 physique makes him almost impossible to move. In addition, he has from his 4 * weak foot. The cock may be able to do this. - Understanding style: Anchor
Marquinhos - (OV 85) of Paris SG. Price: 8.400 / 9.600 credits. He makes an agreement with both Ederson and Diego Carlos. Qualities as a pure defender make him an essential piece for this team. - Understanding style: Shadow
Right exterior
Adama Traorè - (OV 79) of Wolves. Price: 23.500/19.500 credits. Overall not as a top player but statistics as a phenomenon. The Bolt of the left wing. Between speed, physique and dribbling, it will break the opponent's defenses in two! - Understanding Style: Hunter
Left exterior
Steven Bergwijn - (OV 83) of Tottenham. Price: 6.400 / 8.000 credits. Recommended not only for the understanding with Reguilón but also for his sprinter skills. It also has good shooting and 4 * skills. - Understanding Style: Sniper
Midfielders
Bruno Guimarães Moura - (OV 78) of Lyon. Price: 700 / 800 credits. It serves for the understanding but beyond the basic characteristics it is really overpower - Understanding style: Shadow
Fred - (OV 86) of Manchester United. Price: 33.500 / 24.000 credits. Quality midfielder boasting 4 * skill and weak foot. Sometimes and nothing short of phenomenal. - Understanding style: Catalyst
Forwards
Depay - (OV 85) of Lyon. Price: 12.700 / 13.750 credits. At such a price Depay is practically free. Speed, dribbling, shooting, passing, physique and 5 * skills. In practice, a real goal machine. - Understanding Style: Hunter
Richarlison - (OV 81) ofEverton. Price: 17.750 / 14.500 credits. The perfect player to complete the attack. Quality and substance in the penalty area and beyond. - Understanding Style: Hunter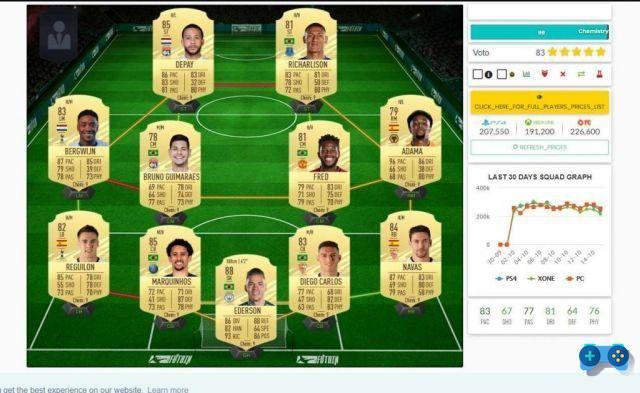 That's it, we hope you like the hybrid team that we have proposed to you!
Frequently asked questions and answers
Lev Yashin.
Lev Yashin is undoubtedly the best goalkeeper of each and every time.
12 Dec two thousand twenty one
Since two thousand nineteen, it is no longer possible to score a goal with the hand, even unintentionally or by the goalkeeper in his area facing the opponent's goal.

French national soccer team/ goalkeepers
Compilation of frequently asked questions that our users have sent us and that our experts have answered.