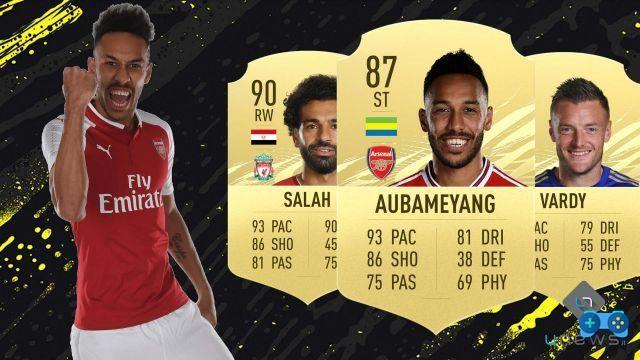 After the excellent guide of our Andrea, dedicated to the BPL midfielders in FIFA 21, it's time to get to the highlight of our guide. In fact, we're going to talk about the Premier League's strongest strikers. Several world stars play right in the English league. We will list the best ones, but whether or not they will be functional to your game is entirely up to you!
Please note: - next to each player you will find the relative purchase price. The one on the left refers to the PS4 version, the one on the right, the Xbox One version!
It might interest you:
How to recognize a Walkout
How to start earning credits with the Web App and the Companion App
The cheapest Serie A players to start
The cheapest Premier League players to start
The best Ones to Watch (OTW) to bet on
The cheapest La Liga players to start
The cheapest Bundesliga players to start
The best team in the Premier League for 100.000 credits
Advice on buying and selling
The best team in La Liga for 100.000 credits
The best team in Serie A for 100.000 credits
The most buggy players in Serie A
Eight economic "beasts" absolutely to buy
How to make a lot of credits with flipping
The strongest team in La Liga
The most buggy players in the Premier League
The strongest silver team
The most buggy players in the Bundesliga
The strongest Premier League / Ligue 1 / La Liga Hybrid Team by 200000 credits
The Premier League / Ligue 1 / La Liga / Serie A Hybrid Team at low cost
The strongest team in the Bundesliga
Icon Guide - The best goalkeepers
Icon Guide - The best strikers
The strongest team in Ligue 1
Icon Guide - The best defenders
Icon Guide - the best midfielders
The strongest midfielders in the Premier League (BPL)
Right wings
Mohamed Salah (OVR 90): Immovable owner in Liverpool and inevitable top player to be included among the strongest forwards of the Premier League. Deadly left and lightning-fast sprint make him almost impossible to stop players.
411,000 /360,000
Bernardo Silva (OVR 87): A player who focuses on quality. He is not very fast but he is able to enchant with his dribbling. In addition, he can easily serve the attackers in the area thanks to his 83 pass.
18,500/18,750
Riyad Mahrez (OVR 85): The City player does not differ particularly from Silva except for one element. In fact, he has 5 * skills that greatly facilitate his most spectacular plays and which are all the rage this year in FIFA 21.
10,750/14,000
Gareth Bale (OVR 83): Gareth can't miss on a BPL team. It has a ridiculously low price but real world-class stats.
10,000/12,250
Left wings
Sadio Mané (OVR 90): It costs a lot, a lot, but it will make you fall in love. Sometimes he sins in the finalization phase (even if he has 90) but we guarantee you that there is no defender who can hold up. For this reason he enters by right into the list of the strongest Premier League strikers present in the game.
383,000/315,000
Raheem Sterling (OVR 88): Valid alternative to Mané. It will drive your opponents crazy. All in all, the price is not that high.
89,000/80,000
Forwards
Sergio Agüero (OVR 89): The Argentine player remains one of the strongest strikers in the Premier League. The shot is no longer very fresh - although in our opinion EA Sports has been too severe this year with the Kun - but it is compensated by a phenomenal dribble and shot to say the least.
42,750 /46,000
Harry Kane (OVR 88): The English striker makes height his main weapon. Added to this are a devastating shot, an imposing physique and good skills in both dribbling and passing.
26,000/27,000
Aubameyang (OVR 87): Perhaps the most devastating striker in FIFA 21. We favor him as a substitute as he has incredible speed. This makes him a tough nut to crack for any defender to face in the second half. In addition, the shot of 86 makes him a real sniper. If you add an understanding style, maybe Hunter, well, expect your opponent to do a rage quit.
186,000/175,000
Roberto Firmino (OVR 87): Good Bobby represents the all-round striker. He is quite agile, thanks to high dribbling and hardly misses in front of goal.
42,250/44,000
Jamie Vardy (OVR 86): "Vardy's on fire, your defense is terrified", says one of the most famous choirs for the Leicester forward. We guarantee that Jamie is capable of terrorizing any defender and extreme defender. His great speed and his right foot are enough for him!
29,000/30,000
Timo Werner (OVR 85): The good Timo has already managed to conquer Chelsea (12 appearances and 8 goals scored). He still costs a lot in FIFA 21 but he is absolutely one of the Premier League's strongest strikers. If you have credits to spend, buy it first now.
177,000/152,000
Raúl Jiménez (OVR 84): We recommend the Mexican striker because from a quality / price point of view he is nothing short of exceptional. He is very tall (190 cm) and has three values ​​above 80 and has them in the fundamental statistics for a striker. dribbling, shooting and physique.
2,900/3,400
Anthony Martial (OVR 84): While in past years he played as a left winger, this year Martial became a forward. This will make all those FIFA players happy who adapted it just like ATT. Speed ​​and dribbling are his main weapons. With Predator it becomes unstoppable
110,000/83,000
Gabriel Jesus (OVR 83): The Manchester City forward is one of the most used forwards of the past two years. As a substitute it can really make a difference. In addition, its price is quite affordable.
17,000/14,500
Richarlison (OVR 81): Everton player price plummeted within a month. Now you take it home for very few credits. Also to have as a simple bench.
1,300/1,600
Michail Antonio (OVR 78): A forward feared by all FIFA players. He does not have great statistics, in fact we recommended him in the guide of the most buggy players in the Premier League but in his own way he always manages to bag the ball.
900/950
Rodrigo (OVR 82): A rather complete player capable of cutting the opposing rear guard in two thanks to his immense speed. If let in at the 70th minute, no one can take away the curses of the opposing players
3.000/3.000