Best laptop lockable security cables. Do you want to protect your laptop from theft attempts? Here is a buying guide to protect you.
If strong passwords are meant to protect access to your notebook, a good security lock will help protect it from physical theft attempts. A good laptop lock will not only protect the device but also protect it from unwanted access.
If you've bought the best notebook, adding a lock and physical cable is a great way to leave your laptop in the office or in an area where a lot of people might pass. Certainly it is a valid deterrent to keep malicious people at bay. If your laptop has a lock slot you can easily purchase one of the security locks listed below, otherwise you will need to get a lock that connects in other ways, such as with a sticker.
Best laptop lockable security cables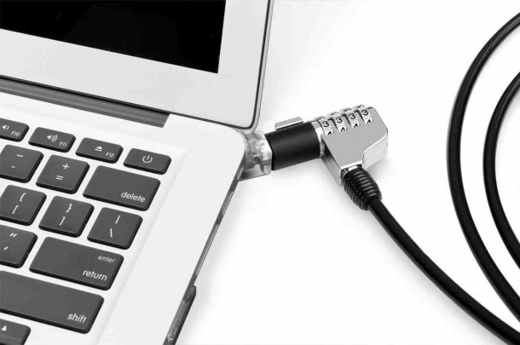 If your laptop has a lock slot Kensington and you want more security, the Kensington Combo Cable Lock is a good option. It offers the convenience of a combination lock, so you don't need to carry a key around. If your device doesn't have a security slot, you should look The Blade. The blade sticks with adhesive so it can work with a much larger selection of devices. It's a more permanent addition to your device, but it's a versatile option that can work with almost any PC.
But no more chatter and let's see what the best security cables with padlock for notebook.
1. Kensington K64068F Microsaver Security System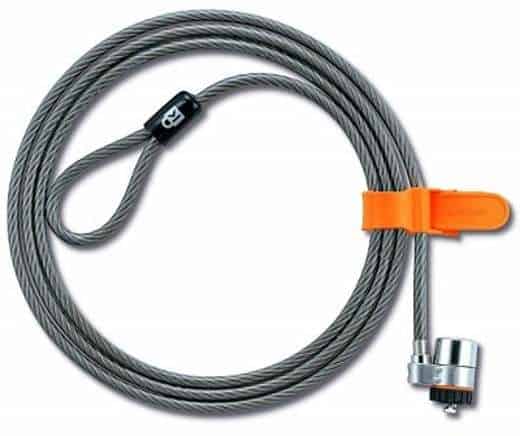 Kensington is a leading manufacturer of laptop locks. The block 64068F it could be attached to the security slots of most laptop monitors and other devices. The cable uses the traditional lock cable design, tested and known for its durability. This lock does not work with newer Dell notebooks as they have a different security system. Overall this is one of the best best security padlocks for notebooks and comes with an 8-year replacement warranty.
Buy on Amazon
2. Kensington K64442WW Combination Lock for Dell Devices
The padlock Kensington N17 Dell is the ideal lock for the latest slot-equipped Dell and Alienware laptops Noble Lock a cuneo. It is a 4-wheel combination lock with 10.000 combinations, making it nearly impossible for an intruder to crack the code. The wire is made up of carbon and steel, which makes it flexible, yet strong. The product is probably the only branded lock that works with the Dell system.
Buy on Amazon
3. Kensington K64670AM Security Cable Gray 1,8m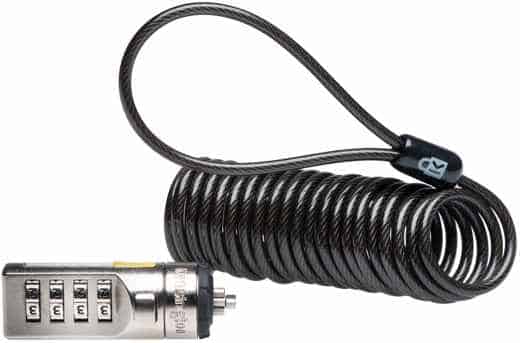 The padlock Kensington K64670AM is a combination lock that works well with all laptops except the newer Dell ones. It allows up to 10.000 combinations and has a long cable. The lock is tamper resistant and the carbon steel material gives the cable extra strength. This product uses the Noble Lock slot which is the most common locking system on laptops, tablets and other mobile devices.
Buy on Amazon
4. FOLAI - Security anti-theft cable for laptop, iPad, tablet, MacBook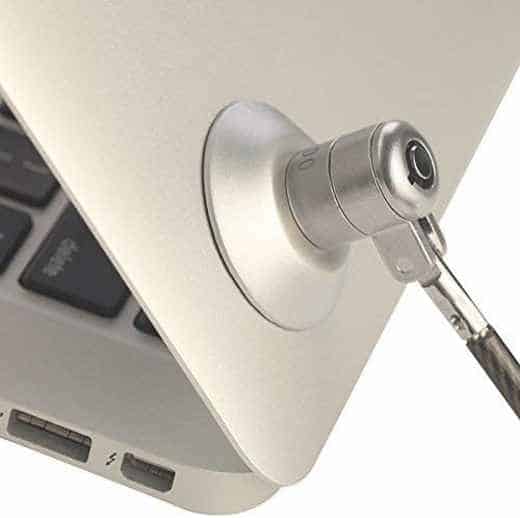 The laptop cable lock Folai uses a galvanized steel padlock and a self-winding cable almost 2 meters long. The auto-loop design of the cable helps it stay in the spool even when the cable is not tied up. The product uses the traditional key type lock, it is also safe and very reliable.
Buy on Amazon
5. Abovetek Universal tablet Lock safety cable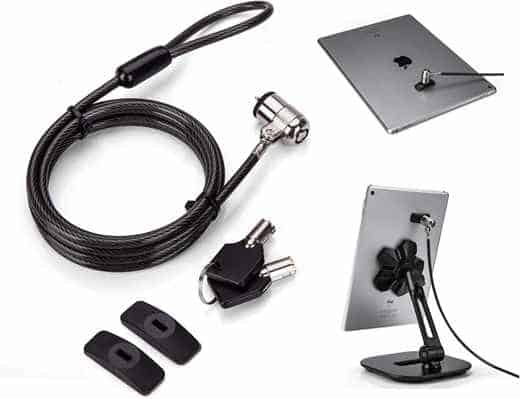 AboveTEK's key lock comes with a 2 meter long cable and 3M adhesive base, which can stick (temporarily) to any flat surface. This lock works well with most laptops and tablets. Comes with a replacement adhesive and another flat plate to use as a backing for larger surfaces.
Buy on Amazon
6. Targus DEFCON CL Laptop Computer Cable Lock security cable 2m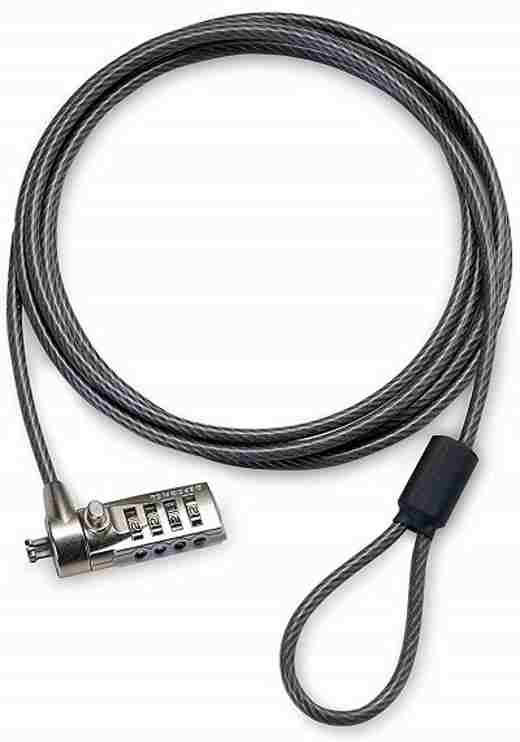 One of the hardest blocks on this list, Targus DEFCON Laptop Cable Lock PA410U it has received pretty good reviews on Amazon. The cable is made of galvanized steel and the combination lock can be attached to any T-shaped lock slot. Attempting to break the lock could damage the device itself, thus dissuading thieves from stealing the device.
Buy on Amazon
7. Kensington Black Standard Lock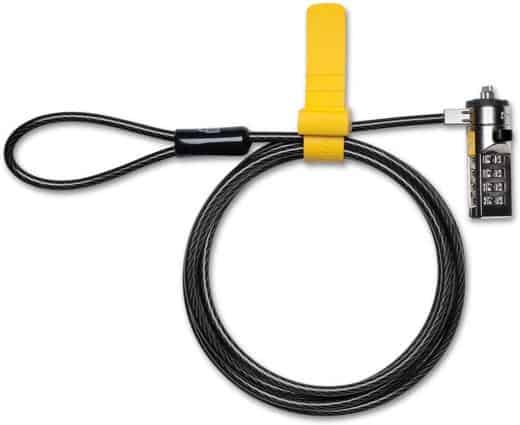 Kensington is a household name when it comes to laptop security. Kensington locks are known for their durability, and many laptop manufacturers will specifically mention whether a device has a Kensington lock slot. This lock features a braided carbon steel cable to provide cut resistance. The lock works with devices equipped with a Kensington lock slot.
Buy on Amazon
8. Kensington MicroSaver Black Security Cable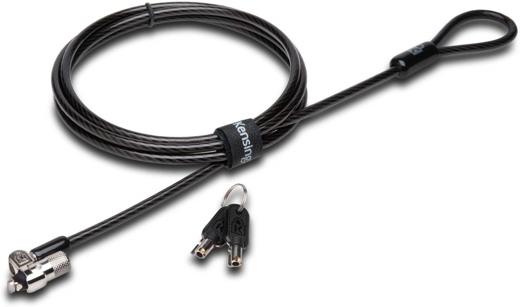 This padlock Kensington it features a carbon steel cable which makes cutting difficult. It works with the Kensington lock slot and comes with a couple of keys for easy opening. This newer version features a slim locking head that rotates to fit a wide variety of laptops
Buy on Amazon Buy on Amazon Buy on Amazon
9. Kensington K64637WW ClickSafe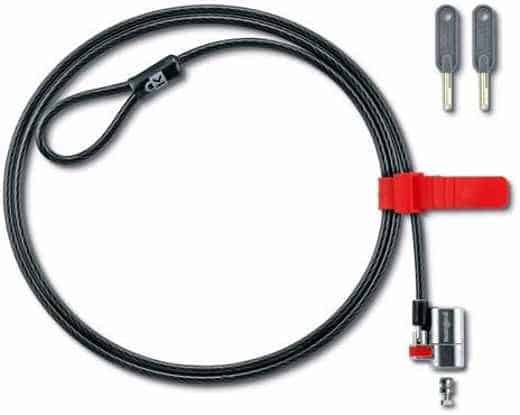 Intended for use with laptops equipped with the Kensington Security Slot (which is the most common slot in most laptops today), Kensington K64637WW ClickSafe it's a keyed laptop lock that doesn't disappoint. The cable is made of high quality steel, is super strong and measures 1 meters in length. It is one of the strongest cables to protect your notebook from all kinds of theft. Its one-click operation makes it quite simple to use. Plus, the cable is designed to resist tampering, keeping your laptop safe.
Buy on Amazon
10. Dell Premium laptop Keyed computer Lock XHC2 x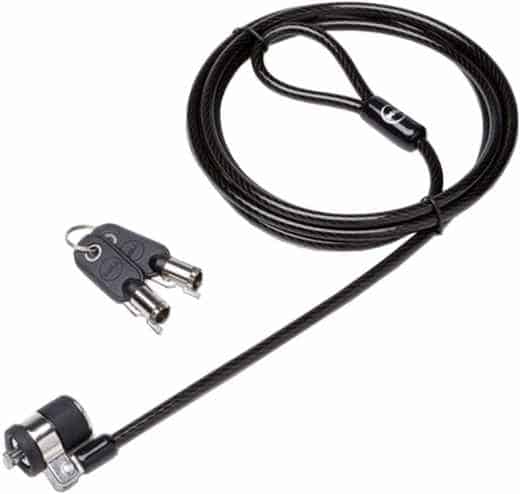 This is a highly reliable universal laptop lock model that features a 1,8 meter long thick cable and a high quality coating to protect it from unwanted scratches. The lock also has 2 keys which have unique serial codes. We must also emphasize that theNS20T works with any type of laptop. It also has a high quality stainless steel construction which makes it too strong to be broken or cut.
Buy on Amazon
Best Selling Laptop Security Locks on Amazon
Below are the best-selling security cable locks on Amazon. The list is always up to date, so you shouldn't have a hard time finding the right security tool for your needs.