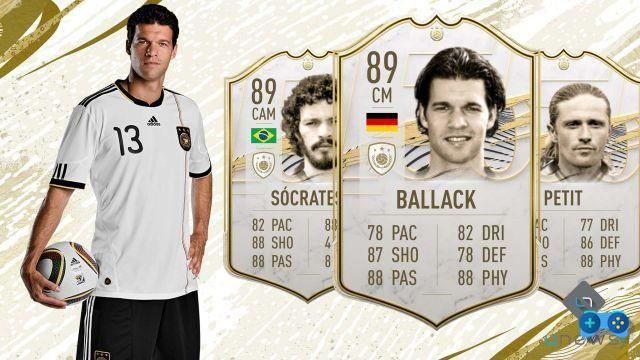 Our journey into the vast world of FIFA 21, and in particular that ofUltimate Team, continues undaunted.
After exploring the world of defenders, this time we will focus on midfielders available in the "league" Icons.
In the game as in reality, having a good midfield is essential. Choosing the right midfielder for your FIFA Ultimate Team squad is no easy mission. Especially in the ranks of the Icons, FIFA 21 boasts a large number of players of the highest level, to be chosen clearly according to your taste and your needs.
As a result, we have taken prompt action to provide you with as much information as possible about what are, in our view, the best Icon midfielders in the game. Once again we will look at those players with a price tag of less than one million credits.
Do you want to find out what they are? Well, you just have to continue reading!
Please note: - next to each player you will find the relative purchase price. The one on the left refers to the PS4 version, the one on the right, the Xbox One version!
Please note: The price is subject to change.
FIFA 21, the best defensive midfielders
Emmanuel Petit - CDM medium version (OV 88)
Our very first choice for the role of Defensive Midfielder (CDM) falls on the French Emmanuel Petit, in its medium version.
With a high - high work rate (attack - defense), the blond midfielder of the French national team is undoubtedly one of the best exponents of the role. Petit sticks to the man in marking like few in game, not to mention the incredible accuracy with regard to the voice interceptions.
To this is added a great agility and an important rapidity of legs, especially considering the role of "guardian" in front of the defense. This turns out to be a detail not to be overlooked precisely in reference to what he is asked to do on the pitch.
If we then add that a passage joins all this very good (89), you have the identikit of the perfect median, or almost. The only flaw? A little "light" physically, but nothing sensational.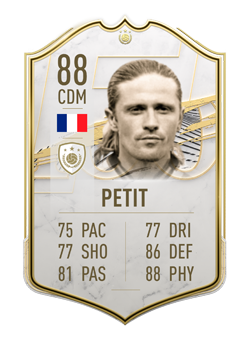 Cost: 710.000 / 620.000 credits.
Michael Essien basic version (OV 85)
Paradoxically, our second choice as a midfielder is even more expensive than the first. Not that the price is necessarily a sign of qualityof course, but in this case it is mainly the player's "taste" that differs.
In case you are looking for an "old-fashioned" midfielder, that is with a lot of heart, lungs and great physical strength, probably the best choice remains. Michael Essien, former Chelsea and AC Milan star.
Unlike his French colleague, they certainly have less polite feet. Make up for it anyway with one physical power literally at the top. Defensively speaking, in any case, the player is practically perfect, being unsurpassed both in one-on-one situations and in the interception phase.
So why does it cost so much more? Because it is faster and has more ability to "break" the opponent's rhythm. However, it has much more woody feet and therefore for many it could be an inexpensive choice. But, in any case, the two are more or less on the same level. It depends on your way of playing the role!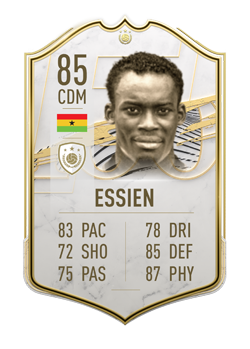 Cost: 940.000 / 725.000 credits.
FIFA 21, the best central midfielders
Clarence Seedorf medium version (OV 88)
Moving on to the less defensive phase of the midfield, and targeting the central players, it is impossible not to start with the good Clarence. In the medium version, Seedorf turns out to be one of the best FIFA 21 midfielders within the price range. The perfect "box to box", that is to say an excellent player in both phases of the game, in which, however, clearly the offensive one stands out.
Defensively speaking Seedorf defends himself very well, especially thanks to a massive body type and great defensive reading stats. It is precisely by coming to the attack phase, however, that the player unleashes his full potential.
Passing, vision and shooting power are his best features, combined with great physical resistance and excellent coldness, which help him to be decisive in the most important phases of the game. Seedorf has practically no major weaknesses, were it not for that 78 under agility. This may not make some people happy, but it is partly solvable with the help of an understanding style Motor.
In short, if you are looking for a player with similar characteristics, you will probably not find better around.
Cost: 1.000.000 / 890.000 credits.
Michael Ballack medium version (OV 89)
Second choice for the role of "box to box" in midfield is definitely Michael Ballack, a player, in all his versions, very underrated.
The former champion of Bayern and Chelsea it is in fact characterized by a card that is in some ways "liar", which fails to do it fully justice. Once on the pitch, however, Ballack proves to be incredibly solid in both phases of the game, thanks also to a very interesting workrate (high defense, medium in attack) who manages to smooth out the defensive statistics not exactly at the top.
The German midfielder manages to place himself wisely on the passing lines, and thanks to his powerful physique he manages to make life very hard for the opponent's ball carrier with great ease. On the offensive side of the pitch, however, it is a real security. Ball control, passing and stamina, but above all the shooting (both from a distance and from close), are the main traits of a player which, costing "only" 600.000 credits, make him very attractive.
Of course, it has very little agility, which is not to be underestimated, and it is not even very fast, but with the right understanding styles (shade or motor) it can become significantly stronger.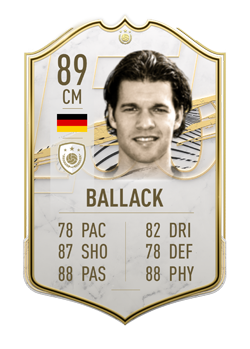 Cost: 668.000 / 630.000 credits.
Steven Gerrard Medium version (OV 89)
Our third and final choice for the role of "pure" midfielder falls on Steven Gerrard, another player very little used and excessively "snubbed".
In his medium version, thanks to a high - high workrate and a much higher speed than that of the other versions, the leader of the England national team and Liverpool of the past decade represents a great solution in the middle of the field. Gerrard is an incredibly complete player. It is perfect for the role of central "base" in a midfield at 3 or 4-4-2, one of the most used modules of this FIFA 21.
The strengths of this card are undoubtedly the passing and shooting. Especially the latter is a fundamental aspect of a player who, as in reality, makes offensive insertions his best weapon. Thanks also to a good resistance and a definitely valid ball control (90), Gerrard it is practically perfect in that role, also because it has acceptable defensive stats.
Of course, compared to the other two it is a little more "anonymous", but also considering the market price it might be worth trying it to understand if it is right for you or not.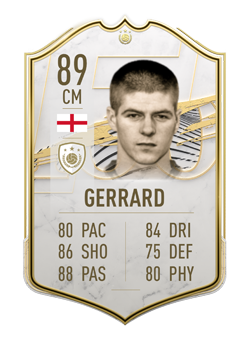 Cost: 590.000 / 610.000 credits.
FIFA 21, the best attacking midfielders
Ricardo Kakà COC - Basic version (OV 87)
Moving a little further, it's time to analyze the players regarding the so-called group attacking midfielders. These players, very often, are able to ignite the audience with incredible plays and fantastic goals. However, it is right to make an important premise.
In the role, under a million credits, there really aren't much alternatives. However, there are some very good names. The first among these is undoubtedly Ricardo Kaka, a much loved and well-known player here too, having played for many years with the Milan shirt. In FIFA 21, as well as in FIFA 20 (although we tried the Prime version there), Ricardinho turns out to be an incredibly gamer valid, especially in the Basic version, certainly much higher than the Medium version.
While not very agile on paper, the player is instead slippery and very fast in the middle of the field. Above all he manages to be decisive on more than one occasion thanks to a great coldness and excellent passing statistics (vision 88 and short pass 86). Ball Control (91), then, it makes it difficult to stop, also because it is fairly fast. Do not think, in any case, to make us a goleade with him, also because he has only 79 finalization.
For all these reasons, Kakà is a practically perfect COC, but remember to set it as an instruction "Stay ahead". The player has a very limited stamina and may leave you earlier than expected.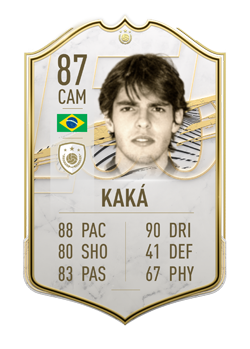 Cost: 660.000 / 590.000 credits.
Socrates Media version (OV 89)
Staying on the subject of attacking midfielders and especially in Brazil, the alternative to the good Kakà is certainly Socrates, a player who plays the role very differently.
Socrates is in fact much more physically powerful and less agile (only 58 of balance) but he possesses a ball control, a shot and a vision of the game absolutely out of the ordinary. By learning well to use his attack pattern and to manage his particular physique you may find yourself a real sniper, a player able to turn the game even in the most excited moments thanks to a thunderous 96 on the voice. Composure (Coldness).
Having then 5 of weak foot and 4 of skill it is also valid to deploy in attack. But beware of the flaw of balance. In fact, it might seem silly compared to the other super high values, but in a gameplay like that of FIFA 21 it could be felt a lot. This is also the reason why the player is at a very attractive price for what it offers.
Another worrying parameter is speed, which, however, to be honest with Hunter or Engine is not felt that much, especially if the player is deployed in his main role, that is that of playmaker and not in midfield or in attack. Overall, however, we are dealing with a decent card. For what it costs, the team can absolutely turn it around, especially in the lower divisions.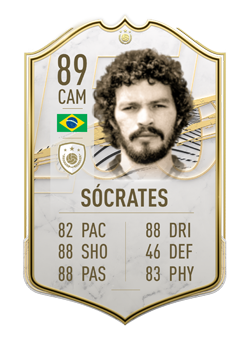 Cost: 540.000 / 580.000 credits.
That's really all for today. Do you agree with our choices? Let us know in the comments and get ready: the next article will be dedicated to forwards!