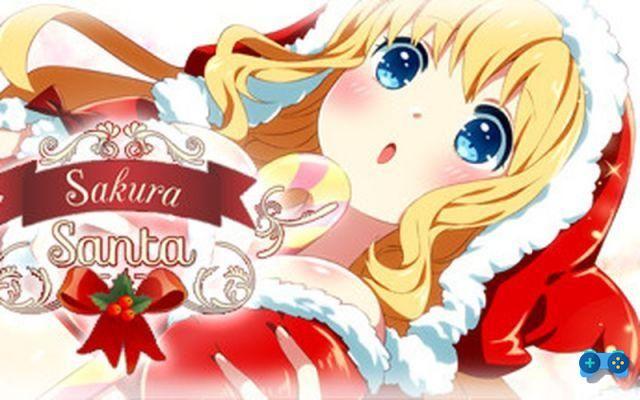 A five-on-one Christmas
PC tested version.
Taking care of yourself is important, especially at Christmas. Between dinners and family reunions, exercising becomes almost impossible and the only movements allowed are those necessary to sit down and get up from the table. The guys from Winged Cloud are well aware of this, and they decided to offer us yet another opportunity to strengthen our forearms with a new spin-off of their flagship brand, the Sakura series. If you've never heard of it, we recommend a short Google search to get an idea of ​​what we're going to talk about.
Still interested? We imagined it. The review starts right after the trailer, but don't cheat: you have to read it all before you go and look at the gallery images!
A question of poops
Sakura Santa is effectively part of the Visual Novel genre: many lines of text, beautiful artwork and important choices in order to obtain all the endings. But if you think you have a compelling story in front of you, you are wrong. Sakura Santa is probably the chapter of the series with the least interest in storytelling of all those published so far by Winged Cloud. Which is almost a positive aspect. Abandoning any claim to tell something interesting, the title makes the most of every pretext to show the graces of the beautiful protagonists left and right. Our hero, Koji, is in fact a poor university student who cannot understand that he was unable to make friends in time for the Christmas holidays. Even his relatives are all too busy to spend time with him at Christmas. In short, Koji is the portrait of loneliness, the ideal victim in which to identify the recipients of this work. But something is about to change and miraculously the boy's life is filled with vitality. And of sterns. Six pairs to be exact. In what appears to be the nocturnal fantasy of a teenager with crazed hormones rather than a real story, the few choices available to us all lead to embarrassing situations, which no one seems to care too much about: not if Koji worries, of course, which is capable of becoming a pervert after a couple of jokes with a girl (and wonders why he has no friends); the three procacious children to be conquered do not care, all appearing in a certain way without shame. And the player does not care either, as he presses space to continue the story and move on to the next image: for the viewer, the fact that there are moments in which having to choose between three different options becomes almost a nuisance.
System Requirements
Minimum requirements:

Processor: 1.2GHz Pentium 4 Memory: 1GB RAM Video card: 1280 × 720 Hard disk: 200MB Available Space

Operating system: Windows XP

Test configurations:

Processor: AMD A8 5600K Memory: 8GB Video Card: AMD Sapphire R9270X 2GB System: Windows Windows 10 64bit
Hands up!
Rest assured, however: Sakura Santa can be completed without problems even with one hand. The four routes proposed by the game, if you can call it that, all aim to conquer one of the three girls. Once you have achieved this, you can reload an old save (if you managed to make more than one) and try it with another suitor. Don't expect big variations based on how you choose to approach the story, but it's still admirable that the developers have at least tried to insert a couple of different dialogue lines depending on the order of our choices. Even if they are not always well blended with the context. The designs are still very beautiful and the ecchi vein of the Winged Cloud artists is certainly enviable. The music becomes a bit repetitive at times and the absence of dubbing takes away a bit of pathos, but the sound sector is still cheerful and catchy. Then… Did we mention that you see a lot of boobs?
Final comment
Sakura Santa is a spin-off designed for fans of the series and all in all it manages to achieve the objectives it had set itself. At the end of the battle you will surely come back as winners and for this he deserves the sufficiency. But can we recommend a similar product to our readers? Hard to say. Twenty sexy artworks accompanied by winking dialogues, are they worth an outlay of 10 € for you? If the answer is yes, then you already know what to do. The game can be easily found on Steam.
| For | Cons |
| --- | --- |
| - Can be completed with one hand - Very beautiful ecchi designs - Compatible with Steam Trading Cards | - YouPorn short story story - Hard to justify with friends and family (and even imaginary girlfriends) |
| | Overall rating: 60 |