Return to Sunset City
Tested version PC - STEAM
Sunset Overdrive, unexpectedly, was one of the most interesting Xbox one exclusives of the generation. Spectacular, frenetic, fun, are just some of the adjectives with which the title of Insomniac has been defined by critics and the public and for a long time Sunset Overdrive did not make us regret the absence of one of the most anticipated titles by Boxari, Crackdown 3. Within his plan to bring the PC and the Console world closer, it was therefore natural, expect Sunset Overdrive to land on PC as well.
Microsoft got there with a bit of delay, but in the end, even PC gamers will now be able to smash zombies in 4k. Leaving aside aspects such as plot and gameplay, which are practically unchanged and for which we refer you to our review for Xbox One, in this review we will mainly deal with porting.
A well done port but ...
From a technical point of view, the PC version kept the system requirements quite low; in fact, even a rather dated PC is enough to be able to play in a more than acceptable way, giving up some subtleties which, also given the style of production, are completely superfluous. We are talking, just to get an idea of ​​the requirements, of an i5 3470 and GeForce 750ti processor as minimum requirements and of i5 4690 and GTX 970 for the recommended ones (a processor with at least 2 cores and 3 threads is still required, nothing to do therefore for Pentium G4400). To play in 4k at 60fps, a 1070 is also sufficient and, if you disable some filters such as film grain and motion blur, the glance you get is truly spectacular. PC gamers, however, if they make up their minds, Sunset Overdrive is a console game and as such brings with it all the limitations of hardware that was probably already born old, without considering that already at its launch, 4 years ago, the title did not have certainly made a miracle cry from a technical point of view. In fact, the most picky will notice textures that are not exactly perfect, some sudden slowdown and blurred horizons, elements that we thought we had freed ourselves some time ago. It also lacks support for 21: 9 screens and a multiplayer mode.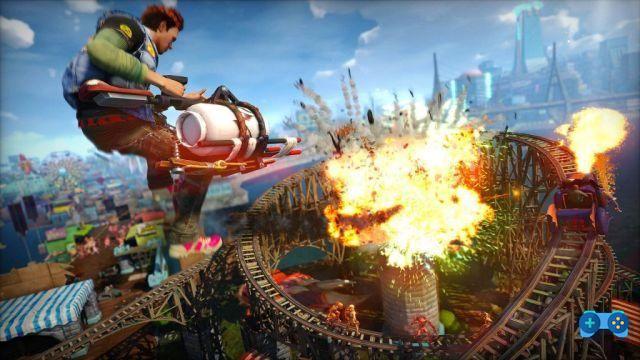 But is this really what matters in a production like Sunset Overdrive? Definitely no. Fast-paced, fun, and colorful, the world of Sunset City doesn't need mile-long ray tracing, tesselation, and depth of field to entertain. All you need are completely improbable weapons and exploding zombies, cars to act as a springboard and electric cables to slide or better "grind". The title of Insomniac games is in short a feast for the eyes however you look at it and its value lies in the artistic direction, in the ability to transport us inside a comic, and ultimately to entertain the player with the most zombie apocalypse. absurd that it has ever been seen (generated by an energy drink, let alone!). In short, style for Insomniac is everything and if you have played Jet Set Radio in his day, you will know very well what drugs games of this type can become.
Furthermore, the map of Sunset Overdrive, even if not remotely comparable to that of other open world of more recent games such as Odyssey or Red Dead Redemption in terms of extension, is however extremely interesting and full of things to do, with missions always exciting and never banal that follow one another in an ever more pressing rhythm; a further demonstration that "size" really does not matter when you have brains and talent like that shown by the guys from Insomniac.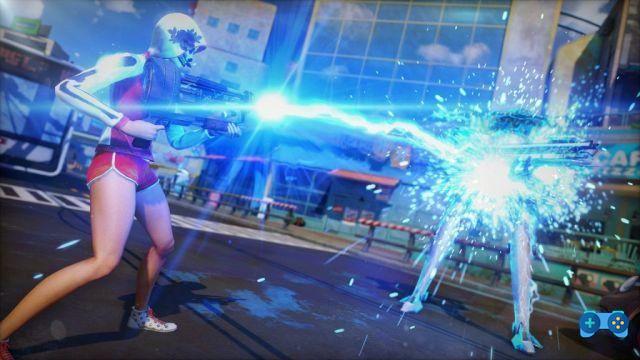 From the point of view of the contents, then, the PC version brings with it all the extensions released so far (Weapons Pack, Mystery of Mooil Rig and Dawn of the Rise of the Fallen Machines) including the DLC Story, in which we can transfer to an oil rig chasing the last remaining zombies.
Conclusions and judgment.
At a price of only 19.99 Euros on Steam and Windows Store, Sunset Overdrive is one of those timeless games that can give you a smile even when the time to devote to videogames is scarce, thanks to an extraordinary style and an immediate and fun gameplay. If you haven't played it on Xbox One and are looking for a Jet Set Radio game, PC version Sunset Overdrive is definitely for you.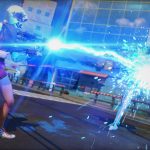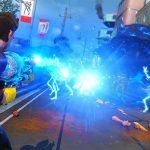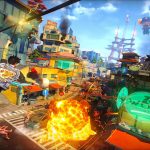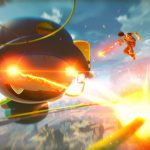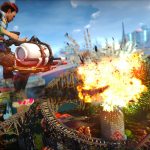 Sunset Overdrive
For
- Incredibly fun and colorful
- Also suitable for hit and run games
- All dlc's at a budget price
Cons
The technical sector is not his forte
Summary
If you haven't played it on Xbox One and are looking for a game on Jet Set Radio, Sunset overdrive in the PC version is definitely for you.
gameplay
Graphics
Sonoro
Longevity
Final judgement