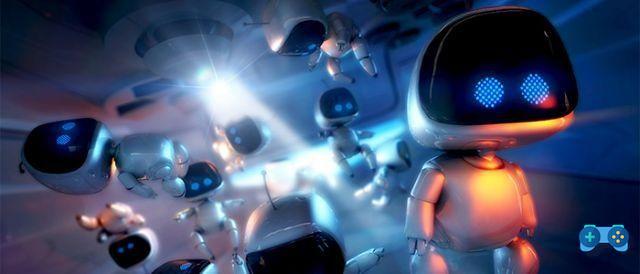 What a room can do.
So sang Max Gazzè ... yes ok, not really like that but you will allow a small license as the incipit of this review dedicated to Playroom, one of the games that PS4 users were able to play right away because it came pre-installed on their console.
More than a game The Playroom it is actually a tech demo, a demonstration of what yours is Playstation Camera is able to do, therefore before talking about the title a little technical premise is necessary.
Sold at a price of 59,90 euros or as a bundle, for the lucky few who have had the opportunity to book it, with an additional pad and Killzone at 499 euros, (100 euros more then compared to the street price of PS4), the Playstation Camera is Sony's answer to Microsoft's Kinect (here our faq)
Equipped with 2 1280 × 800 cameras with 85 degree field of view and 4 microphones, it measures 186mm (width) x 27mm (height) x 27mm (length) for 183 grams.
The presence of two cameras that can rotate around its axis and capable of identifying and triangulating elements in space, as well as ensuring the tracking of the body and joints in a similar but decidedly more elementary way than what Microsoft offers, allows the Sony console to take advantage of a series of peculiarities that go beyond video chat, offering discrete implementation possibilities for augmented reality games, such as those offered by Playroom. With Playstation camera it will also be possible to use voice commands and, thanks to the integrated light sensor on the DualShock, it will now be easier to play games similar to Playstation Move and without the need to buy other accessories.
While for the luminous tracking of the pad we can only be satisfied, more could be done with regard to voice commands: the only ones available once the voice control mode is activated and the word Playstation is pronounced are:
"Main Screen"

"Game or App Name"
"Browser",
"Announcements"
"Collection"
"Take screenshot"
"Shutdown"
"Enter standby mode"
The voice control mode we say right away is not particularly exciting, at least not as exciting as that of Xbox One, certainly on another planet compared to Sony's somewhat grasped solution, however it is a good start and we are sure that with time (hopefully) the features will be enhanced and perfected.
The PlayRoom
But let's move on to The Playroom, as mentioned, the title is a demo of what the playstation camera is able to do, so do not expect hours of good fun with this pre-installed game. Once Playroom has been started, we will be asked to rub, as if it were an Aladdin's lamp, on the touchpad of our DualShock to bring up Asobo, our personal assistant robot; he will guide us in the functionality of the game and will keep us company when we intend to waste our time, which obviously is worthless, to caress it or punch it. Asobo will move in our living room and show sad and dejected or happy faces depending on your movements.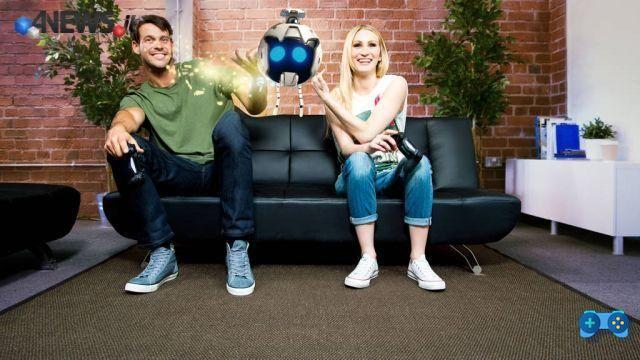 In our case we verified some small problem simply by getting up or sitting on the sofa: as soon as our tired hind limbs touched the pillow, the "poor" Asobo fell into a catatonic-melancholy state, making us curse this perverse Japanese taste for tamagotchy and other robotic "pets".
This house is not a night!
Robots it is instead another slightly more interesting modality, if you have 4 to 6 brain years certified by Dr. Kawashima.
Your pad is animated, inside it the good Asobo has crammed dozens and dozens of dwarf and whiny robots as much as your cousin's baby and you just have to do, aggratis, their babysitter. By touching the pad upwards it will be possible to throw them on the living room floor where they will begin to whimper demanding a little attention, while the others, smart, will continue to have fun in your pad transformed for the occasion into a night club.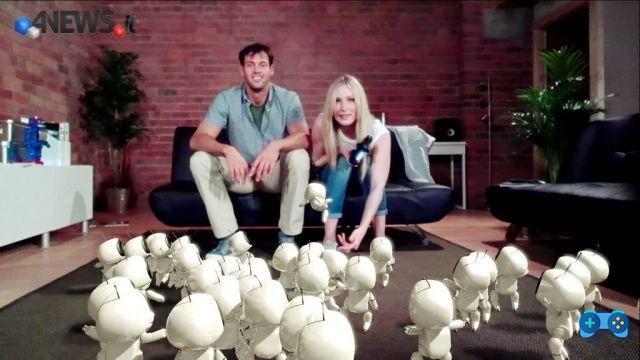 By pressing the buttons in time it will be possible to make your robots perform dance routines inside the pad: nice as a kick… well you understand where.
By downloading the "Playstation APP" app, available for Android and iPhone devices but not for iPad, it will then be possible to interact with the robots via your smartphone, for example by creating toys with which the robots will have a lot of fun… them.
If that's not enough for you, you are manic completists, you have nothing else to do in your life or, more simply, you have no game on which to pour your hyperactive minds you could try to unlock the Playroom trophies here they are in a beautiful 'list. How do you say? have you already unlocked them all? Sincere congratulations!
Bronze trophies
Lovely Meeting You! - Release ASOBI into your room.

Honey, I'm Home! - Make ASOBI lonely and return to him!

Boo! - Play "Peek-a-boo" with the AR Bots.

Secret Night Club - Create a little beat routine for the AR Bots to dance to.

Wait! Is it One, Two, and we go on Three? - Stay synched up and release the AR Hockey playfield.

Lightning Speed! - Score by using a boost attack.

Don't try this at home… - Splash the screen during a celebration.
Silver trophies
Eye for an Eye - Punch ASOBI and let him hit you back.
Flight of the Bot - Send an AR Bot flying against the screen.
Lights out! - Turn the lights off inside the AR Bots' home.
Super Rally! - Make a rally last more than 10 hits.
Gold Trophies
Master of The PlayRoom - Find all of The PlayRoom trophies.
My Alien Buddy DLC Trophies
Show us that Grin - Stretch Alien's face as far as you can.
World Traveler - Collect one glowing piece from each of the 4 toy sets.
Intergalactic Disco Star - Dance along with your Alien Buddy and touch 7 stars.
Table tennis
Finally a game that justifies in the eyes of girlfriend, mother, father, wife and even little brother or sister, the 400 cucuzze spent to grab the legendary Playstation 4 on day one! A deal.
Getting serious for a second, table tennis is the heir to the oldest game in the world, PONG ... in this "next gen" version you basically just have to use your touchpad to move your racket up or down , or crush to give strength to your shot: the winner is whoever arrives first at 7. Nice animation of victory: it certainly shows all the raw power of Playstation 4.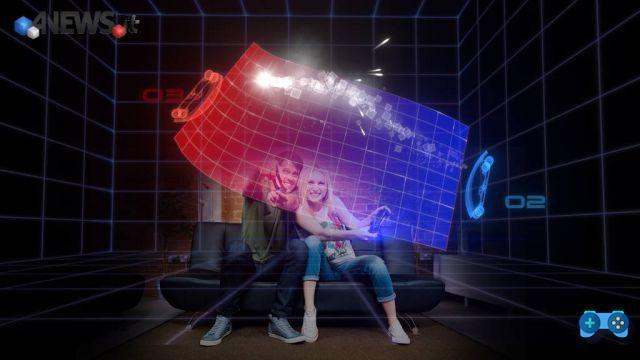 Ultimately what about this The Playroom: certainly as said in the opening words of this small review, we did not expect from Playroom who knows what, it is still a pre-installed demo, however a little effort to integrate some small additional features, some fun games to be used with the camera or other "fancy" things, would have been a very welcome gift and would have given meaning to the purchase of the Playstation Camera, which, at least for the moment, remains a completely superfluous accessory to fully enjoy the Playstation experience.