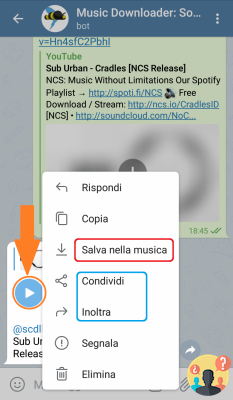 Download music from Telegram for free
Music accompanies our lives, our important moments, sometimes study or training and often our periods of relaxation. For this reason we have dedicated many articles to the topic: we talked about the best applications to download music, the best music streaming services and the best sites for mp3 download. Today we dedicate instead an in-depth study to how to conveniently download free music from Telegram.
The best bots to download music from Telegram
There are several bots that allow you to quickly download songs in mp3 and which at the same time save you from advertising which is very common on online portals.
Read also: Telegram bots: what they are, how to install them and where to find the best ones
Lots of these bots they are looking for music for you on the well-known social network VK (which is the Russian equivalent of Facebook). On the site (and therefore on the bots) they are present millions of songs in mp3, both royalty-free and licensed. Obviously, we invite you to download only songs that you know are free to use and listen to and if you like to listen to free music you can still support your favorite artists by listening to it in streaming.
After this brief introduction, here are the three most popular bots for downloading music from Telegram:
Vkm_bot
Vkmusic_bot
Zenplayerbot
You can add bots by clicking on the links above or using the search bar on Telegram in desktop or mobile version.
How do you use bots to download music?
The use of these bots is in practice always the same, so we will describe for you the use of Vkm_bot (the first reported in the list) because it is also translated into Italian.
Once you have added Vkm_bot you can proceed to use.
Here's how to download music:
open Telegram
click on the link above or search for the name in the search box to enter Vkm_bot
then press the "Start" button at the bottom
instructions will appear; the bot is controlled via some textual inputs. Here are the main ones: "/ song" to search for a song using its name (or part of it) or "/ artist" to search using that of the artist (do not worry the autocomplete is always ready to help you), " / settings "is used to access the settings
performed the search, a list of songs that could be of interest to us will pop up, each identified by a number and keys with numbers will also appear in our conversation and we can use them to go to the song we like
then we can choose whether to press the "Download" button (on furniture it is identified by a small down arrow) or on that "Play" (on mobile identified by the large key with the Play symbol) or whether to insert a heart or to remove it (the heart is used to insert a song in our playlist)
once downloaded, if we want to make the song appear in our music player, on Android and iOS it is necessary to press on the three dots next to the name of the song and tap on the item "Save to music"
At this point, just go to the app for playing local music on your smartphone to find the downloaded music tracks and to be able to listen to them as often as you want even in the absence of a network.
How to search for more channels to download music on Telegram?
The bots we have indicated above could over the months be replaced by similar ones because the situation on Telegram is quite "fluid". To always find new bots dedicated to music on the chat note, just use the search bar at the top and take advantage of the following keywords:
"Vk mp3" (VK is the name of the well-known Russian social media rich in mp3)
"Download music"
Free Mp3
"Download musica"
"Download mp3"