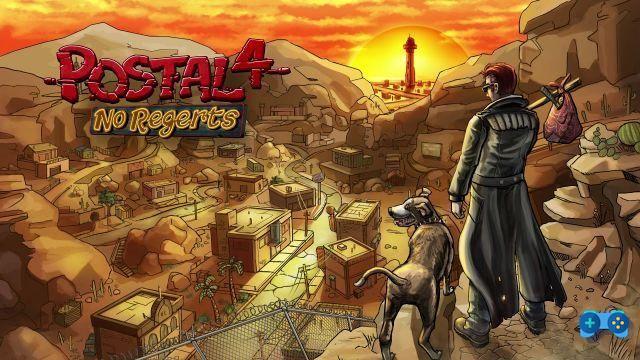 Surely you will have immediately noticed the word Regerts instead of Regrets, thinking that we have made a typo. Well you have to change your mind: the subtitle of Postal 4 it is deliberately written incorrectly, letting the insane nature of this new chapter shine through from the "cover".
After the poor success of its predecessor, the franchise is back under the wing of the guys from Running With Scissors to try to take the right path again. Currently the game is in early access on Steam and still needs a lot of work to eliminate all the acerbity. Ours, therefore, will not be a review but a hands on to understand how much potential this fourth episode hides.
Chaos, fire and flames
Postal 4 immediately introduces us to the wacky protagonist who perfectly embodies the figure of the bumpkin: rough, dirty, ignorant and irreverent. After being robbed of his car and his trailer, the man decides to roll up his sleeves to "rebuild a life" accompanied by his faithful dog. His short journey takes him to the fictional town of Edensin, Arizona, whose civilization immediately clashes with his way of being.
The main goal is to find a job, but from the moment we set foot in Edensin we became aware of the great freedom of approach offer. We will be able to face the primary and secondary missions proposals, some of which unfortunately still afflicted by bugs that can compromise its completion, or we can decide to sow panic by killing any person you stand in front of. This, of course, will unleash the wrath of policemen and pseudo-criminals in the town, who will respond with weapons drawn. Their dubious effectiveness and poor shooting skills, however, do not scare much, making them easy puppets to have fun with.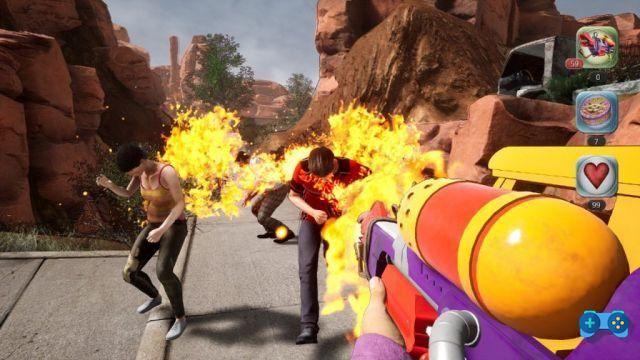 At our disposal we will have a quite rich, varied and decidedly strange arsenal. In addition to conventional melee and ranged weapons, we can for example use cages of killer pigeons, an infernal Super Liquidator or an "alternative" AK-47 that mounts a cat instead of the silencer (you got it right). If we need support, nothing will prevent us from unleashing our dog, but exposing him to the risk of being killed. In case of death, however, we can conveniently store it in our pocket of wonders to throw it on the ground lifeless when we feel like it. Yes, the vision is quite macabre but we want to stick to the style of Postal 4.
If we are still not satisfied, we can count on a dangerous "war machine": an electric wheelchair equipped with a heavy machine gun. What better way to not get tired while riddling poor innocents? To close the circle of madness, then, there is no shortage of consumables of all kinds, including drugs with more vague descriptions that can provide us with bonuses or malus.
All this, together with the game world, is destined to expand and improve thanks to the continuous support of the game with fairly frequent updates.
In addition to a high rate of violence, too vulgarity and irony are the order of the day in Postal 4. In fact, there are several not very politically correct elements that will get you some good laughs. Some examples? The Scrotorola mobile phone, the 10G network coverage and, beware, the possibility of lowering the zip of the pants to "water" anything or ... anyone.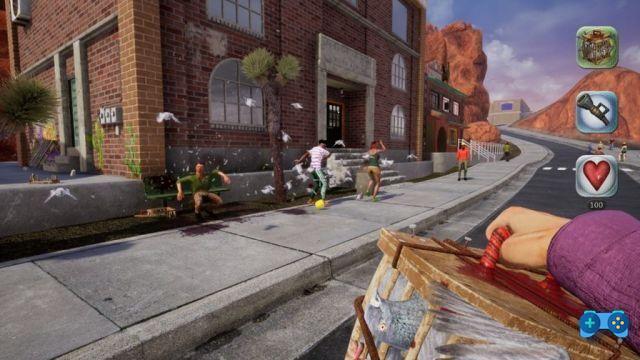 Bittersweet technique
From a purely technical point of view, Postal 4 still has some way to go before it can at least be defined as "deliberately neglected". Graphically it is enjoyable, with bright colors and a note of cel shading useful to dampen imperfections, but at the same time quite heavy, thanks to an optimization that is not exactly the best. With our mid-to-high configuration we didn't struggle to keep steadily above 60 fps, but despite the G-Sync monitor we still found some noticeable drop in frame rate.
| | |
| --- | --- |
| CPU | Intel Core i7-5820K 6 cores |
| But by the full GPU acceleration tech | Gigabyte NVIDIA GeForce GTX 1070 8GB |
| RAM | 16 GB |
| SO | Windows 10 Pro 64-bit |
| Monitor | Acer Predator 27 ″ Full HD with G-Sync |
One of the most obvious flaws that needs improvement is the rendering of the animations. Dwelling in particular on the protagonist, selecting the third-person view, you immediately notice the woodiness of the movements. Just think that climbing a ladder seems to go back to the early 2000s, when the characters ran vertically instead of climbing. Furthermore, the third person suffers from a mismatched aiming system with melee weapons, making it rather difficult to land a shovel or stab. There are several totally empty buildings despite being marked as points of interest, in which it is sometimes possible to enter with some tricks and then, however, get stuck forcing the restart of the game.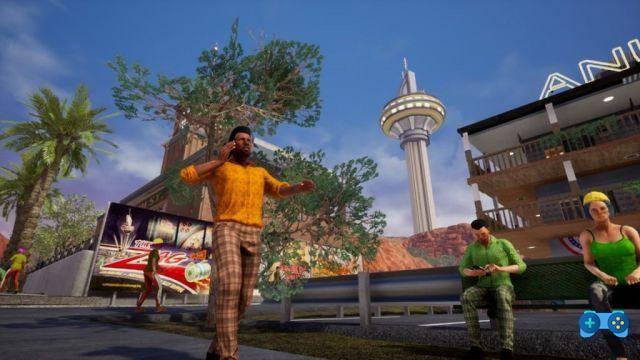 Net of some obvious problems to be solved and an interface still a bit to be filed, however, the development team probably intends to preserve the tendentially trashy soul of the game also on the technical profile, focusing more on the gameplay performance.
A final note should be made to the audio sector: at present Postal 4 is completely in English, both in dubbing and in lyrics. Among other things, we have not been able in any way to enable the subtitles of the dialogues from the settings, perhaps because they are not yet ready. This makes it unappetizing for those who are willing to delve into the events but do not know the language well. In this respect, therefore, we hope that the developer has in the plans the complete translation in different languages.
Final impressions
Postal 4: No Regerts it is an unconventional, ignorant and violent title which nevertheless succeeds perfectly in its objective: to have fun in the simplest and most cazzaro way, leaving the player the freedom to face the "story" and in the meantime make a mess everywhere. On the technical side, however, it does not have too many pretensions, revealing itself to be a game that remained anchored at the end of the last decade in terms of animations and general performance. At present, however, Postal 4 lets itself be played and is on the right track, although it is clear that there is still a long way to go in the content before conquering a larger slice of the audience.