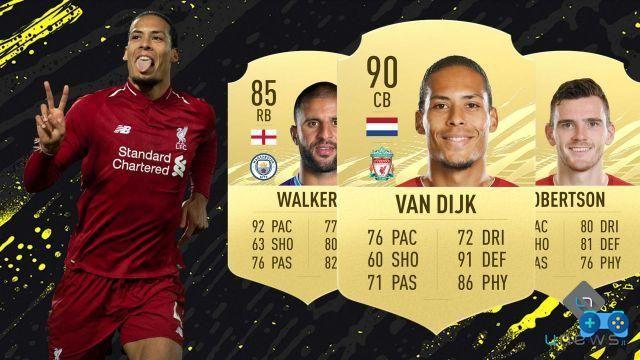 Continue our guide series dedicated to the mode FUT - Ultimate Team of FIFA 21. This time we have decided to delight you and show you which are the strongest players in the Premier League to have - role by role - with, of course, the relative purchase price. It starts with the strongest defenders in the Premier League.
Please note: - next to each player you will find the relative purchase price. The one on the left refers to the PS4 version, the one on the right, the Xbox One version!
It might interest you:
How to recognize a Walkout
How to start earning credits with the Web App and the Companion App
The cheapest Serie A players to start
The cheapest Premier League players to start
The best Ones to Watch (OTW) to bet on
The cheapest La Liga players to start
The cheapest Bundesliga players to start
The best team in the Premier League for 100.000 credits
Advice on buying and selling
The best team in La Liga for 100.000 credits
The best team in Serie A for 100.000 credits
The most buggy players in Serie A
Eight economic "beasts" absolutely to buy
How to make a lot of credits with flipping
The strongest team in La Liga
The most buggy players in the Premier League
The strongest silver team
The most buggy players in the Bundesliga
The strongest Premier League / Ligue 1 / La Liga Hybrid Team by 200000 credits
The Premier League / Ligue 1 / La Liga / Serie A Hybrid Team at low cost
The strongest team in the Bundesliga
Icon Guide - The best goalkeepers
The strongest team in Ligue 1
Icon Guide - The best defenders
Icon Guide - the best midfielders
Central Defenders
Virgil van Dijk (OVR 90) - The rocky Liverpool defender - unfortunately seriously injured a few weeks ago - is undoubtedly the strongest player in his role, until last year he was considered to be the best defender in the world (perhaps exaggerating with the praise). Either way, he absolutely must be present in every FUT defense
Price: 430.000 / 401.000
Aymeric Laporte (OVR 87) - He will not be very fast but he has a defense and a top player physique. Alongside Virgil it could really make a difference. He also received an impressive Rulebreaker card.
Price: 22.500 / 30.750
Toby Alderweireld (OVR 85) - Not as brilliant as he used to be, but the good Toby is still an excellent defender. Maybe as a substitute, if you play with 4-4-2 it can be fine. If, on the other hand, you prefer the 3-man defense, he could compete for the place with Joe Gomez.
Price: 7.100 / 8.800
Joe Gomez (OVR 83) - The other Liverpool defender - inherited the post (with burdens and honors) - of van Dijk. He is young, strong, both physically and defensively. In addition, it can count on great speed. A defense: van Dijk / Gomez, it would be a masterclass.
Price: 138.000 / 119.000
Antonio Rüdiger (OVR 81) - A player who had done so much well at Roma and from whom everyone expected great things. His growth has stopped but he is still a very good central defender. Discreet speed and good defense, all accompanied also by an imposing physique and height.
Price: 2.700 / 3000
Nathan Aké (OVR 79) - Unlike the good Antoni, Akè continues its exponential growth. A good all-round defender, who could be used both as a starter and as a reserve.
Price: 13.500 / 8.000
Davinson Sanchez (OVR 81) - The Spurs defender has been a certainty for some time now. Owner or reserve? To you the choice!
Price: 23.500 / 17.000
Rúben Santos Gato Alves Dias (OVR 81) - The Manchester City defender does not have great speed, but he has an excellent defense and a great physique. Recommended reserve
Price: 1.100 / 1.300
Kurt Zouma (OVR 80) - The Chelsea defender represents a good reserve. Its price is low so why not take it to lengthen the bench?
Price: 1.400 / 1.500
Right Backs
Trent alexander-arnold (OVR 87) - The Liverpool full-back has practically everything - perhaps a little more gym wouldn't hurt - since his only weakness is his physique (71). But he absolutely must be among the Premier League's strongest defenders
Price: 27.000 / 36.250
Ricardo Pereira (OVR 85) - The good Ricardo is now a certainty for Leicester. He prefers both the defensive and offensive bands. A real talisman. And then it's cheap!
Price: 7.100 / 8.900
Kyle Walker (OVR 85) - Perhaps the most complete defender of the BPL. It definitely needs no introduction. Speed, defense, dribbling. Luckily he has only 63 shooting, otherwise he might as well have put him in attack.
Price: 115.000 / 93.500
João Cancelo (OVR 83) - The former Inter and Juventus full-back prefers attacking. In our opinion it can be bought but as long as you have two very strong central defenders and making sure that either the CC or the AS come back to the defense to give him a hand. In fact, Cancelo is not particularly effective in the defensive phase.
Price: 3.000 / 3.500
Aaron Wan-Bissaka (OVR 83) - 22 years old, Manchester United full-back, 183 cm. He can play with other recommended players and we are sure that in the years to come he will impose himself as the best TD not only in reality but also in the game.
Price: 9.400 / 9.800
Nélson Semedo (OVR 83) - Offers a lot in terms of speed and to support the attack phase, less recommended for the defensive one.
Price: 27.500 / 18.500
Left Backs
Andrew Robertson (OVR 87) - Impossible not to recommend him, he has everything you need to fill the role.
Price: 30.500 / 41.000
Lucas Digne (OVR 84) - A balanced left-back who excels above all in dribbling, defending and passing. It's not very fast but if you are looking for a player who can help the defense, Lucas is for you.
Price: 3.700 / 4.400
Alex Telles (OVR 84) - A beast, with the right style understood, can excel both in the proactive phase and in the defensive one.
Price: 12.750 / 11.750
Patrick van Aanholt (OVR 77) - Full-back speed suit. If you don't care about defending but only offending, that's fine. He also received a devastating Rulebreaker card (shame about the price)
Price: 800 / 850
Sergio Reguilón Rodríguez (OVR 82) - Not particularly different from the previous one but slightly more balanced. Good substitute.
Price: 860 / 1000
Luke Shaw (OVR 81) - Luke Shaw concludes this guide on the strongest defenders in the Premier League. He has suffered a lot of injuries and is no longer as good as he used to be. However, he has excellent statistics and perhaps he could also be included in the list of buggy players as he is often the author of actions like a true champion.
Price: 750 / 800
We conclude here regarding the strongest defenders of the GLP. Appointment with the midfielders and then with the forwards!