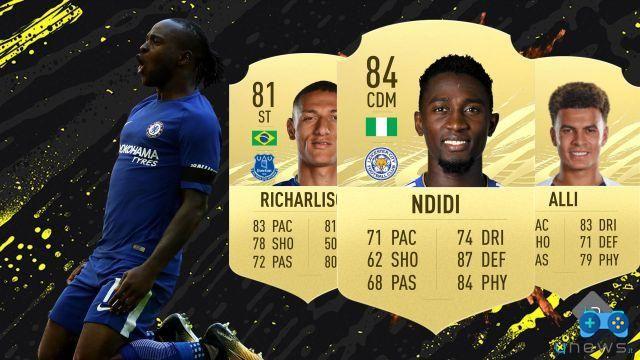 Among the leagues most used in the FUT- Ultimate Team mode di FIFA, there is definitely the Premier League. A league full of talents and established players that is really tempting to fans of the football iteration EA Sports.
If you are looking to build the best formation in the English league, with a budget of just over 100K, you are in the right place. In fact, we have selected the best squad achievable with this budget, to be precise 87.650 credits if you play on PS4 and 80.650 if you play on Xbox One. We remind you that the price of the players will change as the days and weeks go by.
Please note: - next to each player you will find the relative purchase price. The one on the left refers to the PS4 version, the one on the right, the Xbox One version!
It might interest you:
How to recognize a Walkout
Advice on buying and selling
The best Ones to Watch (OTW) to bet on
The cheapest Serie A players to start
The cheapest La Liga players to start
How to start earning credits with the Web App and the Companion App
The cheapest Premier League players to start
The cheapest Bundesliga players to start
The best team in La Liga for 100.000 credits
Formation: 4-3-3
Goalkeepers:
Kepa (OVR 82) - 1000 / 1.300 credits - Chelsea goalkeeper who can boast four 80+ values ​​including diving and reflexes which are not bad at all.
Defenders:
Konstantinos Tsimikas (OVR 76) TS - 700 / 750 credits - The Liverpool left-back is more attack-oriented (with his 87 speed) but he can also count on a decent body. We advise you to apply the Intended style: Sentinel
Fikayo tomori (OV 76) DC - 2.800 / 2600 credits - Rocky defender who can count on a good physique and excellent speed. Recommended Chemistry Style: Anchor or Spine.
Eric Bailly (OVR 79) DC - 8.300 / 6.100 credits - His stats have dropped drastically in recent years but he is still able to guarantee good defensive coverage. He will not shine for speed but he has a good defense and a good physique that could really give the attackers a hard time.
Deandre Yedlin (OVR 76) TD - 750 / 750 credits - One of the fastest full backs in the game. A shot to say the least burning. Sins in defense (only 70) but for about 900 credits you will have an excellent TD.
Alternative as TS: Reguilon - 6.400 / 6500 credits
Midfielders:
Wilfred Ndidi (OVR 84) CC - 25.000 / 26.500 credits - A real tank, very solid defense and physique but also a good speed (71) make it a real talisman for the midfield.
Dele Alli (OVR 83) COC / CC - 7.000 / 8.400 credits - 83 dribbling and 80 shooting, excellent stats for a midfielder. Also combine a good physique (79) and you will have the perfect midfielder.
Lucas Torreira (OVR 81) CC - 4.800 / 4.500 credits - He was supposed to return to Serie A but he didn't. On paper he is not exceptional but every year he stands out for being one of the most buggy midfielders in the game.
Forwards:
Christian Pulisic (OVR 81) AS - 6.300 / 7.000 credits - The former Borussia Dortmund is the best solution to use on the left front wing. Burning shot and excellent dribbling. Too bad for the shot, only 70 but we are sure it will make sparks on that band.
Richarlison (OVR 81) ATT - 30.000 / 21.750 credits - The perfect striker. Physical, sprint and shot. More to add?
Ferran Torres (OVR 81) AD - 1.000 / 1.000 credits - Certainly not very fast but if you are looking for a technical AD this is the optimal solution.
Alternative as AD: Mahrez. It costs much more than Torres (34.500 / 33.000 credits) but if you have a higher budget (about 120.000 credits) it is really worth the expense. Not so much in terms of speed ("only" 83) but between dribbling and passing it can become the extra weapon. Or pepper Arsenal. It has a really low price, 4.700 / 4.900 credits o Silva which has stats very similar to those of Mahrez but at a less expensive price, 19.000 / 22.750 credits!
Alternative like ATT: Gabriel Jesus. Price 62.500 / 52.000 credits. He has better dribbling than Richarlison, 87, as well as speed (85) and a devastating shot, 82. We know that at the moment such a figure is not for everyone, but if you can get there, you would have one of the best in your hands. forwards purchasable for PL. If you decide to take Jesus instead of Richarlison you will need a total budget of 120.150 credits on PS4 and 110.900 on Xbox One.
The team in question (excluding possible alternatives) requires a good budget but can boast a fast attack, a solid and well balanced midfield, reactive defense, fast and physically strong.