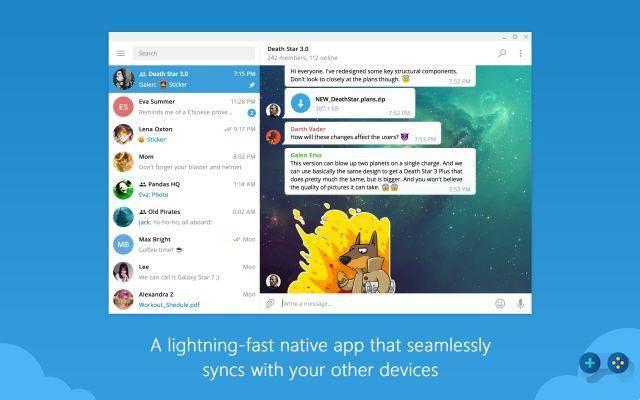 I have already told you about Telegram as a free alternative to Whatsapp, and today I want to explain to you how to install telegram on pc to be able to communicate with your friends even from your computer and not only from your smartphone. Let's see then how to install Telegram on pc with a step by step guide.
Many prefer Telegram to Whatsapp for privacy and security reasons and in some respects they are not wrong considering that Whatsapp is owned by Facebook which already knows the habits, personal information, addresses and mobile numbers and social relationships of its members. Telegram, on the other hand, does not use data for user profiling and above all provides a much higher level of privacy than Whatsapp. A reason to prefer Telegram, and today we see how to install Telegram on pc following these simple steps.
do you want to use telegram from your pc as well as from your smartphone? here is a step by step guide ...
How to install Telegram on your pc
It is possible to use Telegram on your PC in two ways:
using the browser without installing any programs
by installing the official desktop program
The first option can be used on any pc even if you don't own it but it provides a minimal interface without particular configurations. The second option installs a more customizable and versatile client. The latest versions of the client are also available in portable version and can be run directly from a USB key.
Using Telegram using the browser
The procedure for using telegram with the browser is really simple:
access the Telegram web page
enter the telephone number on which you have installed telegram
enter the code you receive on your mobile in the box and start using Telegram on your pc
Use the Telegram client
To install the Telegram client on the PC the procedure is just as simple:
download the client from the Telegram website page by choosing the portable version or the complete installation
start the program and enter the phone number associated with your Telegram account
enter the code you will receive on your smartphone in the next box and start using the Telegram client
As you can see, this messaging program is really versatile and allows you to access the chat history even from applications and web browsers. Now that you know how to install Telegram on pc you will be able to communicate faster with all your contacts even by exchanging files that are on your pc.