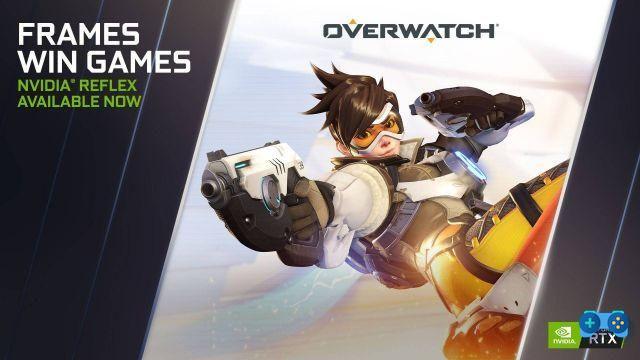 Rust and Ghostrunner are coming
NVIDIA today announces the addition of NVIDIA Reflex to Overwatch: all gamers with a GeForce GPU will be able to benefit from this technology starting now. NVIDIA Reflex allows you to reduce system latency to further improve players' competitiveness by allowing them to spot targets faster and react faster by increasing aiming accuracy simply by enabling NVIDIA Reflex in the game settings.
"NVIDIA Reflex is a real game changer, with up to 50% lower system latency."
- John Lafleur, Overwatch Technical Director
After a few weeks of testing on the public server, NVIDIA Reflex is available today on the live version of Overwatch, reducing system latency by up to 50% for a significantly more responsive experience.
Having a tool that can make split-second improvements in enemy detection can make the difference between winning or losing, and NVDIA Reflex is the right tool. By reducing system latency for Overwatch players, Reflex ensures the best experience for all players regardless of the character, skills or weapons used.
Reflex also coming for Rust and Ghostrunner
NVIDIA announces that two more games will soon enjoy NVIDIA Reflex latency reduction technology.
Rust - The phenomenal success of Facepunch Studios
Ghostrunner - One More Level's futuristic ninja action game
"Everyone in Rust wants you dead, reducing latency with Reflex will give you an edge over your enemies. It's really as simple as enabling Reflex through the options menu ".
Helk, Rust's Project Lead, Designer & Programmer
NVIDIA Reflex continues with optimizations
Among the improvements related to NVIDIA Reflex:
A new 'Boost' mode enhancement that can reduce latency in some CPU-related scenarios.
Fortnite has chosen to adopt optimization and players can now experience up to 15% reduction in latency in these CPU-related scenarios.
Valorant will release its update in the next patch. Early tests show a 10-15% improvement in CPU-related scenarios.
Introduction of four new mice compatible with Reflex Latency Analyzer, including:

ASUS ROG KERIS WIRED
ASUS ROG KERIS WIRELESS
CORSAIR SABER PRO CHAMPION SERIES
CORSAIR SABER RGB PRO CHAMPION SERIES

Three mouse manufacturers have released firmware updates to enable the Reflex Latency Analyzer, including:

AOPEN Fire Legend GM310
Acer Predator Cestus 350
Razer Deathadder v2 Pro

Acer has released the new Predator X25 360Hz monitor equipped with Reflex Latency Analyzer
NVIDIA's GeForce Experience application has been updated to include several user-requested features, including:

The ability to log all performance monitoring data to a CSV file - including FPS and latency statistics from Reflex Latency Analyzer.
The ability to choose the number of samples Reflex Latency Analyzer will use for averaging.
Adding GPU usage to the set of latency metrics to help you easily identify when a game is CPU or GPU tied.
For more details you can read the full article GeForce.com. While if you want to know which games support the new NVIDIA Reflex feature, take a look here