Version tested: PlayStation 5.
For several years now, Milestone has held the scepter in video games on official motorcycle competitions, whether on asphalt (for example MotoGP 20) or on dirt. Speaking of the latter, we have had the opportunity to review Monster Energy Supercross 4, fourth chapter of the series dedicated to the American supercross championship (AMA).
Just to give a brief introduction to the less experienced but interested, the AMA Supercross Championship was born in 1974 and includes two categories of displacement, today 250 cc and 450 cc. Originally the US national championship, since 2008 it has been officially elevated by the FIM to the world supercross championship. Fans will undoubtedly remember names like Jeremy McGrath, James Stewart Jr. and Ricky Carmichael; if they don't tell you anything, we strongly advise you to watch some videos.
After this "history lesson", we are ready to get on the track and get dirty with mud to let you know what we think about this new chapter.
Dress up with a designer
If there is one thing in which Milestone never denies it is the customization system, the real flagship of Monster Energy Supercross 4. Although the driver's editor is always classic and quite limited, including predefined faces, hair, celebrations and some other element, the customization of motorcycles and overalls is confirmed to be absolutely rich and varied.
We have available five manufacturers for a total of ten models of motocross bikes, divided equally between the 250 cc and 450 cc displacements: KTM, Honda, Husqvarna, Suzuki and Yamaha. As soon as you go to modify the aesthetics or the mechanical components (SX credits permitting), you are first of all in front of dozens and dozens of brands and official sponsors: Acerbis, Akrapovic, Yoshimura, FMF, Michelin, Dunlop, Red Bull and so on and so forth. This peculiarity does nothing but give greater realism to the title and highlight its official nature, thus being able to count on a large number of licenses.
In turn, the various manufacturers host one myriad of options to choose from to create the bike that best suits your tastes, both in terms of performance and aesthetics. In the first case we find the exhaust, suspension, crown, tires and brake discs, all modifiable precisely for performance purposes. In the second we go from handguards, saddles and handlebars to the color of the clutch casing and brake cables, and we have not mentioned everything. It is also possible customize liveries, to which you can not freely put your hand but you select the one that suits you best among the many proposals. Let's be honest: they are all really beautiful, including officers and others, the result of designer ideas, and we didn't feel the need to want to create them from scratch. We assure you that the variety of customizations of the bike is incredible and is fully capable of satisfying any idea.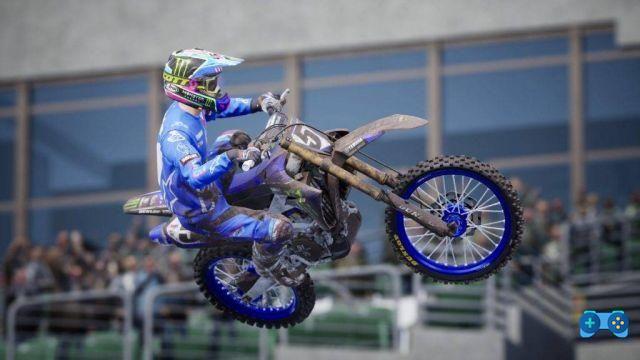 Slightly less rich but equally promoted the customization of the parts that make up the rider's clothing: helmets, mask, suit, boots, collar and butt patch in addition to the style of number and nickname. Also here stand out well-known brands in the world of two wheels such as Scott, Ufo Plast, Airoh, Thor and many others. As for the liveries, it is not possible to make helmets or suits to your liking, but the assortment is still more than satisfactory. We noticed that there are no dedicated glove options, but we do not rule out that they may be introduced with some patches.
If by chance you are among those players who do not like to waste too much time to "embellish" the bike and rider, Milestone has also provided official presets. Basically it is about Livery-suit "packages" taken directly from official teams which, in addition to giving a unique touch, allow you to create combinations of sponsors otherwise not available.
Tooth bread
We do not want to "scare" novices of the genre, but it is fair to point out that Monster Energy Supercross 4 is not suitable for everyone, as it offers a gaming experience that is anything but immediate and simple. The title aims to address true fans of the cross-country environment, which translates into a driving model that is rather difficult to master and very little permissive (even with active aids).
In addition to having to memorize the structure of the tracks, the wise management of gas, brake and clutch is essential to tackle obstacles in the right way. A precise landing after the jumps allows you not to lose the rhythm, but also a flawless start with a lot of holeshot can play a decisive role. A minimum error can significantly affect the position in the race, thanks to a Rather reactive opponent AI especially on higher difficulties. Furthermore, a serious fall can lead to an injury, the extent of which is commensurate with the time needed to get back in perfect shape. To suffer the consequences are the performances in the race, which are less, making everything more complicated.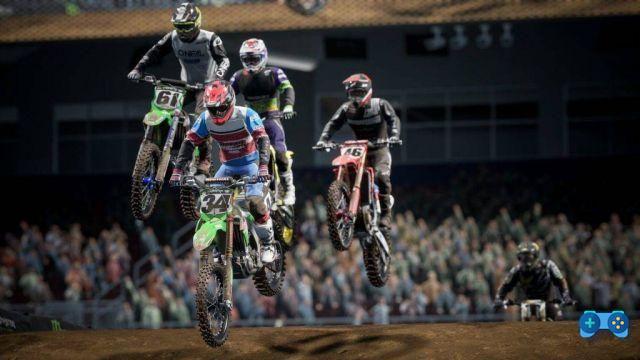 To speed up healing it is necessary to invest the skill points in the constitution, one of the parameters present in the skill tree of the game. By improving the rider's performance such as lean and control in the air, winning the podium will become more and more within our reach. The ability to soar, of course, comes not only from a good handle and various bonuses, but also from an accurate trim configuration. Veterans who love tough challenges will have to tinker with preloads and other elements to make a difference and take a few more tenths away from their opponents.
If you are looking for a motorcycle racing game with a more arcade setting, then, we recommend that you look elsewhere. This complexity is not necessarily a cons, because if on the one hand it cuts out a good slice of "casual" players, on the other hand it fits perfectly with the needs of those looking for real competition.
Leave the mark
After having discussed enough about the gameplay, let's get to know the various game modes more closely. The main one, predictably, is the career, consisting of three championships: Futures, Rookie and Pro. In each race it is possible to directly access the Main Event or enjoy the complete package with the previous sessions, ie Heat and Last Chance Qualifier. The road to success is dotted with small "stages" in between, which include special events and midweek training, useful for earning points that can be spent. There are also challenges, most of which can be completed simply by playing to get extra skill points.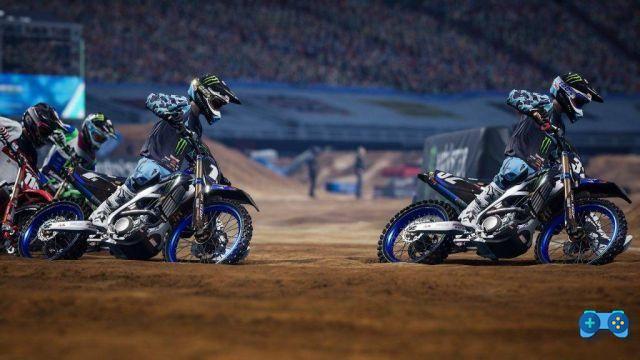 The good longevity of the career is supported by the classic modalities, namely single events and championships in the role of official drivers, and by the Compound. For those new to the series, basically it is a large area used for free roaming, which among the rest also hosts hidden collectibles. The purpose of the Compound is to allow players to hone their driving skills and have fun, alone or in the company of friends. Frankly, we found the area a little too bare of activity for its size, so we would have preferred something smaller but denser. Do not miss the online multiplayer for up to 12 players, a number that could turn up their noses to those who expect realistic races in every respect.
The game hosts a total of 17 tracks, all well reproduced, but if that weren't enough, you can rely on a track editor well made. Custom circuits can be shared with the community and, in the same way, it is possible to race on those created by other players. In this way, the variety is practically guaranteed.
Running-in phase
Monster Energy Supercross 4 is the first chapter of the series to debut on the new consoles from Sony and Microsoft. We played it on PlayStation 5, where in terms of frame rates it performed very well with yours 60 fps stable. From a graphic point of view, however, Milestone still has something to refine before it can be said to have finished running in. The attention to detail in motorcycles is obsessive and the performance of the stadiums is of excellent quality, but by analyzing the settings with a more careful eye we found some rather coarse smudges in 2021. In particular in the Compound, several times we came across very low resolution textures or sudden pop-ups of elements on the distance. Finding us on PS5, these defects are not a little disfiguring.
Milestone still suffers in the crash and collision system, which is not yet fully run in. In various situations it happened to us, after a jump, to land with a wheel on the back of an opponent, without this suffering any consequences. Also, the fact that riders become immaterial once they fall and that you go through them with the bike is no longer permissible. Animations can also be improved when performing whips or scrubs, which are too unnatural.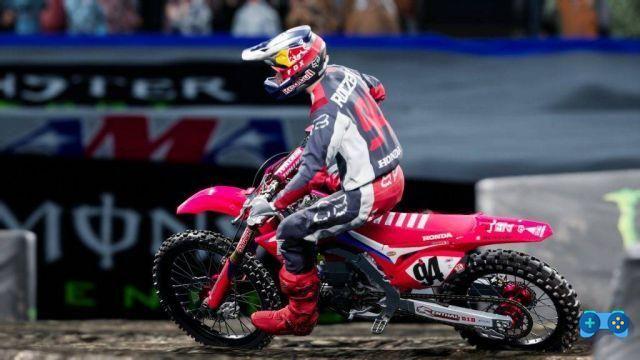 While there is still work to be done on these things, the same cannot be said of the first-person view. The performance is also really excellent in the movements of the handlebars, offering a maximum immersion experience. The features are also well implemented with the PS5's DualSense, which returns a very pleasant feedback both in the vibration and in the adaptive triggers. Last but not least the audio sector, well made as regards the sound effects of motorcycles and environment as well as for the apt soundtrack.
Final comment
Monster Energy Supercross 4 improves some elements of the previous chapter, without however wanting to stand out in an incisive way. The new Milestone title can count on a very rich customization system and on a driving model that is quite difficult to master, obviously aimed at simulation lovers. On the other hand, on a technical level it still shows several smudges to be, not so much in graphics as in 360-degree realism. It is certainly not a product suitable for everyone and does not offer substantial changes compared to its predecessor, but overall the gaming experience is fun and satisfying.