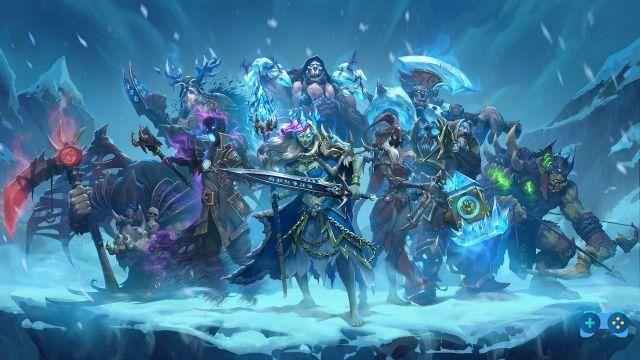 KNIGHTS OF THE ICE THRONE ™
THE FROSTY TOUCH OF THE LICH KING COMES DOWN ON HEARTHSTONE®
The new expansion of Hearthstone®, Blizzard Entertainment's acclaimed digital card game, adds 135 cool fresh cards
Legendary Hero Cards transform Hearthstone's fallen heroes into powerful Death Knights, with new abilities that can turn the tide of a game
Defeat the Lich King and conquer the Frozen Throne in a series of free missions
PARIS, France - August 10, 2017 - The icy mantle of death covers the lands of the living, and the mortal inhabitants of Azeroth tremble with fear: Knights of the Frozen Throne ™, the new expansion for Hearthstone®, Blizzard Entertainment's acclaimed digital card game, is here. The Lich King, commander-in-chief of the Scourge, lord of the Icecrown Keep and master of the cursed Cold Soul runesword, has come to conquer the inn and those who frequent it, promising incredible powers in the form of 135 fresh new cards.
Knights of the Frozen Throne transports players to Northrend, where they will face an untimely demise, only to come back to life thanks to the Lich King, who will grant them new superhuman powers. Adventurers can harness these unholy powers by collecting 9 new Legendary Hero cards that, when played, will transform Hearthstone's heroes into fearsome Death Knights.
Those who dare to rebel against the Lich King will be able to face the series of exciting free missions that the Knights of the Frozen Throne expansion offers players. Those who venture into the frigid halls of Icecrown Keep and complete the Prologue will receive a random Legendary Death Knight Hero card, before taking on 2 wings guarded by historical bosses like the pestilent Professor Putricide and the Blood Queen Lana'thel , as long as only the Lich King remains between them and the Frozen Throne.