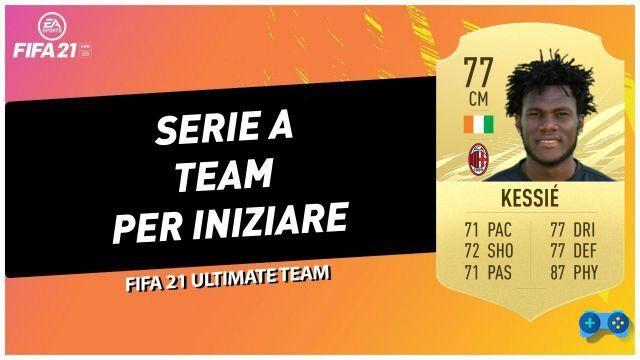 Great teams make great players ...
By now FIFA 21 has been released and we are sure that many of you will launch immediately on FUT Ultimate Team, and it is for this reason that we have decided to provide you with a series of useful tips to build your Dream Team.
It might interest you:
How to recognize a Walkout
Advice on buying and selling
How to start earning credits with the Web App and the Companion App
The cheapest La Liga players to start
The cheapest Premier League players to start
The cheapest Bundesliga players to start
After focusing on some foreign leagues, we want to return to Italy and advise you on the best players to build a team based on Serie A.
Goalkeepers
It is generally easy to choose a goalkeeper on FUT Ultimate Team, but your investment will not always pay off adequately on the pitch, here are a series of players who will be able to prove their usefulness.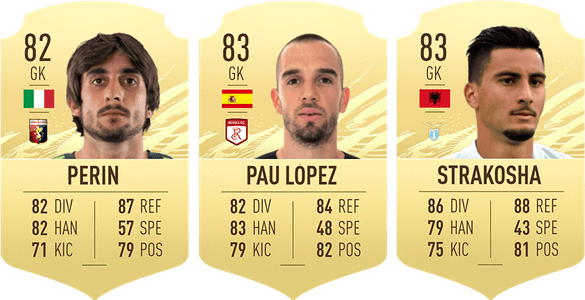 Each of these goalkeepers has the right characteristics to join your team, come on reflexes to the pinch (made with three fingers), Via dip e positioning.
Central Defenders
In any team the defensive department is fundamental, the same is true in the "country of the bolt". Choosing a rocky central defender with good speed could be the key to success.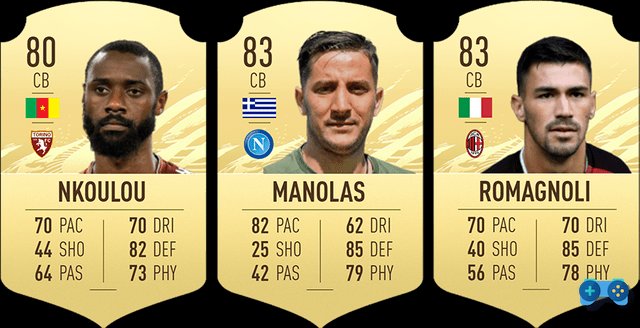 The Italian top flight has a great choice of defenders, unfortunately almost all of them extremely expensive, just think of By Ligt area of Juventus (or Piemonte Calcio) or Skriniar dell 'Inter. Don't worry though, Nkoulou (80) e Romagnoli (83) they will be able to give you some satisfactions. In case you are looking for a central defense that has a good run, Manolas (83) is the right man for you.
Full backs
Full backs are very important in modern football and FIFA 21 FUT Ultimate Team respects that dogma. So, to create many scoring chances and not risk "an embarkation" you will need very fast players.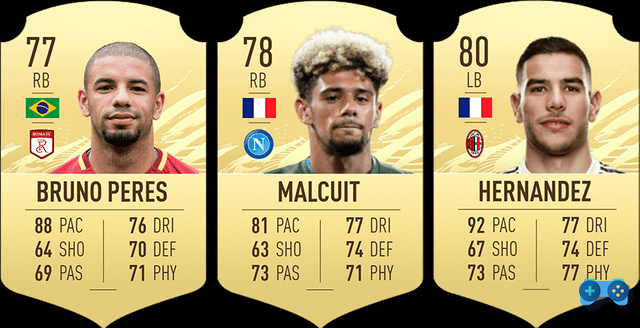 As happened in recent years (since the farewell of the unforgettable Joao Cancelo), the full backs available to gamers are few and to get them you will have to shell out a fair amount. If you don't have a lot of credits, go headlong Bruno Peres (77) e Malcuit (78), in case you want to hire the "train" Theo Hernandez (80) of Milan you will have to spend a fair amount, bearing in mind that at present it is part of the Team of the Week.
Since the prices of the French fullback are soaring, we advise you to pay attention also to Mojica (75) of Atalanta.
Central Midfielders
As mentioned in previous guides, CC e CDM they are the most important players of your team, in fact, it will be their task to build scoring actions and defend against enemy raids. Hence, you need to have athletes capable of joining physical, tiro e speed.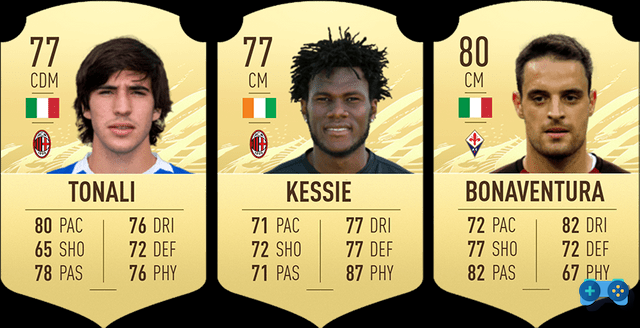 In this case, the Serie A offers a series of interesting choices, including two AC Milan players, from the new-entry Tonali (77), also available in the version Ones to Watch until today (October 8), in the Ivorian style Franck Yannick Kessie (77). These two players will provide your midfield with unprecedented strength.
If, on the other hand, you are looking for flair and dribbling, the new purchase of the Fiorentina and former Rossoneri heart Giacomo "Jack" Bonaventura (80) it's a great choice to start with.
Central Attacking Midfielders
The role of COC in FUT Ultimate Team it is dedicated to point guards (the Pirlo players to be clear), and in this case the economic solution to start is only one.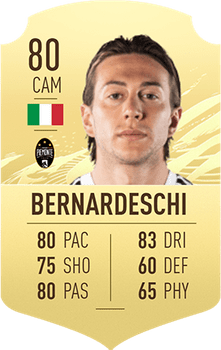 The former Fiorentina is a player who has only apparently low statistics, in fact thanks to his 5-star Skills he could reserve you a series of interesting performances.
Right Wings
As mentioned for the full-backs, the wings are essential for creating scoring actions and confusing the opposing defenses. So, again, beware of speed e dribbling.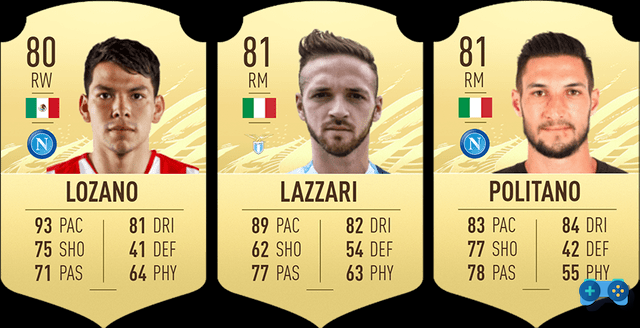 The right side of the field is definitely full of alternatives, from the Mexican Lozano (80), also present as TOTW, in Lazio Lazzari (81), all without forgetting the former Inter Politano (82).
If you are looking for the speed e dribbling Lozano and Lazzari are for you, in case you are interested in an assist-man you will have to turn your attention to the Politano blue.
Left Wings
Here, too, the speech made for the Right Wings applies, speed and dribbling are the masters, however, even a little physique does not hurt.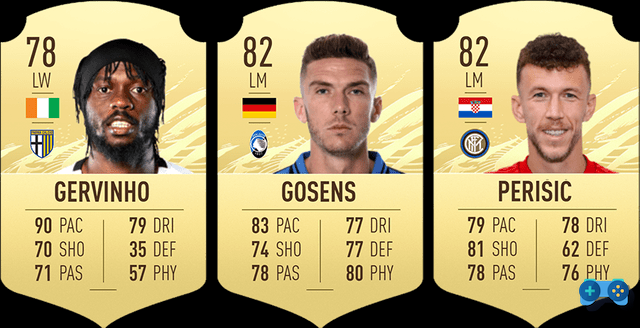 If you are looking for the speed worthy of the best sprinter, Gervinho (78) is for you. In case you prefer a more balanced player, choose Gosens (82) and you will not regret it.
For Perisic (82), we are talking about an athlete who can also fill the role of COC thanks to its extreme flexibility and shooting accuracy, especially from outside the area.
Forwards
Someone said Cristiano Ronaldo? Well, forget it, Portuguese is too expensive for the pockets of many gamers, including myself.
In any case, Serie A has a decent set of quality strikers, many of them could turn out to be an unexpected ace in the hole.

If you want to put your opponents with top performances in serious difficulty, the new signing of Napoli Osimhen (79), the atalantino Muriel (79) and the AC Milan player Ante Rebic (79) they are the best choice. In fact, the speed of the three points is nothing short of disarming.
In case you are more technical players, Correa (81) e Ilicic (84) they are the perfect players for your style, in fact they share an excellent dribbling with a high ability to sort the ball. Combining the two types (sprinters - technicians) could be the best choice.
Let us know in the comments if you are already playing FIFA 21 FUT Ultimate Team and which team you are starting your adventure with.