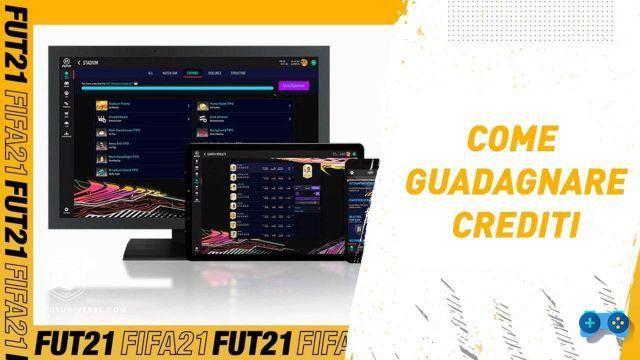 If you are lucky you will also be able to get great players!
La Web and Companion App di FIFA 21 are now available.
This will be the first chance for all fans of the Ultimate Team mode to start collecting credits and players and building your own base team. So having an action plan is key to success in EA Sports' most loved mode.
This guide will offer you some interesting ideas on what to do during the first login, the best SBCs (Squad Creation Challenges) to complete, buying and selling tips and some first investments that will pay off in the short term!
It might interest you:
How to recognize a Walkout
Advice on buying and selling
The cheapest Serie A players to start
The cheapest La Liga players to start
The best Ones to Watch (OTW) to bet on
The cheapest Premier League players to start
The cheapest Bundesliga players to start
The best team in La Liga for 100.000 credits
The best team in Serie A for 100.000 credits
Eight economic "beasts" absolutely to buy
The best team in the Premier League for 100.000 credits
How to make a lot of credits with flipping
The most buggy players in the Bundesliga
The strongest team in Serie A
First things to do on the web app
When you first log into the Web App or Companion from your smartphone, there will be a few things to do including:
Selection of the initial nationality
Choice of first club kits / badges
Club name
Opening of welcome back packages (or so-called loyalty)
Some general tips
By selecting a country such as Brazil, or any nation in the top five leagues to create your first team, you will get a range of players from different leagues and potentially great players for a starting team.
Selling any valuable items obtained from the Welcome Packs will allow you to earn useful credits especially for buying and selling, investing or completing SBCs.
The best SBCs to complete on the web app and Companion
In the beginning, advanced SBCs may be the only chance to rack up a hefty stack of credits. Offering very large rewards at a practically negligible cost.
To have access to these squad making challenges, you must first complete the "Let's Get Started" challenge, which is very easy to complete.
Specifically, it consists of three challenges:
Good first - where it is required to exchange a club bronze player to get a bronze award package
The second step - Requires you to swap three players with twelve of Chemistry to get a Bronze Pack
The third step - In this last challenge you need to exchange four club players from three different nations to get a Bronze Player Pack.
Once completed, you will receive a nice overall reward two player package.
You will then unlock access to these main SBCs:
Mixed nationalities
Mixed Championships
Mixed leagues and nationalities
To which are added the always useful:
Bronze update
Silver update
Gold update
These SBC sets are an absolute goldmine for getting packs and credits, and with player prices tending to start going up day after day, these can be a great area to take advantage of!
Earn credits fast
Complete these SBC sets
Package rewards in these SBCs include:
13.000 coins + a rare gold kit
1x Zinc Player Pack
1x Prime Mixed Player Pack
1x Mixed Player Rare Pack
1x Prime Zinc Player Pack
1x Gold Player Pack
1x Premium Gold Player Pack
2x Mega Pack
1x Prime Gold Player Pack
2x Rare Gold Player Pack
3x Rare Mega Pack
In terms of total value, let's talk more 400.000 credits if we were to buy them from the store.
For some advice on how to complete them in an "economic" and intelligent way, we refer you to FUTBIN.
We remind you that the only way to use FIFA Points to unpack (here our guide on how to recognize if it is a walkout or not) is by transferring them from the previous title (FIFA 20) but directly from the game. In fact, it is not possible to do it via the Web or Companion App. If, in any case, you have the possibility to access the title in advance through EA Play, you can transfer the FIFA Points and use them on the relative Web or Companion App. Surely by using the FP, you will drastically increase the chances of finding great players.
Opening packages through FIFA Points is a real gamble; and by the way if you like betting and online casinos take a look at desire to win online casino.
The best initial investments to make on the Web and Companion App
With thousands of cards available right from the start in FUT 21, the possibilities for making a big profit as well as big investments are endless.
Cards not available on the market are the best way to stock up on coins in the early stages of FUT. A card tends to become extinct in the market when the maximum price range is too low for the intrinsic value of that particular card.
If you are fast, you can buy them on the market carving out the possibility of making a huge profit when EA updates and corrects the price range to a higher value.
Here is a list of potential players from the best leagues that you can try to identify in advance with their relative prices (we remind you that they are subject to change - sometimes even sudden).
Premier League
Richarlison - 10,000
Willian - 10,000
Saint-Maximin - 10,000
Reguilon - 10,000
Rodrigo - 10,000
Bergwijn - 20,000
Wan-Bissaka - 20,000
Thiago - 27,500
Martial - 60,000
Kane - 60,000
The League
Joao Felix - 10,000
Portu - 10,000
Jesus Navas - 10,000
Marcos Llorente - 10,000
Carrasco - 10,000
Diego Carlos - 10,000
Bundesliga
Klostermann - 10,000
Zakaria - 10,000
Laimer - 10,000
Sabitzer - 10,000
Gnabry - 40,000
Serie A
Theo Hernandez - 10,000
Vidal - 10,000
Achraf Hakimi - 7,500
We will continue to bring you new and interesting guides on FIFA 21 and Ultimate Team mode, so stay tuned to these pages!