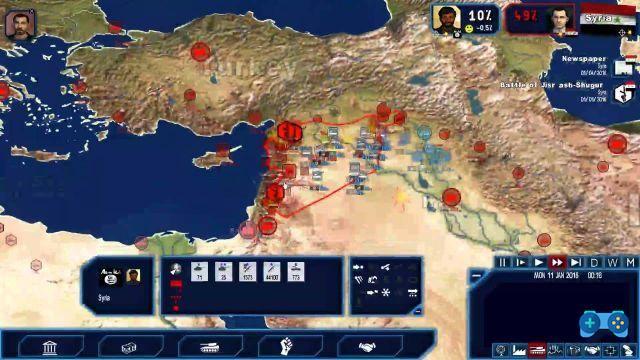 A new tool to customize maps and geopolitical scenarios
Eversim, the software house that launched Power & Revolution, Geopolitical Simulator 4, a very interesting geopolitical simulation "videogame" set in the current world and with thousands of updated data, today launches an expansion that will allow you to create new scenarios and new casus belli that you can then share with other users and try to win in the appropriate competition. With Power & Revolution, unlike other simulators you will be put in command of a nation of your choice and you will be able to try to solve, in your own way, some of the current and most dramatically urgent geopolitical problems of our planet. A few examples? The war in Syria, terrorism in France, the riots during the G8 economic summits. If you want to know more about the game, we invite you to watch the video below, and for the new mod the press release at the bottom.
Create your own geopolitical scenarios, share them with other players and enter the contest. Up for grabs 3 prestigious Awards
Milan, 19/9 /2016 - In May, Eversim launched Power & Revolution, Geopolitical Simulator 4, a geopolitical simulation video game set in today's world, with thousands of up-to-date data.
The Modding Tool add-on, now available, allows you to create and play in contexts and scenarios (mods), but also to share them with other users. More than 250 mods are already shared and available for download.
For example, the "Arctic Wars" scenario, set in 2018, where the United States and Russia compete for control of the immense resources of the Arctic which, due to climate change, have become more easily accessible. Following the election of a Republican president in 2016, the United States has set up additional military bases on the west coast of Greenland. Russia did the same on the east coast. Oil (10% of world reserves), gas, aluminum, rare earths… this part of the world has become crucial from a strategic point of view and, considering the antagonistic nature of the presidents of these two superpowers, the risk of conflagration is extremely high. Furthermore, a concerned Greenland wants independence from its controlling region, the Kingdom of Denmark, and from the restrictive laws of its environmental program.
It's your turn: As the leader of Denmark, try to avoid global turmoil!
At the same time, Eversim is pleased to announce the contest that will reward the best mod creators.
Until October 5th 2016, you too can create a scenario with the Power & Revolution Modding Tool, and you could be one of this year's winners.
This award is intended for the best developed and most interesting scenario, with many character involvement, intertwined storylines and a cohesive story.
This award is for the mod that will showcase the most original wallpaper and high quality build.
This is the Audience Award - the winner will be determined by the votes of internet users.
Deadline for sending mod:
05/10/2016
Announcement of results:
25/10/2016
Further details regarding the awards on this page: http://www.power-and-revolution.com/news.php