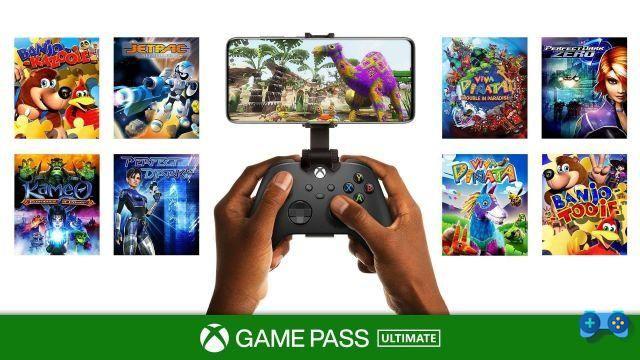 Xbox announced (via the official blog) that, starting today, the members of Xbox Game Pass Ultimate from 22 countries, will be able to play 16 titles for the first time Xbox e Xbox 360 via the cloud, on smartphones and tablets Android. More games will come in the future.
Subscribers Xbox Game Pass Ultimate will therefore be able to access a selection of titles on mobile devices, from games to the first Xbox like Elder Scrolls III: Morrowind, to the successes for Xbox 360 like Banjo-Kazooie, Fable II e Fallout: New Vegas. Touch controls will also be added for titles such as Jetpac Refueled, Viva Pinata e Long live Pinata TIP, to facilitate the player without the aid of a controller. Including these titles within the cloud represents another step forward by Xbox to preserve the history of gaming.
For more details, we refer you to the press release published by Xbox on the official blog:
There is magic in starting Kameo, one of the launch titles for Xbox 360, and realize that the last time you played it was back in 2008 and that you will be able to go back to reliving the same emotions as if you had never left. As well as going back in time and completing the entire and historical series of Gears of War before starting Gears 5. Being able to take a trip down memory lane to relive past memories or create new ones is critical to preserving the game's history. For this reason, the Xbox team has enabled the backward compatibility feature, confirming once again the great commitment to make games of different generations available regardless of hardware.
Members of Xbox Game Pass Ultimate can now tap into a collection of amazing pearls of the past in a whole new way, directly on mobile devices, turning them into retro portable gaming systems. 16 original Xbox and Xbox 360 games are now available on Android phones and tablets, with more games on the way. These include: Elder Scrolls III: Morrowind, Banjo-Kazooie, Fable II and Fallout: New Vegas. Furthermore, the American giant is working to enable touch controls for Jetpac Refueled, Viva Pinata and Viva Pinata TIP, in order to facilitate the care of your virtual garden. With games connected via the Xbox network, you will also be able to take previous saves with you and play alongside players from around the world.
Backward compatible games playable with Xbox Cloud Gaming (Beta)
Banjo-Kazooie
Banjo-Tooie
Double Dragon Neon
Fable II
Fallout: New Vegas
Gears of War 2
Gears of War 3
War judgment gears
Jetpac refueled (touch controls enabled)
Kameo
Perfect Dark
Perfect Dark Zero
The Elder Scrolls III: Morrowind
The Elder Scrolls IV: Oblivion
Viva Piñata (touch controls enabled)
Viva Piñata: TIP (touch controls enabled)
In addition, the recent interview with Craig Duncan, Studio Head di Rare, on the significance of the arrival of games such as Banjo-Kazooie on the cloud.