A very tempting offer

In view of the release of the Kinect, Microsoft's motion controller peripheral, the Redmond company has decided to launch the bundle containing the new Xbox 360 Slim 250GB, the Kinect and the game Kinect Adventures, the first of a series of others available at launch such as Kinect Sports, Kinectimals, Kinect Joyride, able to immediately become familiar with the peripheral and the interaction based on body movements.

The recommended retail price is € 349,99.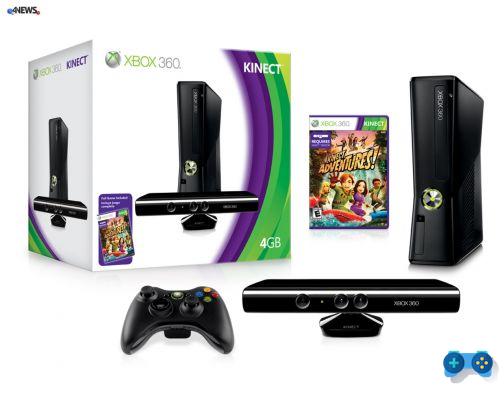 Below is the official press release:

The 360GB Xbox 250 console bundle with Kinect is the perfect opportunity to step into the future of gaming and entertainment
Xbox 360 250GB, Kinect and "Kinect Adventures" for € 349,99
On November 10th, take advantage of the bundle with Xbox 360 250GB and Kinect (available while stocks last) to be one of the first to enter the future of video games and participate in the entertainment revolution. This bundle includes the 360GB Xbox 250 console, Kinect and the game "Kinect Adventures" for an estimated retail price of € 349.99. Make your triumphant entry into the world of entertainment with your shiny new black console, completely redesigned and with a glossy finish, which also has integrated Wi-Fi, a removable 250GB internal hard drive and touch-sensitive controls. Connect the Kinect sensor through the dedicated console port and enjoy "Kinect Adventures", the game in which you can float in space, experience the thrill of descending thundering rapids and dodging obstacles on fantastic mountain trails. Enjoy controller-free fun with each of the 15 games that will be available at Kinect launch and experience new ways to experience entertainment.
Xbox 360 with Kinect will offer games for all tastes and passions! Experience an exhilarating game of soccer on "Kinect Sports", experience the ride of your life between super high jumps and amazing stunts in "Kinect Joy Ride" or adopt a tiger cub with "Kinectimals." Get the most out of your daily workouts with "Your Shape: Fitness Evolved." Your virtual fitness trainer will help you reach your goals and give you useful tips for your fitness, in the comfort of your living room. Invite your friends for a party of wild music and dance with "Dance Central" created by MTV Games and Harmonix. Spend wonderful moments with your friends and family, wherever they are in the world, through Video Kinect * and watch your favorite movies on Xbox LIVE, all with the flick of your hand.
Kinect for Xbox 360 will hit the Tokyo Game Show again next week: more games without controllers will be revealed and unprecedented experiences will be available.
For more information on the Xbox 360 250GB with Kinect Special Edition, visit www.xbox.com.
* Xbox LIVE Gold membership required for Video Kinect.