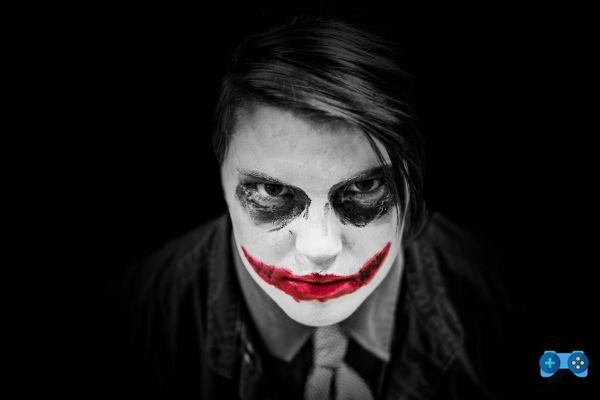 The Lucca Comics and many have chosen to adopt the look joker cosplay. Perhaps a slightly too obvious choice, as also confirmed by Halloween, which for years has seen the outfit of this depopulated character around the streets. However, the current boom in "photocopying" of Joker is more than justified: Todd Philips' film with Joaquin Phoenix was like an (expected) bolt from the blue, and managed to enchant everyone, from the public to the critics. . And it wasn't easy, considering the caliber of the huge actors who played this figure before Phoenix. But Joaquin was able to give him a further edge, to the point that we can all see something of us in his character.
Would you like to take a pinch of Joker madness with you every day?
Well, you can, and you won't have to wait for the next witches' night, or the next Lucca Comics. In fact, you just need to add some original details to your outfits, for example a retro jacket or vest that you can find at the flea markets, and which are also in fashion. For shoes, on the other hand, it is advisable to aim straight for elegance. For example, you can opt for a model of elegant men's shoes that you can also find online on sites like YOOX, where there is an entire section dedicated to these types of footwear, with a wide choice at your disposal. You can take a cue from Joker to completely reinterpret your style.
And if you want to be the Joker all the way ...
On some occasions you may feel the urge to dress up as the Joker, from head to toe, perhaps for the carnival (which is not that far), for a themed party, or for one of the many events dedicated to comics and cosplay in general. In that case, however, you will have to stand out from the crowd and show off a look with attention to detail. Some useful tips? Choose a quality make-up, because foundation, lipstick, eye shadows and black pencil are always essential. And when you do your makeup (or get your makeup done) remember that smudges are the soul of this character, and that you don't have to make them the same as the original. If you want to embody a little of the Joker madness, in fact, a pinch of fantasy and variation on the clown theme never hurts. Of course, bear in mind that the wig will never replace the real effect of the hair. So, if you can, try to dye and lacquer them properly. For the rest, forget about the costume and opt for vintage and worn clothes, even if it is difficult to find those in those colors.