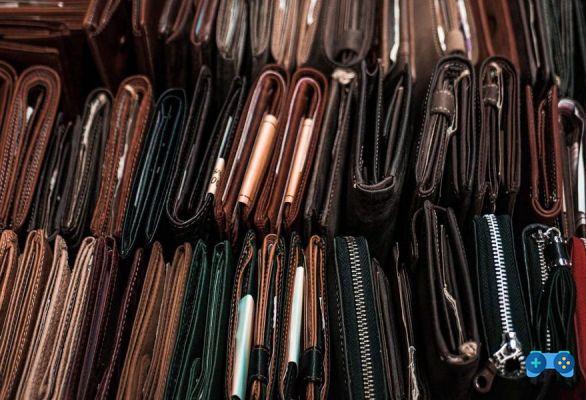 The vademecum of the male wallet
Usually made up of a resealable book case, the wallet is a useful accessory in tanned leather, intended to hold documents, credit cards, business cards and money. Rectangular or square, minimal or equipped with pockets and compartments, but above all of different sizes, the men's wallet is however characterized by the personal aesthetic taste of those who choose it.
Tanned leather is the material of choice in the production of these fashion accessories, made according to an ancient artisan art that has been handed down for generations and which guarantees refined finishes. These are functional objects to carry with you every day, usually in a jacket or trousers pocket which, depending on the generally rather small size, can easily adapt to any look.
The main formats of men's wallets
Small men's wallets are the most practical as they can be stored both in the inside pockets of jackets and coats, and in the back pockets of trousers or jeans, without taking up too much space or changing the profile of the garments. Usually these are extremely simple models, with few compartments and with a sober and essential line, rectangular in shape, with zip or button.
A leather men's wallet is always synonymous with classic style and therefore it is well suited to any outfit, both elegant and sporty, taking into account that this material is considered by all to be the best choice among accessories. Vertical men's wallets, currently considered trendy accessories, can have a rectangular but also square shape and are distinguished by the extreme sobriety of lines.
In fact, men's vertical wallets, which can be bellows, three or even with various compartments, always guarantee compactness and practicality since they adapt perfectly to the size of pockets and pockets. Designed as an elegant but not too demanding accessory, the vertical men's wallet is the most used, also in relation to the fact that its dimensions can be minimal. In these cases, the men's vertical wallet is produced with a single pocket and a single compartment, which guarantees minimum bulk but maximum capacity.
On the other hand, those who are oriented towards a more capacious accessory can opt for a wallet with money clip, particularly useful for ensuring maximum security of banknote containment.
Often optimizing space is a necessary need for those who prefer a minimalist look: in such situations a very small wallet is recommended, to be used whatever the kind of clothing. Made according to ergonomic criteria, these accessories also allow valid containment performance. The square-shaped ones are usually men's leather wallets with different dimensions from the standard ones and therefore require more specific spaces. Particularly elegant and refined, they combine very well with very soft leathers, perhaps with particular chromatic tones, such as burgundy, anthracite gray or even the very current petrol green.
Monochromatic shades are always the most suitable in the production of a men's leather wallet as they guarantee an indisputable stylistic sobriety. The slightly more voluminous models equipped with coin holders are extremely practical items, also due to the presence of accessory pockets that can be used to store keys or other small objects.
Whether square or rectangular, the men's wallet is almost always made with high quality leathers, able to guarantee practicality of use, durability and refined elegance. Combined with a coordinated belt, these essential accessories decisively personalize any outfit. Some interesting ideas for those looking for a men's wallet can take it directly from the Carpisa website, the undisputed leader in the sector that has always stood out for the excellent quality of raw materials (top quality leathers) and for the refined models in the their extreme simplicity.