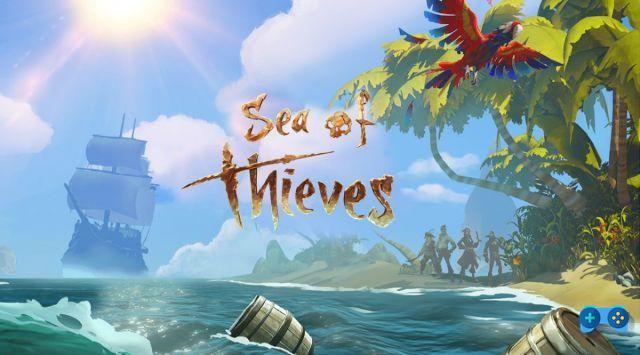 Reputation is everything.
Sea of ​​Thieves is available on PC and Xbox One. The main purpose of the game is to create and strengthen one's reputation and to do so it will be necessary to hoist the sails and set out on a journey, completing the tasks that will be assigned to us by three different trading companies.
We select the Pirate
Once the game is started, you will be able to select your Pirate from a wheel of 8 characters. You will not be able to create your personal Pirate from scratch but you can press the appropriate button to update the selectable Pirates. Once you have identified the character that suits you best, select him and you are ready to go. Once this is done, you will have to decide on which boat to travel, a large and equipped ship, the Galleon, or a small and fast but also more fragile, the Sloop.
Let's go!
The trips are therefore the fundamental feature of Sea of ​​Thieves and can be purchased (initially they will be free as they will be part of a sort of Tutorial) on the island on which the game will begin. You will therefore have three different types of trips available: solo, medium and high difficulty. Better to specify, that the most difficult journeys will be really difficult if you decide to face them with a small number of crew members, so if you intend to undertake them, it is better to have the right number of crew members.
You can then procure travel from three different trading companies. the first is that of Gold Hunters. These trips will inspire you to search for hidden treasures. The second is theOrder of Souls, who will give you useful rewards and pay you cheap skulls that you bring him. Finally, the third is theMerchant's Alliance, which will instruct you to collect resources, such as cattle that you can turn into useful objects in the various outposts scattered around the game map.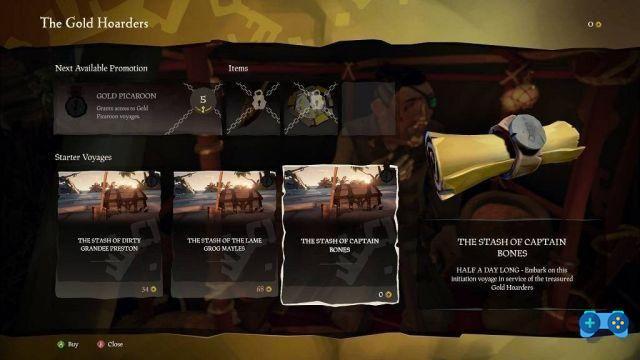 Once you have identified the company to buy from, approach and ask to take a look at the goods for sale. If there is any interesting map, buy it, pay for it and head to your ship. Once aboard, place the map on the Captain's Table. The Table will be smaller and hidden on small boats, and naturally larger in large ones such as the Galleon. If you have travel companions, you will decide together and vote on the journey to undertake.
Pay close attention
Once you reach the decision, you will get a map of a mysterious island. Take a look at the map, locate the island and navigate to it. When you arrive on the island, look at the map and find the spot marked with an X to retrieve the treasure and complete the journey. Once you have collected the treasure (s), take it (s) to the ship. Be careful on the return trip as you may have friendly but also unfriendly encounters. In the second case, you could be boarded and you will lose all the recovered treasures. If you play alone, the risk of boarding is very high even if you are aboard a small and fast Sloot that can outrun larger ships, at least in speed.
Learn the commands quickly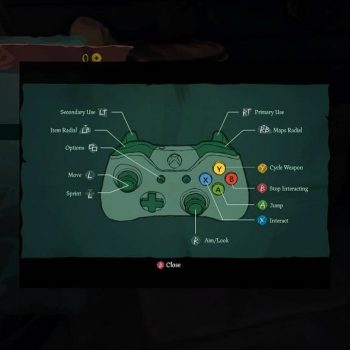 When you start playing Sea of ​​Thieves, you will be able to consult the game controls. The advice is to learn them quickly so as not to find yourself unprepared.
A key control is the 'Y' button which is used to equip and browse weapons. Also, it's important to try to conserve ammo in Sea of ​​Thieves, especially when you're fighting skeletons or other players. Remember to stock up on ammunition aboard the ship, once you land, you won't be able to find any more.
Source: Primagames