Best GPS Watch . A buying guide on the best wearable running watches and among the best in the whole category.
With better battery life, high performance and smarter designs, Garmin, Polar e Suunto continue to offer increasingly efficient GPS watches at a good price every year.
Obviously the best GPS runner watch it is more and more accurate, but also the usability and the apps, in the latest models, help the runner to view the statistics and to stay motivated.
Many popular watch brands have updated their products in the last year or so, but this new year is likely to bring a whole new series of running watches that could make it into this ranking.
Which GPS running watch to buy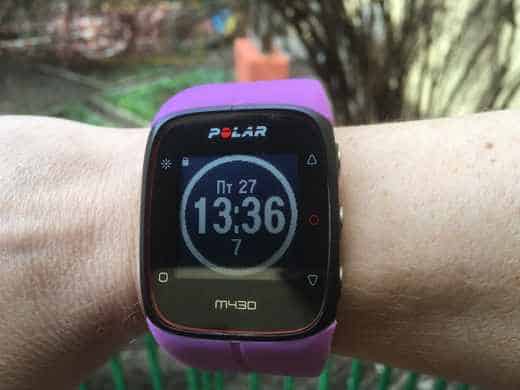 But what are the best GPS watches for runners of the moment? Hard to say. It should be noted that there are watches that are perfect for marathons and others that are good for trail running. That's why to please everyone we have selected devices for runners, also on offer, trying to help them find the best running GPS watch.
Read also: The best smartwatches in the world
Best cheap GPS runner watches max 100 euros
IOWODO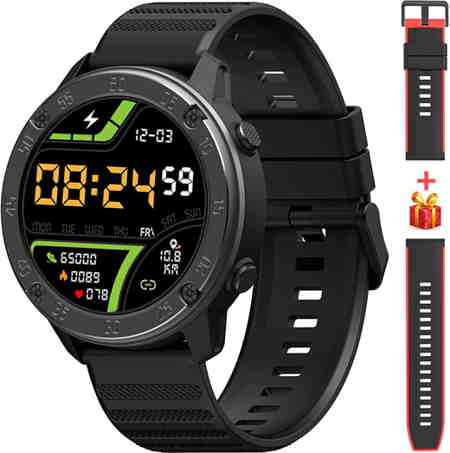 An affordable smartwatch with a modern design.
For
Cons
Instructions not easy to understand
Few functions
Low quality material
The smartwatch IOWODO It comes with a 1,3 inch HD color touch screen display for a perfect visual effect. It has a metal shell, an elegant design and three protections: waterproof, dustproof, anti-collision. Works with the proprietary app for Android and iOS (Android 5.0 or later, IOS 9.0 or later), and offers a heart rate monitor accurate, 9 ways to play sports and support Bluetooth 5.0. It does not allow you to answer incoming calls, but you can read the contents of the messages with an autonomy of at least 30 days. The features available are many: pedometer, calories, distance, heart rate, sleep monitoring, menstrual cycle for women but also notifications, messages, remote control of music and cameras, reminders, alarm clock, stopwatch, find phone and much other.
Buy on Amazon
willful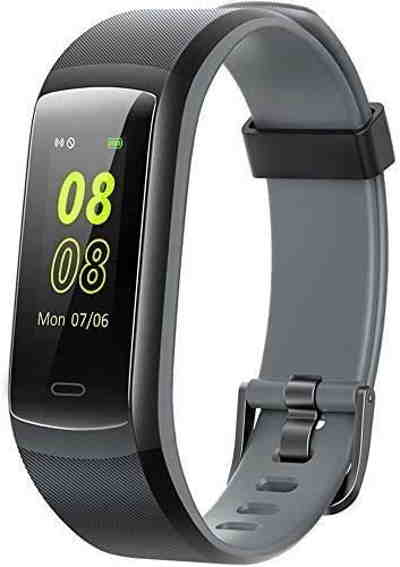 The design is very reminiscent of the best smartbands on the market.
For
Cons
It has no swimming mode
Each feature requires prior activation via the app
GPS not integrated
Very similar to a smartband, theWillful running GPS watch it comes with a 0.96 inch OLED screen, Fitness Tracker functions, Heart rate monitor, 14 sports modes, sleep monitoring, sedentary reminders, pulse sensor and touch button. It is compatible with Android 4.4 and iOS 8.1 or later. You can use this watch as a pedometer to monitor your heart rate, count calories, measure distances and sleep quality. Through theofficial app you can check the progress and data related to your sports activities. AND' IP68 waterproof (you can use it for the new, shower and hand washing) and guarantees the notification of incoming calls, SMS, messages from apps like WhatsApp, Facebook, Instagram, etc.
Buy on Amazon
AGP TEK LW11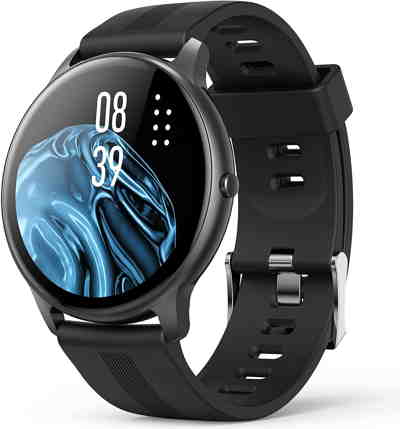 Running watch with color display and affordable features.
For
Simple to use functions
Perfect for sports
Economic
Cons
It is not waterproof
There is no indoor or free body workout among the various sports that can be selected
Economical and with 1,3-inch Full Touch color display, AGP TEK LW11 is a wearable device with a lot of features for your sporting activity. Mount: Pedometer, Calories, Distance, Sleep Tracking, Heart Rate Monitor, Stopwatch, Message Notification, Alarm, Sedentary Alerts, Music & Camera Control and much more. Receive messages from incoming calls, emails, SMS and through the app fitcloudpro, monitor and record all your sports improvements while also taking care of women's health with a unique reminder of the menstrual cycle. It supports tons of sports modes and allows you to constantly monitor calories, workouts and much more.
Buy on Amazon
KALINKO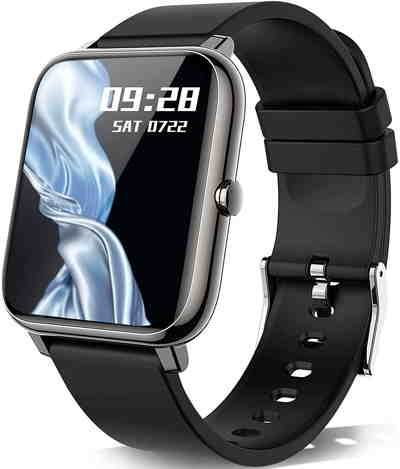 Best cheap running GPS watch.
For
Excellent battery
Choice of dials
Cheap
Good value for money
Light and comfortable
Pedometer
Cons
Unclear settings
Display brightness
Reactivity on display ignition
The smartwatch Kalinko offers 7 sports modes connected to the GPS of your mobile phone. You can also use it to keep track of your daily activities, such as: steps, calories etc. and constantly monitor blood pressure, blood oxygen, sleep, heart rate and so on. Easily connects to your phone and notifies you of every call or message. You can also use it to control music, to know the weather forecast and finally to record the time of deep or light sleep. It supports custom wallpapers, Bluetooth 4.0 or later and the app HeroBankIII it is compatible with Android 4.4 or later and iOS 9.0 or later.
Buy on Amazon
Yamay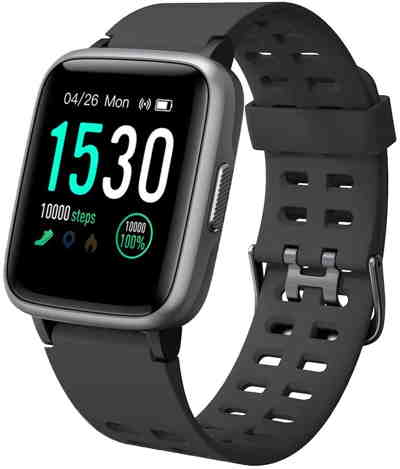 Elegant and with excellent battery life.
For
Good price
Elegant
4 different dials
Great battery life
Cons
basic smartwatch
Features such as "cardio" and "weights" are missing
Delicate strap
The smartwtach Yamay is the classic fitness running GPS watch for men and women. It features a 1.3 inch TFT LCD Touch Screen and delivers Activity Tracker, heart rate monitor, 14 sports modes, Shared GPS, sleep tracking, call notifications, SMS and app messages, alarm clock, stopwatch, Find Phone, Breathing Guide and Pulse Sensor. AND' waterproof IP68 and you won't have to worry about running in the rain or taking a shower with this device. It has a duration of up to 7-10 days of autonomy and you can use it together with the app VeryfitPro for tracking menstrual cycles and recording symptoms. It is compatible with Android 4.4 or later and iOS 8.1 or later.
Buy on Amazon
Also Read: Best Cheap Smartwatches
Best mid-range GPS runner watches (100-200 euros)
polar M430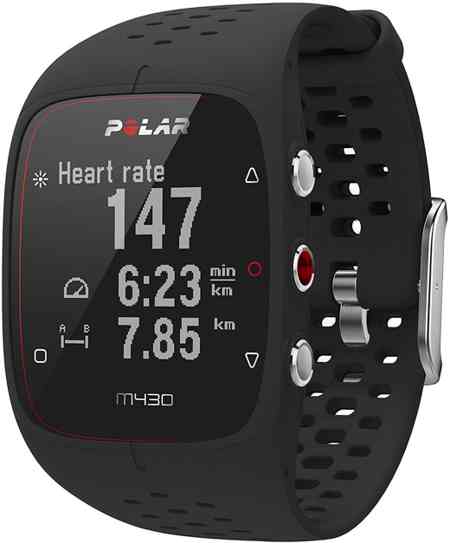 In summary it is Polar's best-selling tracker.
For
Good battery life
Easy to use
Cons
Annoying charging cable
Not the best
THEM400 by Polar was the best selling GPS running watch in Europe for several reasons: effectiveness, simplicity and especially good price. With the new polar M430 the company has kept the qualities of the previous model while adding some useful new skills. In addition to being easy to use, with a durable design, it now comes with built-in heart rate (HR) monitoring for zone training and continuous HR monitoring from the wrist, so you can monitor your heart at rest, heart rate and your fitness progress.There is also sleep tracking and smart notifications. Also thanks to the app Polar Flow you can add workouts tailored to your abilities and goals, with daily views of everything you've done. There Polar took advantage of these extra tools while maintaining decent battery life of up to 30 hours of training tracking. Although it is missing some deeper running dynamics you will find on Polar V800 o Garmin Forerunner 935, this is a high quality GPS runner watch and best of all it is sold at a reasonable price.
Buy on Amazon
Garmin Vivoactive 3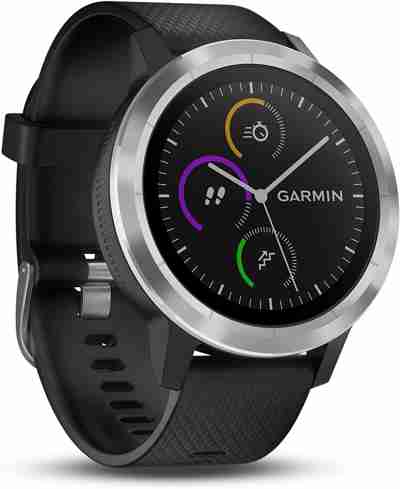 The most elegant sports tracker.
For
It tracks a variety of activities
Garmin Pay for cashless transactions
Cons
Not as feature-rich as its flagship predecessors
It is not possible to choose which apps receive alerts
Il Garmin Vivoactive 3 is both a smartwatch, a GPS sports watch and a fashion watch. This is the perfect first Garmin watch for the design-loving runner. It offers all Garmin features, namely GPS and heart rate monitoring, multi-sport support and even Garmin Pay, which allows you to make contactless payments even without your phone. Battery life is seven days in normal use or 13 hours of GPS training. From a design standpoint, the watch features a stainless steel bezel and a comfortable rubberized strap that can be swapped out to suit the occasion. A large selection of watch faces and app options are available on Garmin Connect, which is open to developers, which means more and more interesting new additions.
Buy on Amazon
Samsung Galaxy Watch
A smartwatch with good running skills.
For
Great battery life
Good smartwatch software
Cons
Il Galaxy Watch it's Samsung's finest smartwatch thanks to its good fitness tracking features and four-day battery life. (You'll only get the full four days if you opt for the larger 46mm size). All the watch's great functions are packed into a sophisticated looking silver and black circular smartwatch with rotating bezel for effortless menu navigation. Please note:: Third-party apps are missing and iOS support is limited if using an iPhone. Either way, this is the best watch for Samsung fans. The Galaxy watch has automatic exercise tracking for some workouts, especially running and walking. In fact, it handles runs well, providing a wealth of data and easy-to-control features while hitting the pavement.
Buy on Amazon Buy on Amazon
Garmin Forerunner 45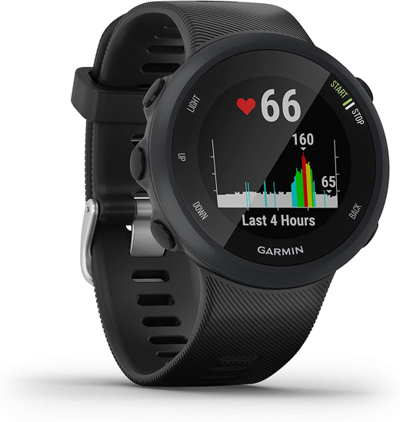 It is now the best Garmin running watch.
For
Wide range of features
Monitor stress too
Well finished
Light and comfortable
Perfect for runners
Cons
It has no barometer
There is no estimate of anaerobic / aerobic threshold, recovery time, workload
Feeling of fragility
Forerunner 45 area of Garmin is a GPS sport watch with all the useful features to facilitate your weekly workouts. It can monitor heart rate on the wrist, track distance traveled, intervals and pace. Not only that, it integrates sport profiles such as running, cycling, elliptical, cardio training, yoga and much more. It detects the location in real time while also receiving notifications, incoming calls and SMS. It is compatible with Garmin Coach's supplied and free training plans and offers a battery life of up to 7 days.
Buy on Amazon
Polar Vantage V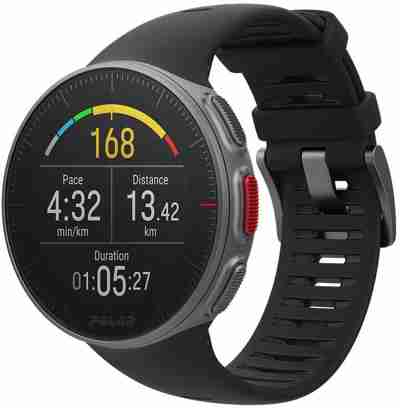 Almost like having a trainer on your wrist.
For
Lightweight and elegant
Driving power monitoring
Cons
No music
The strap can be uncomfortable
Il vintage v It is one of runners' favorite GPS running watches, in fact it comes with a much lighter and more elegant design than what you will get from many other products. You can keep track of many stats, such as recovery and training insights. It is also particularly unique for its vision of a running metric called Strength. There power it is a way to monitor the amount of effort you are putting into your run and this can be especially useful for anyone who trains and does not want to overdo it and run the risk of injury. In conclusion, most athletes will find something useful about the Vantage V, whose Battery life allows 40 hours of continuous training.
Buy on Amazon
Best high-end GPS runner watches (over 200 euros)
Garmin Forerunner 235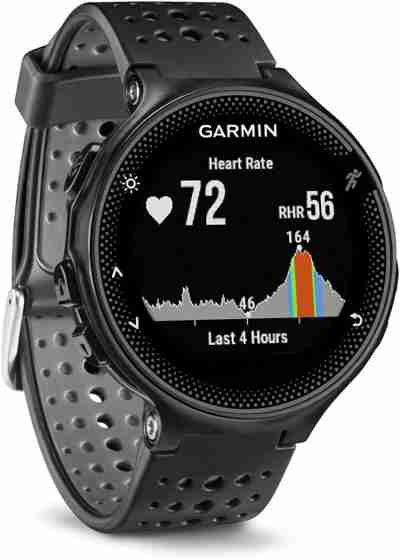 Great for professional runners.
For
Resting heart rate information
Attractive look, lightweight design
Cons
Intermittent synchronization problems
A little plastic
Il Garmin Forerunner 235 as well as being affordable, it offers everything the world of Garmin perfected for runners, in a compact form. That means: GPS tracking for 11 hours and 24/7 activity tracking for nine days on a single charge. With this smartwatch you can get a continuous wrist-based heart rate and numerous Garmin apps such as custom watch faces or marathon-specific training apps. You can enjoy smartphone notifications, audio messages, real-time monitoring and of course theapp Garmin Connect for an in-depth analysis of your efforts. During a ride, you can use information such asAerobic training effect to make sure you don't go too far and get in the way of your workout, all while walking through heart rate zones to ensure progress - and afterward, monitoring your VO2 Max will show how your fitness is improving. Another cool feature: if you get lost, you can use the feature Back to top to be guided where you started from.
Buy on Amazon Buy on Amazon
Fitbit Ionic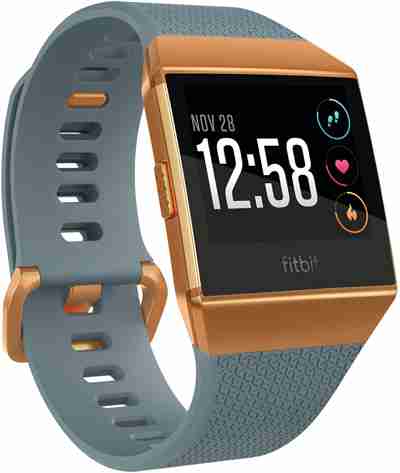 The first Fitbit smartwatch increasingly towards fitness.
For
Multi-day battery life
Music without a phone
Cons
Lack of apps
Very modern design
A fitness-focused smartwatch, without most of the auxiliary digital distractions you can find in an Apple Watch. Fitbit Ionic it's the company's first comprehensive smartwatch and could be a solid choice for any runner. Battery life is several days and heart rate monitoring is continuous. To sum up, there is no shortage: GPS, personalized voice coaching, sleep phase monitoring and the ability to store music for offline listening via Bluetooth headphones. And for those who like it, there is an automatic pause that you can set when stopped at traffic lights. Fitbit has gone to great lengths to make the Ionic a useful training tool. In fact, with theapp Fitbit Coach you can access a range of expertly managed audio workouts for treadmill and outdoor running, designed to improve endurance, speed and form. While it doesn't have the range of third-party apps you'll find on the App Store or Google Play Store, you can access a smaller range of popular apps, through the Fitbit operating system, while all your stats are synced with all compatible Fitbit apps. The bright, high-resolution Gorilla Glass-coated touchscreen is also water resistant to 50m, making it sturdy enough for hiking and swimming. To conclude we believe that Ionic be the best device Fitbit on offer for runners.
Buy on Amazon
Suunto Ambit3 Vertical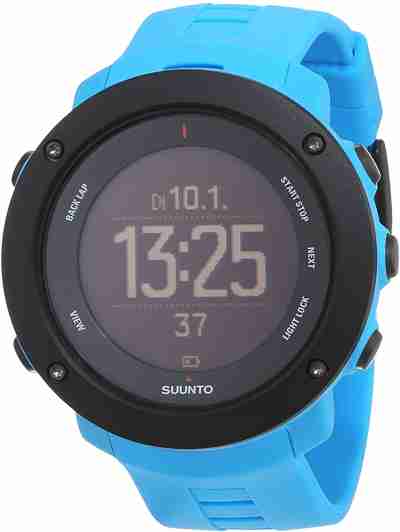 Great watch for hiking and mountain routes.
For
Excellent suite of off-road sensors
Good battery life
Cons
No optical heart rate
Quite bulky
Suunto Ambit3 Vertical is another great running watch, includes an altimeter, barometer, compass, GPS and thermometer to track all your outdoor exploits with finally exhaustive details. All in all, with its rugged off-road appearance, excellent navigation and huge wealth of features, the Suunto Ambit 3 Run is a perfect training watch for athletes who care about the ups and downs of running. Watch Suunto Ambit3 Vertical It also features limited smartphone notifications (including caller ID and email support) thanks to Bluetooth pairing. It only has a monochrome display, but it offers a battery life for multiple days even with in normal use of GPS. All in all, there is one downside: if you want heart rate readings you will need an additional strap.
Buy on Amazon
Watch Apple 4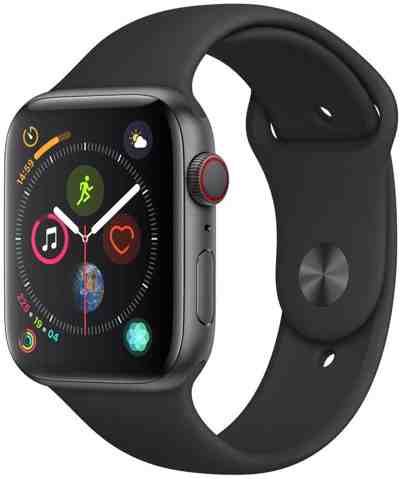 For casual runners who love to jog in style.
For
Larger display
Thin and light design
More powerful speaker
Cons
Expensive
Autonomy still insufficient
Apple Wath 4 is a running watch that also offers so much more. In addition to a large and readable display, it features improvements in design and the industry "Health"Which increasingly affects people's daily lives. It still costs a lot and the autonomy is not high. Among the advantages, we have the functions of electrocardiogram. alarm call to a number previously set in the event of a fall, heart rate monitor optical and electrical, Digital Crown with atypical feedback, loudspeaker, accelerometer and gyroscope, swimproof and monitoring activities. It is available in four variants: with 40mm or 44mm case, with or without LTE.
Buy on Amazon Buy on Amazon
Garmin Forerunner 935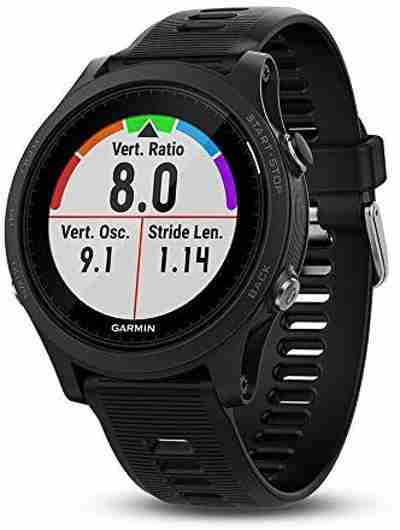 Advanced localization tool for serious amateurs and athletes.
For
Detailed running statistics
Long battery life
Cons
No music playback
First of all expensive
With the Forerunner 935, Garmin has finally managed to produce a complete and unique GPS running watch. In addition to reliable GPS, there is a wide range of advanced running metrics including cadence, ground contact time, vertical oscillation, VO2 max, recovery guide and more. The emphasis here is on using run data to tailor training, make changes to the form such as shortening the pace, and keeping an eye on the overall training load in building the next big challenge. You can also receive up to 50 hours of UltraTrac GPS training with a full charge, smart notifications from a connected phone, plus the option to customize your watch features that you can add to the many apps on the software IQ Connect by Garmin.
Buy on Amazon
Garmin Fenix ​​5 Plus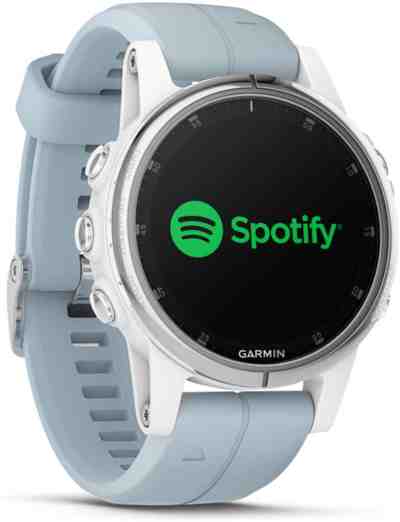 It is the best multisport running GPS watch with important updates.
For
Really tough
Sturdy and good looking design
Many multi-sport functions
Cons
Expensive
Reduced battery life
If you are looking for a multisport and adventurous watch with the best performance, the latest updated version of Garmin's Fenix ​​line is the perfect truth. The Fenix ​​5 Plus is packed with new features, including built-in music, contactless payments, and fully routable color topographic maps. In fact, one of the main downsides of this device is the lack of a long-lasting battery. We would have liked to have seen more battery and power. You can still use it for your swims, bikes, runs and hikes and much more.
Buy on Amazon